Celtics
What happened to all 59 players drafted before Isaiah Thomas in 2011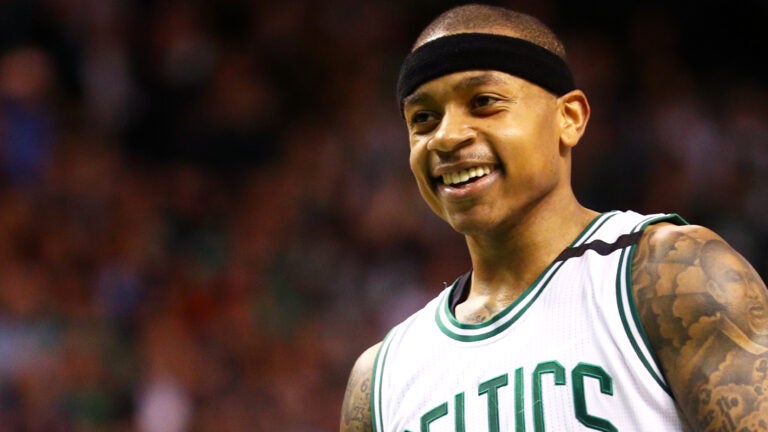 COMMENTARY
Chukwudiebere Maduabum was born and raised in Nigeria and last played professional basketball this past winter in Japan. Before that, he played seasons in Mongolia, Finland, Iceland, Estonia, Mongolia (again), Estonia (again) and Qatar.
Before that, Chu Maduabum was selected by the Los Angeles Lakers with the 56th pick in the 2011 NBA Draft — four spots ahead of Isaiah Thomas.
"I'm following him," Chu said this week about his fellow late-second round pick. "He worked his ass off and got to show what he can do."
Isaiah Thomas can do just about anything. Case in point: He recently scored 53 points in a playoff game less than a week after attending his little sister's funeral, and two days after having three teeth knocked out. The guy has played through more emotional pain than anyone could ask, and more physical pain than anyone could ask, and all at the same time. From a competitive standpoint, his performance this postseason has been otherworldly.
As Isaiah continues to do what he can do, and his legend continues to grow, the reality of him being the last pick in the 2011 NBA Draft will become increasingly incomprehensible. It's already so hard to believe every single NBA team, most of them more than once, didn't think Isaiah Thomas was worth a spot on their roster. It's already hilarious to look at the numbers and notice things like …
Isaiah scored more points this past season than 34 of the 59 guys drafted before him have in their entire careers.
Or that IT would rank ahead of 11 guys on the Class of 2011 scoring list if you only counted Games 1 and 2 against Washington.
Of course, not every pre-Isaiah pick was horrible. The Spurs made a pretty good one. So did the Warriors. So did the Cavs. So did the Bulls. But it's fair to say most everyone else involved with the picks below would like a do-over.
Round 1
No. 1 — Kyrie Irving, Cleveland: Irving averaged only 3.2 rebounds a game this year for the Cavs. Meanwhile, Michael Olowokandi, widely regarded as one of the worst No. 1 picks ever, averaged 6.8 rebounds for his career. Kyrie Irving, welcome to Bustville. The Cavs will regret this pick.
No. 2 — Derrick Williams, Minnesota: Somewhere out there lies an alternate universe where Derrick Williams wasn't drafted by the NBA's version of Siberia (Minnesota). His next stop wasn't a trade to the NBA's version of Chernobyl (Sacramento). In this other world, Williams landed in San Antonio, or even somewhere like Dallas, and carved out a pretty a solid career. But in reality, he's the 11th man on a Cavs team with a nine-man playoff rotation.
No. 3 — Enes Kanter, Utah: One night Kanter looks like Turkish Moses Malone, the next he's getting his butt kicked by a folding chair. He won't turn 25 until later this month, but Kanter still has ways to go (especially on defense) before establishing himself as a legitimate NBA star.
No. 4 — Tristan Thompson, Cleveland: Underwhelming on the surface, but no one in this draft class has played in more games than Thompson. No one has more rebounds. He's a workhouse and pretty much the perfect center for these Cavs.
No. 5 — Jonas Valanciunas, Toronto: The seven-foot Lithuanian is a freakishly large human with a surprisingly soft touch who's been good for 12 points and nine rebounds a night the last four years in Toronto. Still only 25, don't be surprised next year when he's shooting 35 percent from 3.
No. 6 — Jan Veselý, Washington: Jan spent three years on the bench in Washington and Denver before heading back to Europe. He currently plays for the Czech Republic National team (alongside Celtics legend Jiri Welsch) and starts at power forward for Turkish powerhouse Fenerbahçe (alongside Celtics legend Luigi Datome).
No. 7 — Bismack Biyombo, Sacramento: He just wrapped his first season in Orlando after stops in Charlotte and Toronto. Biyombo has six siblings (Billy, Biska, Bikim, Bimeline, Bikelene and Bimela) to match his career average of six rebounds per game. He speaks five languages (English, Spanish, French, Swahili and Lingala) to match his career average of five points per game. He's also 24 years old with $85 million guaranteed in the bank, so who's laughing now, snarky 37-year-old sportswriter?
No. 8 — Brandon Knight, Detroit: Drafted by the Pistons. Murdered on live TV.
Traded to Milwaukee. Traded to Phoenix. Knight can score — he averaged 17+ for three years — but fell out of favor with Earl Watson last season then fell off the face of the Earth.
No. 9 — Kemba Walker, Charlotte: He's too small! He can't play defense! He shoots too much! Sound familiar?
No. 10 — Jimmer Fredette, Milwaukee: Basketball's Tim Tebow played for four teams over five NBA seasons before setting the Chinese Basketball Association on fire this past year. In February, Jimmer scored 73 points in one game for the Shanghai Sharks on his way to the 2017 CBA scoring title and International MVP.
No. 12 — Klay Thompson, Golden State: Might not even be the third best player on his team. Pass!
No. 13 — Alec Burks, Utah: Only the second "Alec" in NBA history, Burks averaged 14 points per game in 2014, but injuries have limited him to 100 games total in the three years since.
No. 13 — Markieff Morris, Phoenix: One half of the Morris twins. Last seen flinging Al Horford into the second row.
No. 14 — Marcus Morris, Houston: The other half of the Morris twins, Marcus has done pretty well since breaking off on his own in Detroit. After six seasons, the twins tally isn't quite identical, but it's close. Markieff has played 26.3 minutes a game and averaged 11.9 points, 5.6 rebounds and 1.7 assists. Marcus has played 26.2 minutes a game and averaged 10.8 points, 4.2 rebounds and 1.6 assists.
No. 15 — Kawhi Leonard, Indiana: Decent but not great. Will probably never average a triple double or kill a porcupine with his bare hands or walk on Jupiter without a spacesuit.
No. 16 — Nikola Vucevic, Philadelphia: In August 2012, the Lakers, 76ers and Magic swapped centers. The Lakers ended up with superstar Dwight Howard. The Sixers landed budding superstar Andrew Bynum. Meanwhile, the Magic ended up with a little known 20-year-old from Montenegro — and here we are five years later. Bynum is out of the league. Dwight is on his way. Vucevic is still only 26 and one of the most reliable double doubles in the NBA.
No. 17 — Iman Shumpert, New York: A big part of the Cavs' recent success. A great athlete. A versatile defender. Can hit an open three. Delivered his own daughter in the bathroom of his own house and named her Iman Jr. Can't ask for much more from a No. 17 pick.
No. 18 — Chris Singleton, Washington: Wizards fans remember Singleton as the kid from Florida State who never broke through. Anhui Wenyi fans remember him as the 2016 Chinese National Basketball League Finals MVP.
No. 19 — Tobias Harris, Charlotte: He's bounced around from Milwaukee to Orlando to Detroit, but wherever he is, Harris gets buckets. He's one of only five guys from this class to already score at least 5000 points and grab at least 2000 rebounds. (The others are Kawhi, Kanter, Vucevic and Markieff Morris of the Morris twins.)
No. 20 — Donatas Motiejūnas, Minnesota: Motiejūnas finished last season on the end of the bench in New Orleans, but that was only after a whirlwind four seasons with Rockets during which he had one really good season, played a major role in the James Harden/Dwight Howard soap opera, then had a four-year offer suddenly revoked by Houston last December.
No. 21— Nolan Smith, Portland: After four years at Duke, Smith rarely saw the floor in Portland. He left two years later for Turkey and played briefly in Croatia. These days he's back at Duke, like all former Blue Devil point guards, working as a special assistant under Coach K.
No. 22 — Kenneth Faried, Denver: The Manimal has seen better days but with career averages of 11.9 points and 8.5 rebounds, he's arguably the best No. 22 pick since the great Reggie Lewis in 1988.
No. 23 — Nikola Mirotic, Houston: Athletic enough for a 6-foot-10 forward with 27-foot-range, Mirotic hasn't fulfilled the NBA potential many believe he has. His performance in the first round against Boston — 8.7 points, five rebounds, 28 percent shooting from three — was a big reason Chicago couldn't slam the door on that 2-0 lead.
No. 24 — Reggie Jackson, Oklahoma City: The BC product outgrew his role in Oklahoma City, but hasn't yet grown into his role in Detroit. He's clearly an NBA point guard, but the question is whether he can be the starting point guard on a better than average team.
No. 25 — MarShon Brooks, Boston: Drafted by the Celtics, for the Nets. Traded to the Celtics, by the Nets. Brooks may ultimately be best remembered for his role in the most awkward photo op in Celtics history, but in the meantime you can find him in China with the Jiangsu Dragons.
No. 26 — Jordan Hamilton, Dallas: Played sparingly over two and a half seasons in Denver before stints with the Rockets, Clippers and Pelicans. He was most recently spotted playing alongside former NBA player Damien Wilkins for Guaros de Lara in Venezuela.
No. 27 — JaJuan Johnson, New Jersey: 2011 First Team All American. 2011 Big 10 Player of the Year. 2011 Big 10 Defensive Player of the Year. Out of the NBA after 26 games in Boston. These days, Johnson is the starting center for Pallacanestro Cantù in Italy.
No. 28 — Norris Cole, Chicago: The anti-Derrick Williams, Cole was drafted by the Bulls then traded twice on draft night. First, to Minnesota. Second, to Miami, where he played in three straight NBA Finals and won two rings. Cole played most of last season for the CBA's Shandong Golden Stars but finished the year backing up Russell Westbrook in OKC.
No. 29 — Cory Joseph, San Antonio: Won a ring as Tony Parker's backup but has underwhelmed since signing a four-year, $30 million deal with his hometown Raptors.
No. 30 — Jimmy Butler, Chicago: He's fine. Nothing to sneeze at. Not even the best shooting guard in Bulls history.
Round 2
No. 31 — Bojan Bogdanović, Miami: Currently sporting the boldest hairline in the NBA and giving Brad Stevens headaches off the Wizards' bench.
No. 32 — Justin Harper, Cleveland: Played 14 games as a rookie for Orlando, then spent three years in Italy and Israel before playing five games for the Pistons last year and three games for Philly this year. It's uncertain whether Harper will ever play another NBA game, but he'll always have this.
No. 33 — Kyle Singler, Detroit: Showed promise in his first two and a half years in Detroit, but has struggled to make an impact since joining OKC at the 2015 deadline.
No. 34 — Shelvin Mack, Washington: This generation's Jarrett Jack, Mack has played for four teams over five NBA seasons and will add many more jerseys to the collection before he's done. Wouldn't be a shock to see him reunited one day with college coach Brad Stevens.
No. 35  — Tyler Honeycutt, Sacramento: Honeycutt played in 24 games over two seasons with the Kings before heading off to Israel, Russia and, most recently, Turkey. He only scored 11 baskets in the NBA but this was one of them.
No. 36 — Jordan Williams, New Jersey:  The Maryland big man played 43 games for the Nets as a rookie. That next summer he was traded to Atlanta in the Joe Johnson deal, and never played another NBA game. This past January, Williams was arrested in connection with a Thanksgiving kidnapping and robbery in Torrington, Connecticut.
No. 37 — Trey Thompkins, LA Clippers: During the draft, Jay Bilas described Thompkins' body fat percentage as being "pretty good if you're a sea lion." That might help explain why the 6-10 center lasted one season before a knee injury derailed his NBA career. Fast forward to 2017, Thompkins just finished his third season as a back-up power forward on Real Madrid.
No. 38 — Chandler Parsons, Houston: Parsons averaged only six points over 34 games with Memphis this season as knee injuries continue to threaten a once promising career. On the bright side, for Parsons, he's due roughly $24 million per year through the 2020.
No. 39 — Jeremy Tyler, Charlotte: Tyler (who famously skipped his senior year of high school to play in Israel and then quit after 10 games) was traded to Golden State on draft night, then played 42 games as a rookie. Three years, two teams (Atlanta and New York) and only 38 games later, Tyler was out of the league. He most recently played for Tianjin Ronggang of the Chinese Basketball League.
No. 40 — Jon Leuer, Milwaukee: Leuer was never spectacular during stints in Milwaukee, Cleveland, Memphis and Phoenix, but did enough with the chances he was given to earn a four-year, $41 million deal from Detroit last summer. The Wisconsin grad responded with a career high 10.2 points and 5.2 rebounds a game in 2017.
No. 41 — Darius Morris, Lakers: Morris played parts of four NBA season for the Lakers, Sixers, Clippers, Grizzlies and Nets, but most recently played for the D-League's Rio Grande Valley Vipers
No. 42 — Davis Bertans, Indiana: Because Kawhi Leonard alone wasn't enough for George Hill, Larry Bird sweetened the pot with this second-round pick. Five years later, Bertans, a 24-year-old from Latvia, appeared in 67 games and hit 40 percent of his threes off the bench for Gregg Popovich.
No. 43 — Malcolm Lee, Chicago: Traded to Minnesota on draft day, Lee's rookie season was derailed by a knee injury. His second season was derailed by a groin injury. In 2016, he averaged 13 points in Puerto Rico and played last season for Trabzonspor Medical Park in Turkey.
No. 44 — Charles Jenkins, Golden State: Hofstra's all-time leading scorer played parts of two seasons with the Warriors and Sixers before heading to Serbia. He's since become a naturalized Serbian citizen and won the 2017 Adriatic League Playoffs MVP while leading KK Crvena Zvezda to the title.
No. 45 — Josh Harrellson, New Orleans: Nicknamed "Jorts" while starring at Kentucky, Harrelson played parts of three NBA seasons with the Knicks, Heat and Pistons. This past year he averaged 15.4 points and 11.6 rebounds for Osaka Evessa of the Japanese B.League.
No. 46 — Andrew Goudelock, LA Lakers: Played 40 games for the Lakers as a rookie and actually started two playoff games the next year. Since then, Goudelock's traveled the world collecting basketball trophies, most recently scoring 15 points to lead Maccabi Tel Aviv past Amare Stoudemire' and Hapoel Yahev in the 2017 Israel Cup Final.
No. 47 — Travis Leslie, LA Clippers: Leslie played 10 games for the Clippers, then bounced around the D-League before heading to Europe. In 2014, he won the Baltic Basketball League's regular season and Finals MVP, but nothing he does will ever top his dunk over DeMarcus Cousins.
No. 48 — Keith Benson, Atlanta: Benson was traded to Golden State and played three games with the Warriors before he was lured to the Philippines for a stint with the Talk 'N Text Tropang Texters. In 2016, Benson won a D-League title with Sioux Falls. This past year, the 6-11 power forward was First Team All-D League and First Team All-D League Defense.
No. 49 — Josh Selby, Memphis: In 2012, Selby shared MVP honors with Damian Lillard at the NBA Summer League. In 2017, he played for Maccabi Kiryat Gat in Israel.
No. 50 — Lavoy Allen, Philadelphia: A great pick. Allen has played at least 60 games (for Philly and now Indiana) every year since his lockout shortened rookie season.
No. 51 — Jon Diebler, Portland: The state of Ohio's all-time high school scoring leader, "Threebler" won a Turkish League championship with Pınar Karşıyaka in 2015.
No. 52 — Vernon Macklin, Detroit: Macklin never played in the NBA but did team up with former NBA player Al Thornton to lead Mighty Sports of the Philippines to the 2017 William Jones Cup title.
No. 53 — DeAndre Liggins, Orlando: A two-time D-League Defensive Player of the Year, Liggins played 61 games for the Cavs this season, but was waived in April to make room for Dahntay Jones.
No. 54 — Milan Mačvan, Cleveland: The 6-9 power forward was an Israeli League champion in 2011, a Serbian League champion in 2012, a Turkish League champion in 2013 and an Italian League champion in 2016. TIL: Milan Macvan is Croatian for Robert Horry.
No. 55 — E'Twaun Moore, Boston: Only five No. 55 picks in history have played more games than Moore (380). This year he averaged a career-high 25 minutes and 9.6 points with the Pelicans and will have a job for as long as he keeps hitting close to 40 percent on threes.
No. 56 — Chukwudiebere Maduabum, LA Lakers: At 26, and unsure where he'll play next, Maduabum hasn't given up on the NBA dream, but he's also realistic.
"At this point in my career I just plan on being the best player in whatever league I go to," he said. "But if the NBA comes knocking, I will answer."
No. 57 — Targuy Ngombo, Dallas: A 6-6 Congolese-born Qatari prospect who turned out to be using a fake name and was five years older than he claimed on draft night. Ngombo, real first name "Tanguy," never appeared in an NBA game and currently plays for Al Rayyan of the Qatari Basketball League.
No. 58 — Ater Majok, LA Lakers: This 6-10 South Sudanese-born Australian averaged 2.3 points in one season at UConn, then played in Turkey and Australia before the Lakers drafted him at No. 58. He's since played in Slovakia, Israel, Korea, Germany, Poland, China and currently for Homenetmen Beirut of the Lebanese Basketball League.
No. 59 — Adam Hanga, San Antonio: The 6-7 swingman has played professionally in Spain, Italy and his native Hungary, but not yet in the NBA. Knowing the Spurs, he'll turn out to be Hungarian Scottie Pippen but Hanga's also 28 and running out of time.
No. 60 — Isaiah Thomas: Super short.