Celtics
Cavs send Celtics to record loss, 130-86, lead series 2-0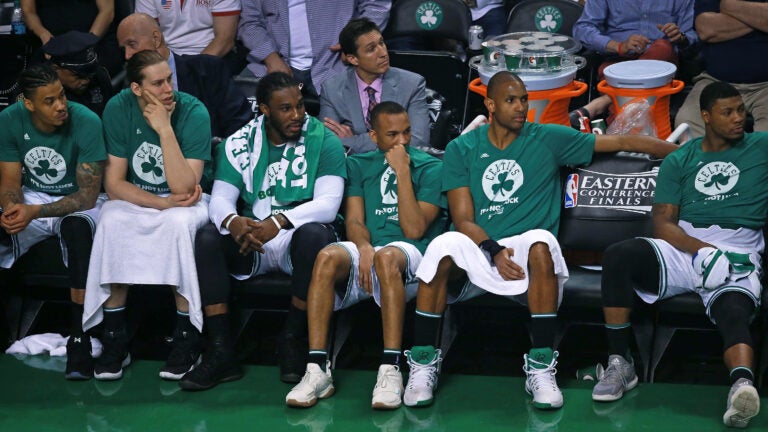 BOSTON (AP) — LeBron James scored 30 points, Kevin Love had 21 points and 12 rebounds, and the Cleveland Cavaliers steamrolled the Boston Celtics 130-86 on Friday night to take a 2-0 lead in the Eastern Conference finals and tie an NBA record with their 13th straight playoff victory.
Cleveland led by 14 points after one quarter, by a record 41 at the half and by 46 after three. Even with James and the rest of the starters sitting out the fourth quarter, the 130 points was the most ever scored by the franchise in a playoff game.
Game 3 is Sunday night.
"It's one game. I don't care if you win by 200 points," Cavaliers coach Tyronn Lue said. "We're going back home, we're not going to get comfortable. We understand that this is a good team. They're not No. 1 in the East for no reason."
The Celtics played the second half without Isaiah Thomas due to a strained right hip. Celtics coach Brad Stevens said the star point guard had a nagging injury that he aggravated a week ago during the second-round series against Washington.
"He was pretty despondent not to be able to play," Stevens said." That guy's a tough guy, and he plays through a lot. For him to have to sit was pretty hard."
Asked how much that hurt his team, Stevens said, "Not 44 points worth."
"I don't want to put that on any one guy," he said. "Ultimately, they were terrific. We were poor. You've got to be able to pick up the slack, certainly, when other guys aren't available."
With both teams going to their benches early in the fourth quarter, the only suspense was whether the Celtics could avoid the worst playoff loss in franchise history. The Orlando Magic beat them by 47 points in the first round of the 1995 postseason.
Still, it was the Celtics' worst home playoff loss ever.
"It is embarrassing," Celtics guard Avery Bradley said. "As a man, as a basketball team, it will say a lot about us how we respond."
Thomas finished with just a pair of free throws, missing all six shots from the field; he also had six assists. Rookie Jaylen Brown scored 19 for Boston, Avery Bradley had 13 and Al Horford had 11 points and five rebounds.
The game tipped off about 15 minutes after the three finalists for NBA MVP were announced, and James wasn't among them. It's the first time since 2008 that he won't finish in the top three.
"You've got to give the award to different people every now and then," Lue said. "But to me, LeBron's the MVP. Just like (Shaquille O'Neal), you can give him the MVP every season, if you want to."
James, who's won the award four times, still has a chance for a fourth NBA title — and second in a row. Maybe Golden State can figure out a way to slow him down, or San Antonio if it can come back in the West. The Celtics haven't found a way, and they're running out of time.
James had 22 points in the first half, when he also collected six assists and had three blocked shots, including a chase-down rejection of Bradley that was reminiscent of the one against Andre Iguodala in Game 7 of the NBA Finals.
That one was critical to clinching Cleveland's first championship since the Browns won the NFL title in 1964.
This one more like rubbing the Celtics' noses in the fact that they just couldn't stop him.
TIP-INS
Cavaliers: James is first player with at least 30 points in eight straight playoff games since Kareem Abdul-Jabbar in 1970. … James played just 33 minutes — a low for this postseason and just the second time he played fewer than 40 in the 2017 playoffs.
Celtics: Stevens started Gerald Green in place of Amir Johnson. Green made his first two shots — both 3-pointers — but finished with six points. … The Celtics missed their first six shots. … There was a large contingent of New England Patriots sitting courtside, including tight end Rob Gronkowski, backup quarterback Jimmy Garoppolo and owner Robert Kraft. … Thomas and Stevens were hit with technical fouls about a minute apart in the second quarter.