Celtics
Isaiah Thomas aggravates hip injury, sits second half of Game 2
"He was pretty despondent."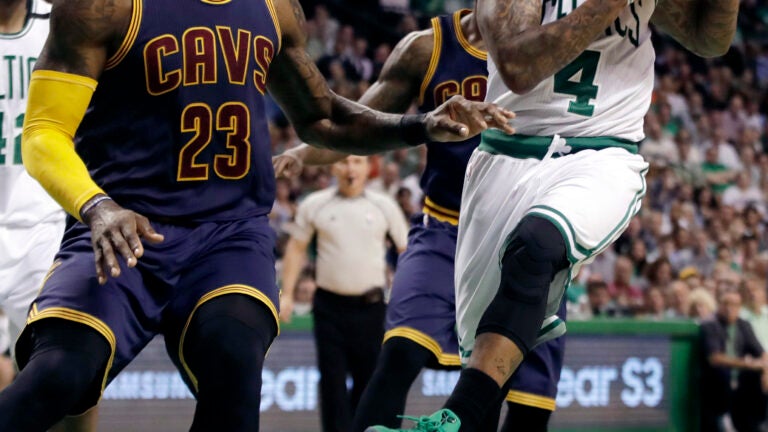 BOSTON (AP) — After Boston was beaten up in the Eastern Conference finals opener, Isaiah Thomas was confident the Celtics could bounce back in Game 2.
"We're not scared of Cleveland," he said. "They're not the Monstars. They're not on 'Space Jam.' Like, they lace up their shoes just like us. They just happened to play better than us in Game 1."
And now Game 2.
Cleveland's 130-86 victory Friday night was the Celtics' worst home playoff loss ever, and just three points shy of its franchise playoff-worst, 47-point loss in Game 1 of the 1995 first round against Orlando.
The 130 points by Cleveland was the most ever scored by its franchise in a playoff game, as the Cavaliers head home with a 2-0 series lead.
Thomas only was on the court for half of it, sitting out the final 24 minutes with a right hip strain that he sustained during the first half. He finished with two points in 18 minutes.
Coach Brad Stevens said that Thomas has been playing with a nagging hip injury that he aggravated "pretty significantly" against Washington in Game 6 of their East semifinal matchup.
"Today I thought he looked much different in the first half," Stevens said. "And we when we went back to the locker room, our training staff and doctors got with him. And he was pretty despondent not to be able to play. He's a tough guy and for him to have to sit is really hard."
Thomas will be re-evaluated on Saturday.
But Stevens said Thomas' absence was "not 44 points-worth" of difference in the game.
"I don't want to put that on any one guy. I think ultimately they were terrific, we were poor," Stevens said. "You've got to be able to pick up the slack, certainly when other guys aren't available."
Thomas tried to inspire his team early in the second quarter when he was called for a technical foul for arguing a foul call on rookie Jaylen Brown. That was followed by another on Stevens.
But nothing worked as the Cavs reeled off a 34-11 run to end the first half.
For the game Boston shot just 37 percent (32 of 86) from the field and 29 percent (8 of 27) from beyond the arc. The Celtics also had 21 turnovers, which led to 23 Cleveland points.
"It's honestly just embarrassing," guard Avery Bradley said. "We'll find out what kind of team we ae how we respond."
He shrugged off the idea that Cleveland might be in their head after two dominating wins.
"I hope not," he said. "They're not in my head. I hope not."
Cleveland's win in Game 1 was mostly just a two-man operation by the Cavs, as LeBron James and Kevin Love took turns piling up points against a Boston defense that didn't have an answer for either one-on-one..
Game 2 was a demonstration of the Cavaliers' complete arsenal of weapons — all clicking together as a cohesive and fine-tuned machine.
James and Love again did whatever they wanted against the defenders the Celtics put in front of them, scoring 30 and 21 points, respectively. Meanwhile the third member of Cleveland's Big Three, Kyrie Irving, got into the act with 23 points on 8-of-11 shooting.
As a team the Cavs were 19 of 39 from the 3-point line.
Boston tried to fight back, scrambling to close out on defense and trying to send help to contain James on drives. But nothing seemed to work as Cleveland shared the ball in the half court and made the Celtics pay with transition 3-pointers.
The sequence that might have perfectly encapsulated the night for Boston came in the closing seconds of the first half.
J.R. Smith chased down a loose ball in the corner, turned and flung a fading, desperation shot over shoulder. It somehow found the bottom of the basket. Celtics fans could only boo loudly as Smith stood and posed under the 72-31 scoreboard.
Asked where his team goes from here, Stevens wryly responded, "Cleveland. Tomorrow."
It's a feeling shared by his players.
"No one's pointing fingers," Horford said. "We're sticking together."
___
More AP NBA: apnews.com/tag/NBAbasketball
___
Follow Kyle Hightower on Twitter at http://www.twitter.com/khightower