Celtics
Read Frank Deford chronicle what Bill Russell learned from his family — and taught the Celtics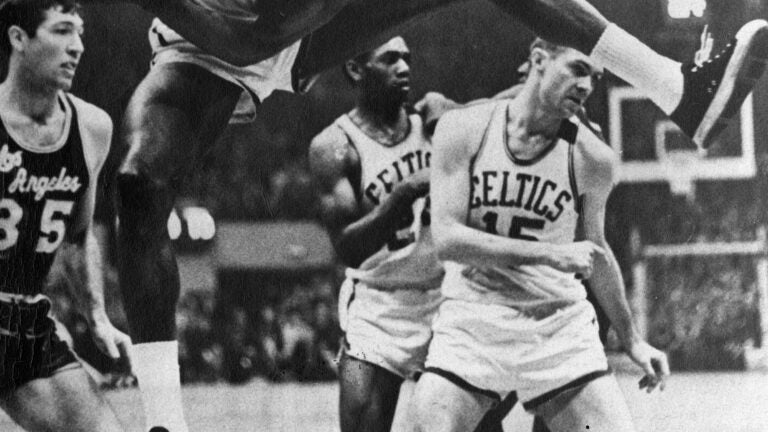 According to one definition, a legend is "an extremely famous or notorious person, especially in a particular field." It can also be defined as "a story coming down from the past" or "a body of such stories."
Bill Russell is a legend. Frank Deford is a legend.
Both are pioneering titans in their respective fields of basketball and sportswriting. The former is arguably the preeminent leader and champion in the history of team sports. The latter is arguably the most elegant, literary chronicler of athletes like Russell, the creator of a body of stories capable of rendering his subjects both human and legendary.
On the occasion of Deford's death — the longtime Sports Illustrated writer, radio commentator and novelist died on Sunday at age 78 — fans of sports journalism and the Boston Celtics can revisit a classic piece of his writing on Russell at SI.com. Published in SI in 1999 and republished to commemorate the magazine's 60th anniversary in 2014, "The Ring Leader" is a multi-track journey along the West Coast and through Russell's entire life to that point, tracing the lessons imparted to — and then later by — Russell as he grew from a young boy in West Monroe, Louisiana, into an 11-time NBA champion in Boston.
Check out two brief excerpts below, and then read "The Ring Leader" in full at SI.com.
Deford reveals what Russell taught the Celtics about intensity:
Yet for all the insular contentment Russell has always sought in his life, his play was marked by the most extraordinary intensity. If he threw up before a big game, the Celtics were sure everything would be all right. If he didn't, then Boston's coach, Red Auerbach, would tell Russell to go back to the toilet–order him to throw up. Rookies who saw Russell for the first time in training camp invariably thought he had lost it over the summer, because he would pace himself, even play possum in some exhibitions, to deceive pretenders to his throne. Then, in the first game of the real season, the rookies would be bug-eyed as the genuine article suddenly appeared, aflame with competition. It was as if the full moon had brought out a werewolf.

Cousy says, "The level of intensity among the big guys is different. You put a bunch of huge guys, seminaked, out there before thousands of people, and you expect them to become killers. But it just isn't in their nature. Kareem [Abdul-Jabbar] probably had the best skills of all big men, and he played till he was 42. If he'd had Russ's instincts, it's hard to imagine how much better he'd have been. But he'd have burned out long before 42."
Deford reveals a lesson Russell learned from his mother: 
Even more clearly, Russell recalls the gritty creed his mother gave him when he was a little boy growing up in segregation and the Depression in West Monroe, La. Katie said, "William, you are going to meet people who just don't like you. On sight. And there's nothing you can do about it, so don't worry. Just be yourself. You're no better than anyone else, but no one's better than you."

One time, when he was nine, William–for that is what he was called till basketball made him just plain Bill–came home to the family's little shotgun shack after being slapped by a boy in a gang. Katie dragged him out to find the gang. She made her son fight every boy, one by one. "The fact is, I had to fight back," Bill says. "It wasn't important whether I won or lost."
Read "The Ring Leader" at SI.com. 
As the remembrances of Deford proliferated on Monday, Sports Illustrated included "The Ring Leader" in a roundup of his 10 best pieces.
Check out the complete list at SI.com.