Celtics
In his first Finals game, Larry Bird made the 'greatest play' Red Auerbach ever saw
"Larry Bird is a player of destiny. He's going to go down in the history of this game."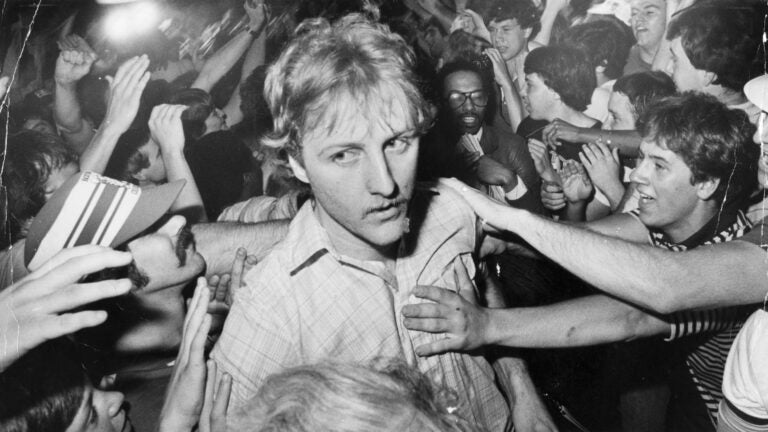 In 1981, Larry Bird was introduced to the NBA Finals. Or was it the other way around?
While the bright lights of the Finals have often left players frozen like a deer in the headlights,  Bird hit the ground running. In his second season, the 24-year-old helped the Celtics return to the Finals after a grueling seven-game battle against the defending champion 76ers.
In Game 1 against the Houston Rockets, Bird came up just short of a triple-double. His line for the game (18 points, 21 rebounds, 9 assists) does an accurate job of depicting his performance. Still, one particular highlight left even the most seasoned veterans of the NBA thoroughly dazzled:
https://giphy.com/gifs/larry-bird-VMYKEcpOEXg0o
The Celtics rallied from a six-point deficit at halftime to won Game 1, 98-95. Red Auerbach told the Boston Globe's Bob Ryan after the game that it was "the greatest play I've ever seen."
"Larry Bird is a player of destiny. He's going to go down in the history of this game," Auerbach declared.
Even Rockets players were in awe of Bird's play.
"I was right there," said Houston guard—and future NBA coach—Mike Dunleavy. "His body was completely past the backboard. The only thing not out of bounds was his head and his left hand. I don't know how he made that shot."
It was Bird's 12th double-digit rebounding performance in 12 playoff games to that point in the '81 postseason. The 21 rebounds tied a career high (which he would again match in Game 2). And the Celtics would win the title in six games as Houston was unable to score in any of the games in the Finals.
Bird, of course, was understated in the praise Auerbach had paid him.
"Red says so much I don't even listen to him," Bird said. "I just let it run in one ear and out the other."
Here are additional Bird highlights from Game 1 of the '81 Finals:
https://www.youtube.com/watch?v=aDk9y0Vul5A