Celtics
Danny Ainge says the Celtics aren't in 'punt mode' just because the Warriors are good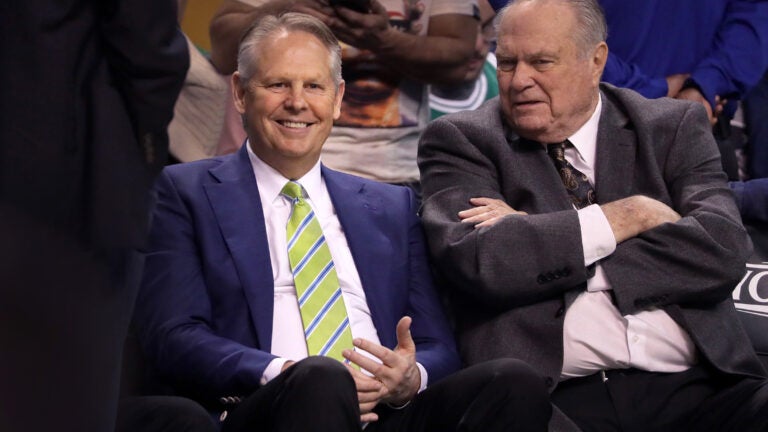 Behind a 39-point performance from NBA Finals MVP Kevin Durant, the Golden State Warriors held off a late push from the Cleveland Cavaliers to notch their second championship in three years. And based on recently released Vegas odds, Steph Curry and company have the best shot at taking home the title next year, too.
Celtics with third best 2018 title odds in @BovadaLV's opening odds. pic.twitter.com/n0dTRqpwDj

— Chris Forsberg (@ESPNForsberg) June 12, 2017
But Boston Celtics general manager Danny Ainge isn't bothered by the threat of an omnipotent superteam.
"Something can happen that nobody foresees," Ainge said in an interview with ESPN's Zach Lowe. "I don't look at it as doom and gloom right now."
The 58-year-old executive — who played eight seasons with the Celtics in the 1980's — remembers how he though his team would "stay on top for years." Boston had earned four straight trips to the NBA Finals, featuring two Larry O'Brien trophies, before the Detroit Pistons went on to win back-to-back Eastern Conference titles in 1988 and 1989.
Keeping his own personal experience in mind, Ainge is going to do what he can to acquire assets (in a calculated manner) and establish his team a championship contender.
"We are definitely not in punt mode," he told Lowe. "But trading away picks and promising young players for a veteran who might be 5 percent better is not in our plans, either."
"I like having targets in Cleveland and Golden State," Ainge continued. "I like trying to meet their standards. It might not happen in a year. It might not happen in five years. With them, it might never happen. That's how special they are."
https://twitter.com/ESPNForsberg/status/874601209956491264