Celtics
Larry Bird on Kevin McHale's clothesline foul on Kurt Rambis: 'I don't think Kevin hit him that hard'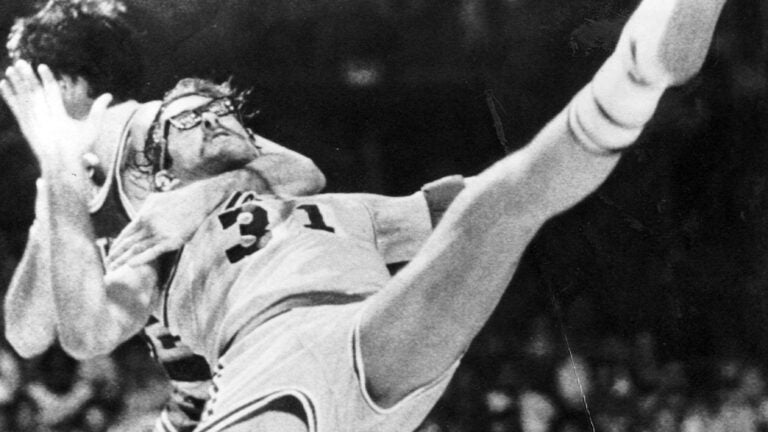 Kevin McHale's infamous clothesline foul of Kurt Rambis during the 1984 NBA Finals is recalled very differently by the opposing sides.
"Cheap shot" and "dirty" were some of the words used by Lakers players in ESPN's 30 for 30 documentary on the Lakers-Celtics rivalry — which premieres Tuesday night. Larry Bird, however, didn't think it was so bad.
"Well that's where all the flopping started," Bird said in the documentary. "I don't think Kevin hit him that hard."
Rambis, the recipient of the hit, disagreed.
"I was pissed," he said in the documentary, Celtics/Lakers: Best of Enemies, which airs in two parts Tuesday and Wednesday night at 8 p.m. on ESPN.
Rambis said that if Lakers forward James Worthy hadn't pushed him away, he had "every intention" of fighting the nearby Celtics bench.
"I thought that was a cheap shot and something you don't do," he said.
In the documentary, Worth even said he regretted breaking up the fight.
"That was a nasty, dirty play, and I wish I had not been in the way of Kurt going to get Kevin," he said. "He deserved an ass-whooping for that."
But like Bird, the Celtics side downplayed the seriousness of the foul, though McHale admitted it was worse than he intended.
"I went to foul him, and when he skidded on the floor and bounced around … I mean, I didn't really care about hurting him that much, but I was like, 'Oh, that might have been a little bit more than I anticipated,'" McHale said.
The foul also came at a time when the Celtics — down 2-1 in a heated, physical series — were in need of an emotional lift playing on Los Angeles's home floor. Danny Ainge, the chippy guard-turned-Celtics general manager, recalled how McHale was an unlikely source for such a bruising response.
"I was like, 'Yes, Kevin!' because that was not in Kevin's nature at all," Ainge said.
In what would've likely been an ejection in today's league, McHale was awarded a simple personal foul — which was well worth the game-changing shift in momentum.
"From that point on, you could just feel the whole game turn," McHale said.
Coming back from a 10-point halftime deficit, the Celtics would go on to win the game 129-125 in double overtime. They eventually won the series in seven games.
Best of Enemies director Jim Podhoretz said one of the more surprising things he learned producing the documentary, which features the 1980s heydays of the Celtics-Lakers rivalry, was the level of vitriol between the players at the time, and how the emotion has remained.
"It's still alive to them," Podhoretz told Boston.com. "The wounds are still there."