Celtics
Better fit for Celtics: Blake Griffin or Gordon Hayward?
Both have been linked to Boston in the weeks leading up to NBA free agency.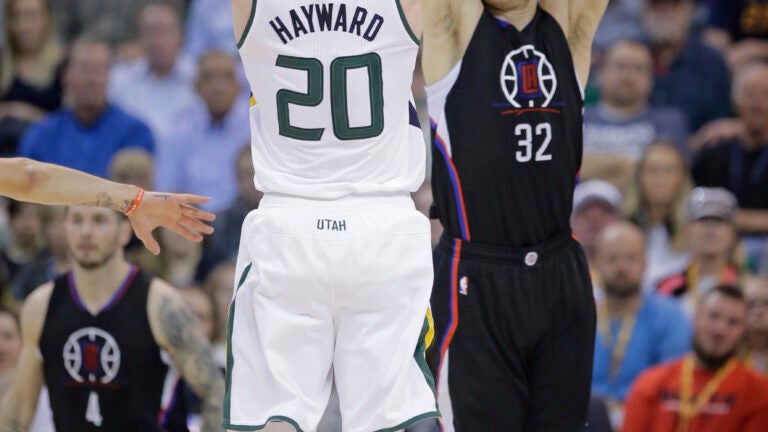 COMMENTARY
With just two weeks remaining before the start of NBA free agency, the Celtics are rumored to be zeroing in on two All-Stars: Gordon Hayward and Blake Griffin. Boston is reportedly on the radar of both players, but the team will only have the necessary salary cap room to sign one, if given the opportunity next month. Which big-name free agent would be the better fit in green?
Let's examine both of the players' skills and other outside factors to determine the best choice for Danny Ainge to pursue:
The case for Hayward
The Celtics have had their eyes on the 6-foot-8 small forward for years now — and with good reason. Hayward shined for Brad Stevens at the University of Butler eight years ago, and he has the potential to fill a similar playmaking role with this Celtics team. One element that became clear throughout the 2017 postseason run is Boston's need for better perimeter shooting and shot creation. Hayward has shown the ability to check both of those boxes over the past few years in Utah.
The All-Star forward has made major strides with his offensive game at a wing position that is more important than ever in today's NBA. The gains came from inside (career high 69 percent shooting inside three feet) and out (39.8 percent 3-point shooting on 5.4 attempts per game) during the 2016-17 season. More importantly, those numbers are just a few signs of the almost across-the-board progress Hayward has shown throughout his seven-year NBA career. He has increased his points per game average each year in the NBA, all while developing into the focal point of a Jazz offense that has been short on shooters. Hayward has taken on a heavier scoring load, increased his efficiency and cut down on turnovers in recent years, emerging as one of the best wing scorers in the Western Conference.
Inserting Hayward into a pace-and-space type of offense that almost always features 4-5 shooters on the floor should only help the forward's numbers. He has never played alongside an offensive talent like Isaiah Thomas ,and it's fair to argue that he has been held back by a one dimensional scoring frontcourt in Utah (Rudy Gobert, Derrick Favors). It's easy for defenses to stay glued to a scorer and pack the paint when they don't have to worry about Favors and Gobert hitting outside jumpers. That equation would change in Boston playing alongside the likes of Al Horford and Kelly Olynyk.
Outside of the offensive potential, Hayward is just a solid player across the board. He rebounds well for his position, he's a capable passer, and he can guard multiple positions competently on the defensive end. With small ball becoming more of a priority for Brad Stevens, Hayward is the kind of versatile piece that can be trusted on both ends of the court.
The Case for Griffin
One look at the power forward's accolades makes the case for Griffin over Hayward an easy one on paper. He's a five-time All-Star and has been elected to the All-NBA team four times already in his seven-year career. The former Rookie of the Year exploded on the pro scene in 2010 by averaging 22 points in his first season, and he has maintained that kind of production for six of the past seven years.
His games played number has been limited by an assortment of injuries over the past three years, but he has delivered consistently while healthy. The 6-foot-10 forward has expanded his offensive arsenal to the 3-point line in the last couple seasons, shooting 33 percent from beyond the arc. As one of the more athletic power forwards in the league. Griffin is also a strong rebounder, grabbing nearly 9.4 rebounds per game in his career despite playing alongside one of the league's top big men on the glass (DeAndre Jordan).
All of these attributes would fit real needs within Boston's frontcourt. The Celtics need rebounding help from a guy who ideally doesn't take away from the team's spacing on the offensive end, and Griffin is a terrific candidate for that role. In addition to his post game and outside shot, the 28-year-old is also a superb passing big (averaging over five assists per 36 minutes for the last three seasons). Stevens likes to work the offense through his bigs, so pairing the Griffin and Horford together at the elbows in a halfcourt offense could give opposing defenses nightmares.
Defensively, the Clippers had far better numbers whenever Griffin was on the floor. He's not a true rim protector, but has shown himself capable of handling bigger defensive assignments, which could ease the onus on having Horford guard opposing centers too regularly.
The Verdict
While the fit is promising for both players, the red flag that stands out here as a tiebreaker is durability. Hayward has never missed more than 10 games in a NBA season, while Griffin has only played a total of 163 out of a possible 246 regular-season games in the last three years combined. His last two postseasons have been cut short by an assortment of injuries (quad, toe) and he underwent knee surgery in the past year as well.
The other question you have to ask about Griffin is whether he will be able to share the floor with Al Horford effectively against elite small ball lineups during the postseason. That's not an easy answer when you consider Horford is on the wrong side of 30 and Griffin's athleticism is already showing some early signs of regression (career-worst 66 percent shooting at rim in 2016-17). It's doubtful either player would be able to stick with LeBron at the four defensively for any significant stretch of a game, a worrisome proposition for a team that will be trying to get past the Cavs for the foreseeable future.
With Hayward, you don't have that to worry about that lineup element, since his size makes him an interchangeable part at any of the wing spots. He's also more of an individual shot creator than Griffin, something that will be needed regularly in Boston. When factoring in those realities with Griffin's health concerns and how NBA lineups are trending, it's hard to deny Hayward is the stronger fit for the C's.