Celtics
Who is Ante Zizic? The most talented Celtics prospect you never heard of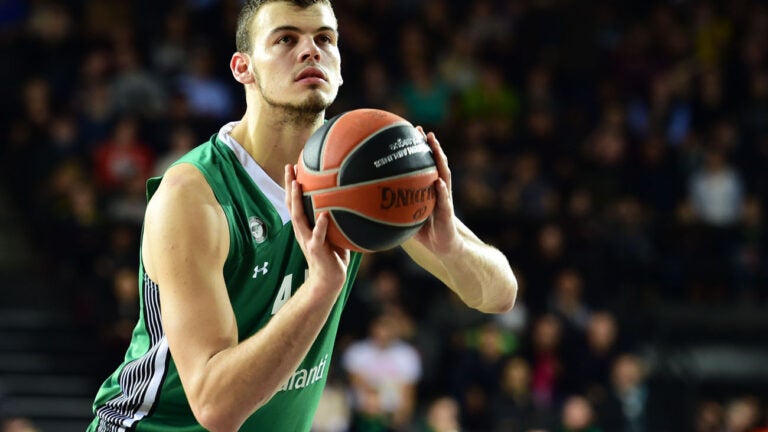 COMMENTARY
Who is Ante Zizic?
This was the first question on many minds last June, when the Boston Celtics selected a relatively unknown Croatian teenager with the 23rd pick in the 2016 NBA draft. Fans were initially upset. Underwhelmed. A little confused. On TV, ESPN cut to a row of Celtics fans in the crowd at Barclays, giving a double thumbs down.
"I would caution those Celtics fans," said Fran Fraschilla, ESPN's international basketball guru. "[Zizic] is one of my favorite kids in this draft. He's 6-11, 240. He has a mean streak."
But Zizic was still at least a year away. On draft night that's another lifetime.
Who is Ante Zizic?
The question re-surfaced in the fall, as Zizic was establishing himself as the best big man in the Adriatic Basketball Association. Before you laugh, the ABA is a respectable league. Dario Saric, Jusuf Nurkic and Nikola Jokic are all recent alums. It's easily one of the 10 best basketball leagues in the world and Zizic was on another level.
On October 11, the young center dropped 37 points and 20 rebounds in a single game for KK Cibona. He was named the ABA's October MVP. By December, still only 19, Zizic led the league in scoring (20.0), rebounds (9.2) and field goal percentage (69.5).
Then, the day after Christmas, about a week before his 20th birthday, Zizic made headlines overseas — and back in Waltham — when he signed with Turkish club Darussafaka Dogus. For those who don't know, Darussafaka is legit. It's one of the best teams in Turkey's top league. The third-best league in Europe, according to Fraschilla.
For the Celtics and their fans, this was a clue that maybe this kid was a little more developed than once thought. For Zizic, it was an opportunity to cut his teeth against bigger, stronger and just plain better competition. Most appealing? It was a chance to play for former Cleveland Cavaliers head coach David Blatt.
"I chose Darussafaka because Dave Blatt was the coach there," Zizic said in a telephone interview. "He was in the NBA, of course. He knows NBA basketball."
Believe it or not, Blatt was equally excited about coaching Ante Zizic.
Who is Ante Zizic?
There's a great video on YouTube, posted around this time last year, of David Blatt speaking to a group of players at Adidas EuroCamp 2016. This event is a pretty big deal in the basketball community. It's the only NBA sanctioned pre-draft camp outside of the United States. Every year some 50 players from around the world show up, and on this day, Blatt wants them to understand that everything they do is important. Everything matters. Every decision they make in every aspect of their lives can make or break a career.
If you only know Blatt from his successful but awkward run with LeBron, he's a legend overseas. He's one of the greatest coaches of his generation and an incredibly sharp and insightful guy.
"I'm gonna tell you a story," Blatt says to the packed gym, pacing back in forth.
He goes on to recall a day two and a half years earlier, when he was coaching Maccabi Tel Aviv. This was Blatt's last year with the team. They'd eventually win the EuroLeague championship. But this was early in the season — preseason — a handful of guys were off playing with the Israeli national team. Blatt needed extra bodies for practice, so the GM brought in two kids from Croatia, both only 16 years old. He remembers organizing a scrimmage and watching one of the Croatian kids, a big prospect, struggle with the competition.
"It was obviously hard on him," Blatt says. "He was 16 years old. He was playing against grown men."
To this point, Blatt's tone is relatively subdued. He's pacing himself. Then he starts talking about the other Croatian kid — and the words and emotions start to build.
"This other kid," Blatt says. "A big man. He was matched up against Sofoklis Schortsanitis." Blatt laughs. "Do you guys know who Sofo is? Either way I can tell you he is one of the biggest, strongest human beings I have ever seen."
(FYI: THIS is Sofoklis Schortsanitis)
"We called him Baby Shaq," Blatt says. "He was a tremendously strong guy. Agile. Athletic. This kid from Croatia is matched up with Sofo, and guys, what I'm going to tell you right now is the truth."
Blatt pauses for the effect. He's good at this.
"This kid was flying all around the room. He was bouncing off the walls. Bouncing off the floors. He's getting hit every which way possible. And you know what stuck out most? He kept getting up."
Blatt really sells this. He really believes it.
"This kid reminded me of Ali on the ropes," he says. "Just sitting there yelling 'Punch me! Punch me! Punch me!' until the guy's tired, and then he KNOCKED George Foreman's ass out."
Blatt throws an upper cut into thin air.
"That's what this kid was doing. He just kept coming, and coming, and coming. And old Sofo finally just said the 'The hell with it, I'm going home.' He walked off the court, and this kid was left standing."
One more pause.
"That was two and a half years ago," Blatt says. "And I remember I said to myself that day: This kid's gonna be a player. This kid's going to the NBA."
Blatt stops and looks out in the crowd, then turns to one of the organizers …
"Where's Ante?" he asks. "Is Zizic here?"
Who is Ante Zizic?
The question re-surfaced in March, but now there was a different ring to it. Annoyed disbelief had been replaced by a tone more curious, almost flirtatious. Who IS Ante Zizic?
By then, the big man was already adjusting to life at the next level. He hit double figures in six of his first nine EuroLeague games with Darussafaka. That included three double-doubles.
Meanwhile, there were already whispers the Celtics were quickly falling in love — but now they didn't care who knew about it. They were screaming from the rooftops.
"[Zizic] just turned 20 in January, and he punishes grown men physically," director of player personnel Austin Ainge told The Boston Globe's Adam Himmelsbach in March. "July 1 just has to roll over on the calendar, and we'll sign him. He wants to be here, and we want him here."
Then it was April, and suddenly Zizic was in the EuroLeague quarterfinals, doing stuff like this to Real Madrid.
Then it was May, and the Celtics were getting their butts beaten on the block and the boards every game of all three playoff series. They needed a big man. A rebounder. A physical presence in the paint. There was a giant hole in this team's path to real legitimacy and — who is Ante Zizic? He was the peg. The missing piece. Once a giant question mark, Zizic was now a potential answer.
And now it's June, almost a year since the night the Celtics drafted that teenager from Croatia, and so much has happened. So much is still happening. Everything is happening at once.
The Celtics reached the Eastern Conference Finals and have the No. 1 overall pick. Isaiah Thomas became a superstar and suffered a potentially career-altering injury. Name an NBA player and there's a rumor tying him to the Celtics. And every rumor, one way or another, is tied to one of the current Celtics. And the craziest thing of all? Other than IT's hip, none of this is bad. It's good crazy. It's exciting crazy. There are so many balls in the air and different paths for the Celtics to take. It's exciting, but a little frantic, and what's funny is that at this moment, one of the few things we can say with any certainty is that a few weeks from now, Ante Zizic will pack his bags in Croatia and officially join the Boston Celtics. If it's up to him he'll play both summer leagues. At very least, he'll play in one.
Of course, there's the potential for a trade. No one is untouchable. If the Celtics are somehow in the position to land a superstar, and the asking price is Ante Zizic, obviously that's just the business. Everyone would understand.
But look at the Celtics' roster and you'll notice a few things.
They're pretty desperate for a big man.
The backcourt bargain of the last few years is quickly coming to an end. At least two of those guys are in line for a big raise in Boston.
So the Celtics are not only desperate for a big man, they're desperate for an affordable big man. Having a big man like Zizic, at his age, with his ability, locked in on a rookie deal is incredibly valuable to the Celtics' cause.
It would have to be a pretty damn good trade.
Instead it's far more likely Ante Zizic is here to stay, so … who is Ante Zizic?
He's a kid the Celtics are truly, genuinely excited about.
"He'd be a top 10 pick for sure in this year's draft," says assistant GM Mike Zarren. "He'll be a 20-year-old playing in the NBA for the first time so it's hard to know exactly how good he'll be — but guys with his size and skill set are relatively rare."
Who is Ante Zizic?
He's a basketball player. Read that in your best Tommy Heinsohn voice.
This kid is a BASKETBALL PLAYER.
He loves basketball. He was raised on basketball. His brother Andrija had a prolific professional and Olympic career. Andrija is also 17 years older than Ante, and was already playing professionally when Ante was born. Ante only knew a world where his brother played professional basketball and that's all he ever wanted to do.
"He was my role model," said Zizic, whose English is not yet fluent but still solid. Communication with coaches and teammates shouldn't be an issue. "I only wanted to be like him."
Who is Ante Zizic?
Well, he obviously left an impression on David Blatt.
"This is what I'm talking about when I say 'everything you do matters,'" Blatt told the group of NBA hopefuls last summer. "This was two years ago. Zizic wasn't on anyone's radar. Hell, he wasn't on anyone's radar until last year, until everyone started noticing that he keeps coming. That if there's a loose ball he's going to get it. That if there's a rebound in his area, he's going to go after it. That if he has to run the court as a trailer, he's going to make that effort every single time."
But Blatt is not alone. Almost everyone loves the way Zizic plays. They love his motor. His energy.
"I still remember the first time I saw him play," Celtics legend Dino Radja said over the phone. He and Zizic are both sons of Split, Croatia. "He was very skinny. I just remember him running. It was one of those situations where you're watching 10 guys out on the court, and you see one that's just different."
Radja has known Zizic his whole life.
"He has great habits," Radja said. "He runs the floor well. He goes after every rebound. And he has a good head. He's not a "Now I made my money, so I don't care anymore" kind of guy. I think he's going to be a good player here."
Dino admittedly didn't see much of Zizic after the move to Turkey, but a different former Celtics second-round pick, Mr. Luke Harangody, was keeping tabs.
Harangody has spent the last four seasons in Turkey. Last year was his second with Darussafaka.
"Zizic has the pedigree for the NBA already," Harangody said over the phone. "He's got the body and the size and the strength. But the thing about Ante is just the way he moves. In an NBA game, the big has to be able to get up and down the floor really well and the way he is with his motor, he can run the floor so well. It's nonstop."
Who is Ante Zizic?
Where does this motor come from?
Does Ante ever get tired?
"No, no, no, no," he said, half-laughing, almost insulted by the question. "Never tired. I don't know why, but I was just born with something. I just want to win the game. That's my mentality."
Who is Ante Zizic?
He's still a work in progress.
"He needs time with certain things," Radja said. "His shooting. His back to the basket. Of course, he can shoot and play with his back to the basket, but it's not automatic. He's still a little rough around the edges. There's still place for improvement."
"He could put on a little weight," Harangody said. "But the strength and conditioning coaches will know how to do it in a way that really helps."
On the other hand — and this is probably related to all the time Zizic spent with his older brother — Harangody doesn't expect emotional maturity to be an issue.
"You always forget he's 20," he said. "He doesn't act like a kid in the locker room. He's mature for his age."
And it's fair to say Harangody is a pretty big fan of Zizic's game.
"On the court, his offensive is only gonna get better. He's getting to the point now when he would be calling for the ball in the post. His postgame is gonna get better. And the thing people don't know, he has a decent 15-foot jump shot that he can knock down on a consistent basis. He doesn't show it often but he can hit and I'm sure that's something they'll be working on with him once he gets to Boston."
Who is Ante Zizic?
The answer to that question will ultimately depend on Zizic himself. The jump to the NBA is a big one no matter who you are. There's no set time table to adjust.
"It's all personal," Radja said, and he knows a thing or two about the jump from Eastern Europe. "Some people can grow up in one season. Some people need a couple seasons."
But for what it's worth, Zizic has the right mentality.
"I know that I can get better," he said. "I have the ability to do that. So every day I'm working on every single detail of my game. I think for me most important is physically. I have to work on my body, but I know I can improve everything."
Who is Ante Zizic?
At the very least, it seems he's a young, athletic, incredibly strong and unrelenting big man who loves to rebound and run the floor.
"If the coach just wants me to rebound or play defense, for me that's no problem," he said. "I've played many different roles on teams. Whatever they need me to do, I can do."
In the best-case scenario?
Eh, let's not go there yet.
Even the very least already feels like more than enough.