Celtics
4 ways Jayson Tatum can help the Celtics right away
The 19-year-old forward averaged 16.3 points and 7.4 rebounds during his one season at Duke.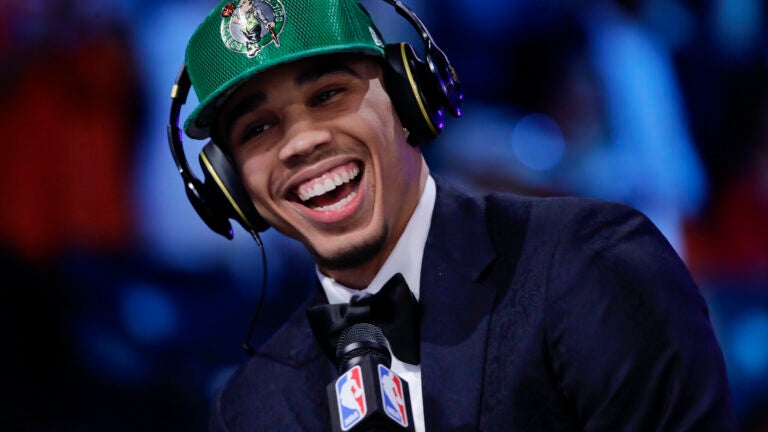 COMMENTARY
One year after surprising the NBA by selecting Jaylen Brown with No. 3 overall pick, Danny Ainge went the expected route in 2017, opting for Duke freshman Jayson Tatum at No. 3 overall on Thursday night. The 19-year-old worked out multiple times for the Celtics this month, and most mock drafts had projected the 6-foot-8 forward going to Boston.
Which parts of Tatum's game will translate well to the next level? Let's explore a few areas where he can help the Celtics right away.
Isolation scoring: The combo forward feasted on lots of defenders in 1-on-1 situations at Duke. He has a creative mix of moves in the midrange and at the rim, which made him a go-to scorer for the Blue Devils during ACC play. He has the speed to get past bigger defenders and the height advantage to shoot over smaller wings. That versatile skillset helped him get to the free throw line often (4.8 attempts per game), and he knocked those freebies down at a exceptional clip (84.9 percent).
He has great footwork for a 19-year-old as well, and that should help him hit the ground running at the NBA level. Before draft night, the Celtics were devoid of creators they could count on outside of Isaiah Thomas. Tatum is a step in the right direction on that front.
Positional flexibility: Brad Stevens relied on plenty of small ball last season,  a trend that's likely to continue with the Cavs and Warriors standing out as contenders for the foreseeable future. In order to compete with those teams, the Celtics need to have players with the ability to guard multiple positions, and Tatum's physical makeup should allow for that. He already played a lot of power forward at Duke and he should follow that path in Boston. He has the foot speed to hold his own against smaller wings in switches, giving him the flexibility to stay on the floor against smaller lineups as Brad Stevens confirmed on Thursday night.
"I think the biggest thing is that we really value his versatility," Stevens said after the pick. "A couple years ago, I talked about how we were thin on guys that could play a number of different positions, when you talk about, really, 2-3-4. Now we're starting to really — we've got a lot of position-less players that can dribble, pass, and shoot. That's a good thing."
Floor spacing: Unlike some other prospects — Josh Jackson, De'Aaron Fox — near the top of this year's draft class, there aren't many question marks about Tatum's jump shot. He fired from deep regularly at Duke (four attempts per game) and hit an acceptable clip (34 percent from downtown). That's a strong starting point for a 19-year-old who projects to be a stretch four at the next level. With plenty of other young Celtics — Marcus Smart, Jaylen Brown — who have unreliable jump shots, Stevens can rest easy knowing that won't be a major question mark in Tatum's game. He'll keep the floor spread around Isaiah Thomas and should keep opposing defenders honest when he's spotting up on the perimeter.
Defensive rebounding: While Tatum's overall defense needs work, he hit the glass well for his size. He ranked tenth in the ACC in rebounds per game (7.3) and also finished 10th in defensive rebounding percentage. He has a strong frame and uses his body well in box-out situations, and that's a welcome addition on a Celtics team that has consistently ranked in the bottom five of the NBA in that department.