Celtics
How Danny Ainge can build a Celtics' super team in 5 steps
Boston has all the pieces in place to make significant upgrades this summer.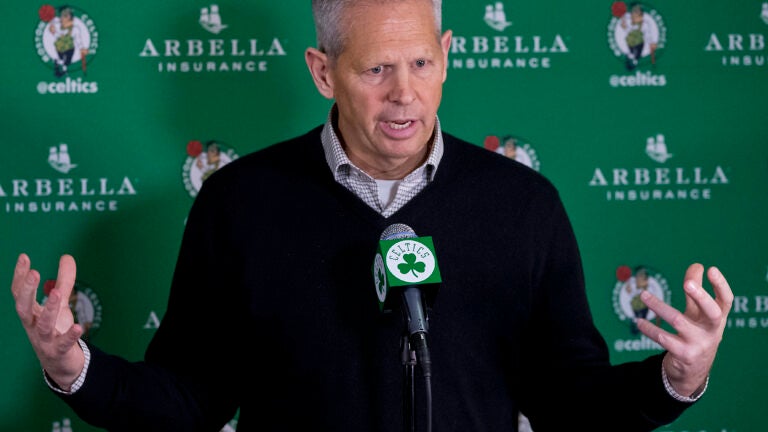 COMMENTARY
Danny Ainge has seemingly arrived at a crossroads in his quest to bring Banner 18 to Boston. He has been taking the slow and steady path to construct his roster in recent seasons, advancing his cause with young draft picks, smart trades and high-value contracts. That approach helped Boston build a 53-win team and Eastern Conference finalist last year.
But continuing along that deliberate course is starting to get tricky for a couple reasons.
To start, the talent gap the Celtics face in trying to compete with the Cavaliers and Warriors is a sizable one. That much remained clear with Boston's ugly exit in the East Finals against Cleveland. The Celtics need multiple great players, not just a depth of good ones. Further complicating matters, some of their good ones are going to be owed big paydays soon: Isaiah Thomas, Avery Bradley and Marcus Smart are set to hit free agency next year; and investing in all three of those guys is not a winning formula. In order to compete at a higher level, Ainge has to start cashing in some assets now, and that process began on draft night.
The Celtics were reportedly interested in shaking things by way of trade discussions involving Kristaps Porzingis and Paul George, but nothing came to fruition on draft night.
"It certainly hasn't closed a window that we didn't do it tonight," Ainge said Thursday. "There's still a window open for trade opportunities for us in July."
So what is Ainge up trying to pull off?
Here is a glimpse of steps that could lead to the core of a super team this summer in Boston.
1) Keep Jayson Tatum and Jaylen Brown: The pair of recent No. 3 overall picks are under Boston's control for at least the next eight seasons and are on their rookie deals for the next three years. Holding onto these cheap pieces with tremendous upside will keep the Celtics with a talented and cost-controlled young core for the foreseeable future (unless the right trade comes around down the road).
2) Agree to terms of a Paul George trade … then wait: The Pacers are confident that they are going to deal their disgruntled star, and the Celtics have the assets to make it happen. George has the ability to opt out of his contract after this upcoming season, but Ainge has admitted he's willing to take a risk on a free agent on an expiring deal for the right cost. If the Celtics can put the right players around George, they may be able to entice him to turn down his hometown Lakers and stay for the long term. In order to put the right players around George though, the Celtics will need to wait until they complete their free-agency signings. Trading for George before those are done would cut into the C's salary cap room, preventing them from signing a big name like Blake Griffin or Gordon Hayward outright.
3) Sign Gordon Hayward in free agency: The Celtics have planned to have enough cap room this summer for a max free agent since the start of the season. While the salary cap projection dropped to $98 million (limiting the C's wiggle room around the edges), they can still get to the max salary needed by waiving and trading a couple players. A key rotation piece (Terry Rozier, Marcus Smart, Jae Crowder, Avery Bradley) will likely have to be traded for a future draft pick to make the math work, but the door would be open for the Celtics to max out Hayward, filling in those minutes anyway.
4) Execute the George trade: After the Celtics sign Hayward, they'll be over the cap and will have more flexibility to make the salaries match in a hypothetical George deal. The Celtics could send a combination of Bradley, Crowder and Smart to make the salaries match with George's $18 million price tag; and could also add a first-round pick or two to make it extra enticing for Indiana. The ask from Indiana might not even be that high since George is on an expiring deal and the Pacers might not have much leverage to demand more. Few teams around the league are in a position to convince George to re-sign beyond next season — when he's let it known that his preference is to play in Los Angeles. The Celtics are one of those teams and Boston has the assets to entice the Pacers. This is a deal that makes sense for both sides to find common ground on.
5) Retain enough assets to acquire one more star: If Ainge can execute this plan, the Celtics' war chest wouldn't be empty either. Brown and Tatum are still on rookie contracts, with other young prospects (Ante Zizic, Guerschon Yabusele) on the roster. The 2018 Brooklyn pick is waiting to be used and the 2018 Lakers pick could be too. Those are enough appealing pieces to make a run at another big star, whenever that player becomes available. With a core of George and Hayward in place, the Celtics would have strong building blocks for the next five years to move forward with and compete with the Cavaliers and Warriors.