Celtics
2 realistic Celtics trade scenarios for Paul George
The Celtics are reportedly eyeing the Pacers All-Star this summer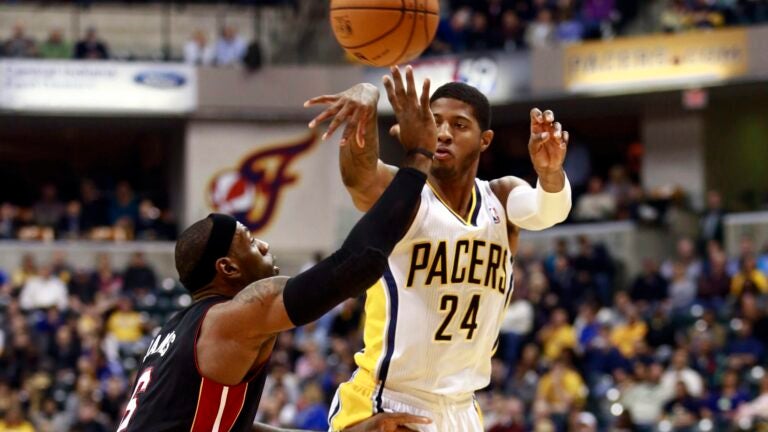 COMMENTARY
The Celtics have been linked to Paul George since draft night, ever since Adrian Wojnarowski of Yahoo Sports reported that Boston was in negotiations with the Pacers for the star forward. Talks stalled that night, but Danny Ainge appears intent on bring in a pair of All-Star caliber players into the fold. The Celtics will first need to make a number of roster moves in order to clear the max salary cap space to sign a free agent like Gordon Hayward or Blake Griffin. What will be left to trade for George after doing that? Here's a look at a couple potential scenarios.
1) Celtics trade Avery Bradley, Jae Crowder, and 2-3 future first round picks (2019 MEM, 2019 LAC) for Paul George
Three of Boston's best assets go out the door in this potential deal, but for good reason. The Celtics must send enough salary to come within $5 million of George's $19.8 million incoming contract, and there aren't many current pieces of the C's roster that fit that criteria. Bradley is a logical choice with his $8.8 million deal for the 2017-18 season. He's set to become a free agent in the summer of 2018 and will command a hefty raise then. With new deals due for other key parts of the roster in the summer of 2018 (Isaiah Thomas), Bradley looks like an expendable piece this offseason if bigger names are brought in. Using him as part of a George package is a smart use of his value. The Pacers could move Bradley to another team this season or sign him long-term to anchor their backcourt during their own rebuilding process.
Crowder will earn $6.7 million next year, and he's about to enter year three of a five-year $35 million deal deal. That pact, signed in 2014 by the Celtics for a 15 point per game 3-and-D wing, makes Crowder one of the best contracts in the league. He could easily be kept by Indiana as a veteran presence or flipped for more future leaning assets. In this scenario, Marcus Smart would have already been traded in a separate deal in order to create sufficient max salary cap space necessary to sign a max free agent like Gordon Hayward or Blake Griffin.
Without Smart to offer, the 2018 Lakers protected pick would be the part of the package that's probably most appealing to Indiana. It would give the Pacers a strong chance to nab an elite lottery pick at the top of the 2018 draft. However, without an extension in place for George, I think the Celtics would hesitate to give that pick up. They could push for a pair of 2019 first-round picks (Memphis and LA Clippers) to be included instead.  This would be quite the nice haul for Indiana, but they could push the Celtics to include more anyway or threaten to move George elsewhere in the meantime. Either way, there are very few playoff teams around the league with the assets to match that offer from Boston.
2) Celtics trade Tyler Zeller, Jae Crowder and 1-2 future non-Brooklyn first round picks (2018 Lakers pick, 2019 Clippers pick) for Paul George
This swap involves a little twist on the first trade I suggested. In this scenario, the Celtics move on from Avery Bradley in a separate trade before a deal for George is even made. Sending Bradley's $8.8 million salary into another team's cap space for only future draft considerations gives them good value for their shooting guard. They could then use or keep those those picks and insert Zeller with Crowder as salary filler in a George trade. Moving Bradley first allows Boston to keep another key part of the roster (Marcus Smart) in place and still have enough salary cap room to sign a max free agent to a new contract before the George deal goes down. This wouldn't be feasible scenario in option 1, making this package a potentially preferred choice for Boston.
Since Zeller is overpaid at $7 million, the Celtics would have to add a little bit more to this deal for the Pacers taking on that bloated salary. Ainge could spin off the draft picks he acquired for Bradley in this hypothetical or include an additional one in their current stash (Memphis 2019 first-round pick, LA Clippers 2019 first round pick) to appease the Pacers as well. A couple of those picks or one of them with the 2018 Lakers protected first round pick should be enough to convince Indiana GM Kevin Pritchard to pull the trigger on a deal.
Which option will the Celtics choose?
It all depends on what the Pacers prefer. My guess is the Celtics' preference is for the second deal, since it allows them to hold onto Marcus Smart into next season. There will be haggling on the number and upside of draft picks involved by both sides, but the bottom line here is that Ainge has the best collection of assets in both quality and quantity. If the C's are committed to getting George in green, one of these deals will be the framework for how the trade goes down.