Celtics
What's the Celtics' backup plan if they miss out on Gordon Hayward?
The Jazz, Heat and Celtics will reportedly meet with the All-Star swingman during the opening days of free agency.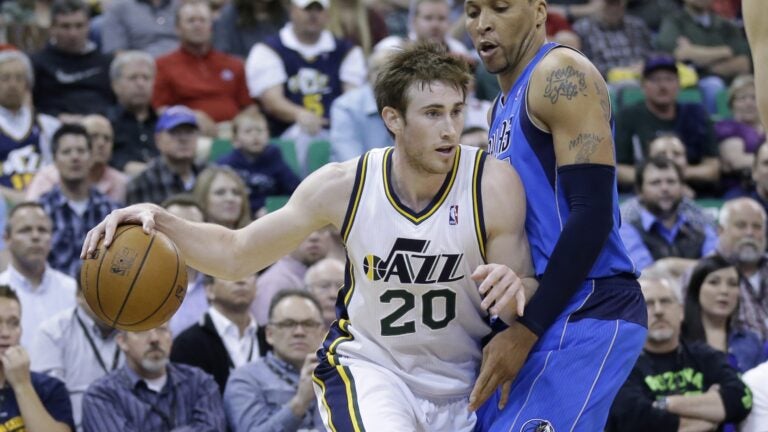 COMMENTARY
With Paul George headed to Oklahoma City, the pressure is now squarely on Danny Ainge to salvage the Celtics offseason in the next couple weeks with a major signing. The wheels are in motion for Ainge to use his salary cap space on Jazz All-Star forward Gordon Hayward, which would help the Celtics take another big step forward on the road to contending. However, the Celtics aren't the clear frontrunners for Hayward's services. The 27-year-old wing could elect to re-sign with a strong young core in Utah or join forces with some appealing pieces (Goran Dragic, Hassan Whiteside) in South Beach with the Miami Heat. He'll meet with all three teams over the next three days before making a final decision next week.
With Blake Griffin, Jimmy Butler, and George already off the table, what exactly is the plan if Hayward passes on Boston? Here are a few options Ainge may try to accomplish to keep a promising offseason from turning entirely sour.
1) Target younger promising free agents that fill needs —  There are a few appealing pieces with lots of potential upside on the open market this summer. One name that sticks out is Grizzlies power forward JaMychal Green, who is a power forward with range (37.9 percent from 3-point range) and has the muscle to rebound (7.1 per game) among the trees in the post. The restricted free agent has been a rumored target of the C's in recent years and it's unclear if the Memphis will be able to match a big money deal for the 27-year-old after tying up most of their payroll in Marc Gasol, Mike Conley and Chandler Parsons. Shot blocking big man Dewayne Dedmon is also one of the best rebounders in the league and could provide an interior presence for a team that slipped badly on the defensive end last year.
2) Target second tier veteran free agents — The summer of 2017 is a bit of a deadline for the Celtics. The franchise won't be able to open up significant salary cap space for the foreseeable future after 2017, unless they let several current pieces of their roster walk next summer (Isaiah Thomas, Avery Bradley, etc.) WIth that in mind, the odds are that Ainge will want to use the cap space he's created this summer on other upgrades even if he misses out on a big fish like Hayward. Shot makers on the wing like J.J. Redick or Danilo Gallinari could be had on sub max contracts, but those players carry risk with age (Redick) or injury problems (Gallinari). Rebounding help is available in the frontcourt with playoff proven performers such as Zach Randolph too. Whether the Celtics want to stay young or add a seasoned veteran to their core, they will have options to overpay for guys on a short-term deal, just like they did with Amir Johnson two years ago.
3) Renegotiate and extend Isaiah Thomas — Just because the Celtics might miss on Hayward doesn't mean the Celtics should overpay another free agent just because they can. Instead, they have an All-Star on their own roster that could be worth locking in for the next few years. Giving Thomas a major raise from his $6.2 million salary during the 2017-18 season could help keep his average annual salary at a reasonable level while the Celtics might be dealing with a skyrocketing payroll over the next few years if they want to keep some of their other key pieces (Avery Bradley, Marcus Smart, etc.) Point guards are being paid handsomely in free agency already this summer (Jeff Teague, Jrue Holiday) so it might be worth trying to find some common ground with Thomas, particularly if you can get him to agree to a deal well below the max.