Celtics
4 trades the Celtics can still make for players who aren't Paul George
The Celtics still have the assets to pull off a major trade this offseason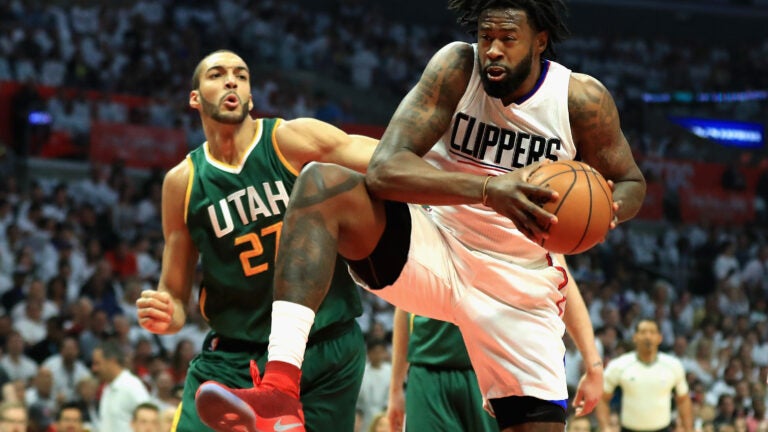 COMMENTARY
The Celtics may have missed out on Paul George last week, but that doesn't mean team president Danny Ainge won't be scouring the trade market this month. In fact, if top free agent target Gordon Hayward ends up passing on the Celtics this week, Ainge may even be better off trying to use his excess salary cap space to acquire a big name via trade, rather than overpaying a second tier free agent. Boston is in need of another shotmaker and rebounding help, and a number of intriguing names have been rumored to be available this offseason. Who could the Celtics acquire without having to dig deep into their treasure chest of assets? Here's a look at four players that could make sense for Boston at the right price.
LaMarcus Aldridge — The Spurs were reportedly testing the market  for the 31-year-old power forward last month around the NBA Draft. The five-time All-Star has been relatively underwhelming during his past two years in San Antonio, particularly in postseason losses to the Thunder and Warriors. If San Antonio wants to clear Aldridge's $21 million salary from their books to target better fits for their roster, the Celtics would clearly have a use for his shotmaking (19.1 career ppg) and rebounding (8.3 per game) in the frontcourt. The Spurs would demand a handsome return for the 6-foot-11 big man, but Boston probably would not have to sacrifice any top assets (BKN picks, Lakers pick, Jaylen Brown, Jayson Tatum) for him since he'll be able to opt out of his deal next summer.
Carmelo Anthony — The Celtics need more shot creators on the offensive end, and that's one thing that Anthony does well. He has averaged over 20 points per game in all 14 of his NBA seasons, and that's despite being surrounded by a subpar supporting cast during several of those years. Anthony is not an ideal option for Boston on the surface due to his age (33) and defensive limitations, but he could be a decent backup plan for the Celtics next year if the rest of the free agent crop dries up quickly. The Knicks have been looking to dump him for years now, so they can't demand much in a swap, especially since the small forward can limit his suitors with a no-trade clause. Anthony is also under contract for just two more seasons, one of which is a player option. If the Celtics don't have any better options for their salary cap room, absorbing his $26.4 million salary for next year in exchange for a late 1st round pick and a player could be worth the gamble.
DeAndre Jordan — Clippers president Doc Rivers may be looking to shake things up in LA a little bit after dealing away Chris Paul to the Rockets last week. The Clippers still brought back Blake Griffin in free agency, but the Griffin/Jordan frontcourt hasn't been a perfect match during recent postseasons. Rivers was reportedly shopping Jordan around the NBA Draft, and he could be looking to play more of a wide open offensive style next year, which Jordan wouldn't be a good fit for. If that's the case, the Celtics should inquire on the All-Star center who is earning just $22.6 million next year. The 28-year-old is one of the best rebounders in the NBA (13.8 per game), and he'd take a lot of pressure in the interior off of Al Horford with his shot blocking ability. Jordan is clearly a major liability with his limited range and subpar free throw shooting on the offensive end, but the Celtics can commit to having four 3-point shooters on the floor around him at all times to help keep the floor spread. If the cost is reasonable, Jordan's overall impact could outweigh his limitations and add some need athleticism to Boston's frontline.
Tobias Harris — The Celtics were linked to Harris a couple years ago  before the former Magic forward signed a four-year deal in Orlando during free agency. Now he's stuck on a Detroit team with plenty of overpaid talent that might be looking to deal after a disappointing 2016-17 season. At 6-foot-9, Harris has the size and shotmaking skills to play a stretch four for Boston, and he's also making reasonable money (averaging $16 million) over the next three seasons. At age 24, he should be entering his prime and would add to an intriguing forward core with Jaylen Brown, Jayson Tatum and Jae Crowder. The Celtics would have to give up a first round pick and/or some backcourt help to Detroit, but Harris would help improve Boston's scoring punch in the frontcourt right away.