Celtics
Who will the Celtics trade so they can officially sign Gordon Hayward?
The Celtics will need to clear some salary on the roster in order to sign Gordon Hayward to a max deal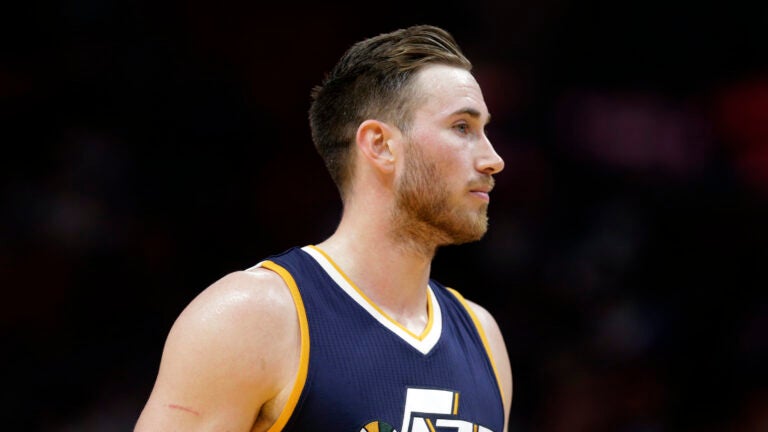 COMMENTARY
The Celtics got a big boost to their offseason on Tuesday when Gordon Hayward announced he will be signing a four-year contract with Boston. By reuniting with former college coach Brad Stevens, Hayward should help the Celtics take another serious step forward from their 53-win campaign in 2016-17. Hayward's signing won't come without some drawbacks though. In order to give the swingman a full max contract, the Celtics will need to cut bait with some current roster pieces as well as potential free agents. Here are a few of the tough decisions Danny Ainge will need to make in the next few days in order to fit Hayward's money into the payroll.
1. Say goodbye to Jonas Jerebko, Kelly Olynyk and James Young — In order to free up the necessary cap room, the Celtics will need to renounce the remaining free agents on their roster. Jerebko and Young weren't expected to return anyway, but the team probably had some hopes of retaining Olynyk this offseason after extending him a qualifying offer in late June. With Hayward aboard, they won't be able to keep that cap hold on the books any longer. Just like Jared Sullinger last summer, Olynyk will be allowed to become an unrestricted free agent, which should help the seven-footer land a bigger payday anyway.
2. Let go of the parts at bottom of the roster — Jordan Mickey is still on the Celtics roster in name, but his days with the franchise were probably already numbered after he passed on playing with the Summer League team following an underwhelming second season. His unguaranteed contract can simply be waived from the books, while his teammate Demetrius Jackson is in a trickier spot. With nearly $650,000 of Jackson's deal guaranteed, the Celtics are far better off trading him into cap room than waiving him (to minimize the hit on their cap). After a disappointing rookie season, some signs of life during summer league this week would help in finding a team willing to take on Jackson's modest deal.
3. Officially stash Guerschon Yabusele? — The Celtics likely took the power forward a couple years ago at draft time with this possibility in mind. Unlike other prospects, he appears open to spending another year overseas to improve on his game, and the Celtics could use the relief from his $2.2 million starting salary for the No. 16 draft slot. Stashing him costs the Celtics nothing, since he'll be able to sign his standard rookie contract next year and that would not impact the C's cap room at that point since they aren't projected to have any in 2018 anyway. Yabusele could help the team this year, but there are better candidates on the team's current roster to stick around. Unless a player with a large contract is moved (Jae Crowder, Avery Bradley) for no return Yabusele will have to be stashed to help make room for Hayward.
4. Trade one of Marcus Smart, Jae Crowder or Avery Bradley
This is where the hard part comes for Ainge. The lowered salary cap projection to $99 million really puts the squeeze on Boston. Even if they stash Yabusele and dump Mickey, Jackson and Terry Rozier, they still won't have enough space to open up max cap room needed to sign Hayward outright. They would need Hayward to take a little bit of a discount to prevent them from moving a key contributor (Smart, Crowder, Bradley) in a trade for cap room. Hayward is a team guy, but it's also fair for the All-Star to want all the money he can earn. If that's the case, the Celtics could choose to keep Rozier and his cheap contract aboard, and move on from another key rotation player.
Moving one of Bradley, Smart or Crowder will do the trick. It's fair to assume younger players (Tatum, Brown, Zizic) are not going anywhere, so it will be up to Ainge to try to gauge the best value for any one of his veteran. Bradley's expiring contract has plenty of value around the league, but do the Celtics want to keep their defensive stopper long-term? Smart is also due a big raise next summer but has plenty of untapped potential at age 23.  Crowder is expendable with Hayward coming in, but he's got a bargain contract for the next three years that is very valuable to Boston with the luxury tax looming down the road.
The Celtics will have a couple days to weigh their options, but one crucial member of the rotation will be out the door in conjunction with Hayward's arrival.