Celtics
A timeline of the discombobulated Gordon Hayward announcement
It wasn't the most straightforward story of a free agent signing.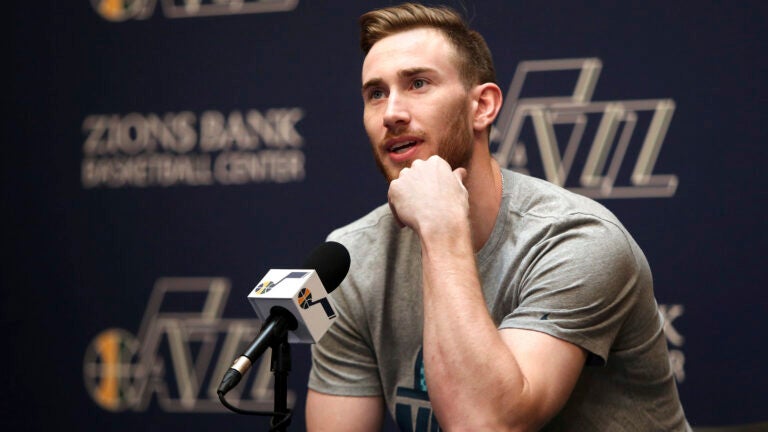 After months of speculation, Celtics fans now know that Gordon Hayward plans to sign in Boston. The 27-year-old forward announced his decision in a Players' Tribune column on Tuesday night. Yet after months of wondering, fans endured one final 5 1/2-hour drama of conflicting reports after what initially appeared to be a definitive decision.
The news that Hayward had chosen Boston over Utah and Miami first broke on Tuesday afternoon. Within minutes, however, the ironclad report (backed by multiple accounts) was thrown into doubt. Hayward had apparently not decided on his destination, and so a confused public was left wondering what was going on.
Ultimately, Hayward settled the drama himself, tweeting out his column where he formally broke the news.
Here's a look at some of the notable news announcements from the beginning of the story (at 2:17 p.m. ET) until its culmination shortly before 8 p.m.:
2:17 p.m.: ESPN reporter Chris Haynes first tweets Hayward's intention to sign with the Celtics:
Free-agent Gordon Hayward plans to sign with the Boston Celtics, league sources tell ESPN.

— Chris Haynes (@ChrisBHaynes) July 4, 2017
2:21 p.m.: Isaiah Thomas appears to react to the news:
?

— Isaiah Thomas (@Isaiah_Thomas) July 4, 2017
2:24 p.m.: USA Today reporter Sam Amick confirms Haynes' report:
Can confirm that Gordon Hayward intends to sign with the Boston Celtics. @ChrisBHaynes first.

— Sam Amick (@sam_amick) July 4, 2017
2:25 p.m.: Adam Himmelsbach of the Boston Globe also confirms the report:
A league source confirms the Celtics have signed Gordon Hayward.

— Adam Himmelsbach (@AdamHimmelsbach) July 4, 2017
2:26 p.m.: ESPN senior writer Zach Lowe adds further confirmation to Haynes' report:
Can confirm the @ChrisBHaynes report: Sources close to Hayward say he is signing in Boston.

— Zach Lowe (@ZachLowe_NBA) July 4, 2017
2:27 p.m.: Though the Hayward reports appear confirmed, ESPN reporter Adrian Wojnarowski says that Utah haven't heard from him yet:
The Utah Jazz are still waiting to be told of Gordon Hayward's intentions, league source tells ESPN. Hayward hasn't told them his plans yet.

— Adrian Wojnarowski (@wojespn) July 4, 2017
2:28 p.m.: Ricky Rubio, who was recently traded to Utah, tweets:
?

— Ricky Rubio (@rickyrubio9) July 4, 2017
2:30 p.m.: Yahoo reporter Jordan Schultz also affirms Hayward hasn't committed to Boston:
Source confirms Gordon Hayward has NOT made a decision. The report saying he is headed to #celtics — at least as of right now — is UNTRUE.

— Jordan Schultz (@Schultz_Report) July 4, 2017
2:32 p.m.: NBA insider David Aldridge says Hayward is "still in the process" of deciding:
Okay. Strap in. Told by a source w/knowledge of the process that Gordon Hayward has NOT made a decision yet & is still in the process. FWIW.

— David Aldridge (@daldridgetnt) July 4, 2017
2:34 p.m.: Wojnarowski adds a quote from Hayward's agent, denying that he's decided on Boston:
Gordon Hayward's agent, Mark Bartelstein, tells ESPN: "Gordon hasn't made a decision yet. We are still working through it."

— Adrian Wojnarowski (@wojespn) July 4, 2017
2:36 p.m.: NBA insider Spencer Checketts report the Celtics haven't heard from Hayward:
Hold the phone. Text from Celtics Exec: "We haven't heard anything yet."

— Spencer Checketts (@1280Spence) July 4, 2017
2:56 p.m.: Himmelsbach reports that Hayward's agent explained they needed to "regroup here a bit":
Hayward's agent Mark Bartelstein on whether final word is coming today: "That was the goal, but now we've got to kind of regroup here a bit"

— Adam Himmelsbach (@AdamHimmelsbach) July 4, 2017
3:02 p.m.: Utah Jazz president Steve Starks says he believes Hayward that no decision has been made:
We trust Gordon and his agent that no decision has been made. Good communication all day and a great relationship.

— Steve Starks (@StevenStarks) July 4, 2017
5:39 p.m.: Tony Jones of the Salt Lake Tribune reports neither the Celtics nor Jazz have been contacted by Hayward "in an official capacity":
Can confirm reports that neither the Jazz not the Celtics were notified of a decision today by Hayward in an official capacity

— Tony Jones (@tribjazz) July 4, 2017
6:25 p.m.: According to Anthony Chiang of the Palm Beach Post, the Heat are still in the hunt:
As of now, Heat have not been informed they were eliminated from the Gordon Hayward sweepstakes, according to source. https://t.co/X1D63fiikt

— Anthony Chiang (@Anthony_Chiang) July 4, 2017
6:58 p.m.: Jones reports that the Jazz plan to "remain in contact" with Hayward into the night:
The Jazz will remain in contact tonight with the Hayward camp, I'm told. But are giving space to Hayward himself.

— Tony Jones (@tribjazz) July 4, 2017
7:48 p.m.: Hayward ends the speculation, using the Players' Tribune to make his formal announcement:
Thank You, Utah. https://t.co/ICfocNeZfW

— Gordon Hayward (@gordonhayward) July 4, 2017
7:50 p.m.: Shams Charania of The Vertical reports the terms of Hayward's contract:
Free agent Gordon Hayward has agreed to a four-year, $128M deal with the Boston Celtics, league source tells The Vertical.

— Shams Charania (@ShamsCharania) July 4, 2017
Hayward receives a player option in the fourth year of his Boston contract, league sources tell The Vertical. https://t.co/mCP9r5wdXz

— Shams Charania (@ShamsCharania) July 4, 2017
7:58 p.m.: Isaiah Thomas reacts to the news:
https://twitter.com/Isaiah_Thomas/status/882388352439398403