Celtics
Gordon Hayward signing saves the Celtics' offseason
The Celtics landed the All-Star wing on a four-year deal Tuesday.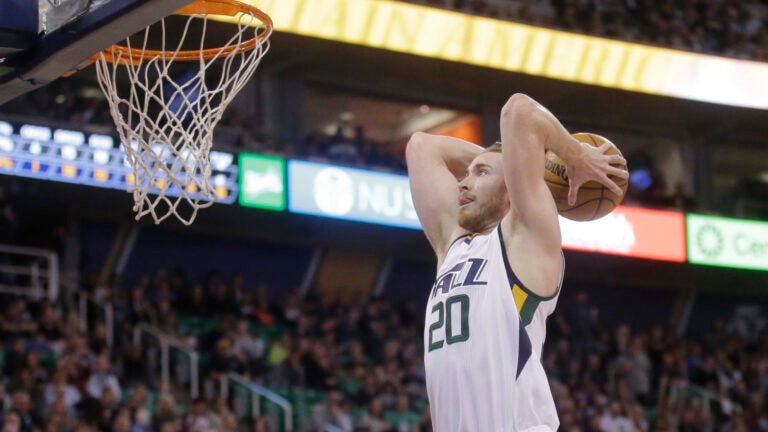 COMMENTARY
For the first few days of free agency, not a lot went right for the Boston Celtics. To start, rumored trade target Paul George was dealt away to the Oklahoma City Thunder for an underwhelming return, a package the Celtics could have easily topped. Top-tier free agents (Blake Griffin, Paul Millsap, Serge Ibaka) quickly agreed to contracts with other suitors. Even second-tier free agents (Danilo Gallinari) found homes quickly while the Celtics patiently put all of their eggs in the Gordon Hayward basket, waiting on his decision. On Tuesday, the patience paid off as Hayward announced on the Players Tribune that he would be teaming up with Brad Stevens in Boston after agreeing to a four-year deal.
Danny Ainge and his staff planned masterfully for this moment over the past couple years. Ainge and company combined young talent and overlooked veterans to create a formidable squad in the Eastern Conference. The Celtics improved in the standings at a rate that most people would never have expected given the talent level on paper. The front office found the parts that fit for Brad Stevens and also did so while maintaining an emphasis on future flexibility and salary cap space. Assets would not be cashed in early and long-term salaries would not be taken on for the sake of a few regular season wins. Landing a name like Hayward in free agency was always going to be the goal, particularly after the Celtics landed another top free agent target in Al Horford in 2016.
Chasing free agents in the NBA, especially big stars, generally, is a low odds play. The NBA sets up a lot of incentives for players to stay with their original teams, whether it be more money or more years those teams can offer in a contract. The Celtics were able to overcome those obstacles by creating a winning culture where All-Stars are eager to come aboard. The challenge of building with youth and attracting talent is a tricky combo, but one that Ainge has balanced well over the last two summers.
While the Celtics waited on the sidelines as bystanders for the start of free agency, it's fair to say now that other moves made by Western Conference teams only strengthened their pitch to Hayward. The Rockets (Chris Paul), Thunder (Paul George) and Nuggets (Paul Millsap) all added top-30 players to a dominant collection of playoff teams out West. Even if Hayward returned to the Jazz, there was no guarantee that Utah would be getting out of the first round in the West anytime soon, making the road to even challenge the Golden State Warriors a daunting one.
In the East with the Celtics, Hayward faces a far more appealing path. The Cleveland Cavaliers are the heavy favorites, but there are plenty of rumblings that LeBron James could be on the move in another year. Outside of Cleveland, there's not a lot for a player to worry about. A Thomas/Hayward/Horford core will have to battle with the Washington Wizards and Toronto Raptors for positioning at the top of the East, but neither of those teams have the future assets and lottery talent in the wings that Boston can rely upon to continually improve in the next few years.
Ultimately, the Celtics were going to be stuck in no man's land if Hayward passed on them this summer. 2017 was the team's last chance at having serious salary cap room for the foreseeable future. Next year, the payroll math starts to get complicated. Thomas, Avery Bradley and Marcus Smart will all be looking for new contracts. Paying them all market value wouldn't be a wise move for a team trying to build a contending core. Tough decisions are coming now, but they get a lot easier now with a star like Hayward in place.
Ainge went into this offseason saying his team had good players, but needed more great ones. He landed one on Tuesday and for the second straight year, the Celtics didn't need to give up anything to do it.