Celtics
Here's one reason Celtics fans should be excited about Marcus Morris
The former Piston could prove useful next time the Celtics matchup against LeBron James.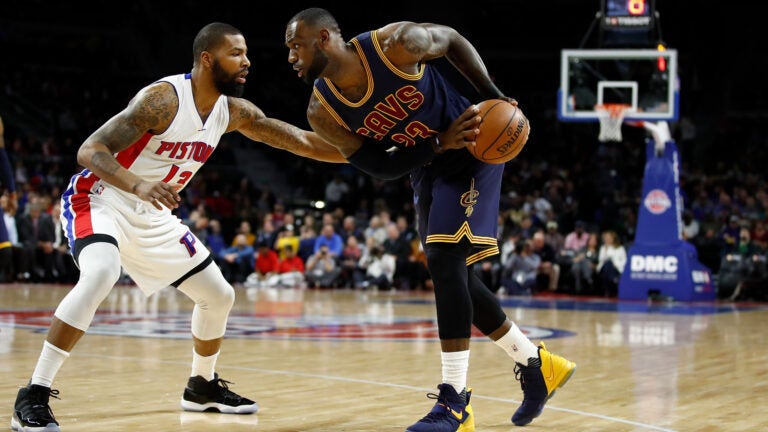 Avery Bradley's departure may be bittersweet for Celtics fans.
The acclaimed shooting guard was traded Friday, along with a 2019 second-round draft pick, to the Detroit Pistons. In return, the Celtics received small forward Marcus Morris (not to be confused with his twin, Markieff).
And while the trade was to a certain extent necessary to make space for incoming free agent Gordon Hayward's max contract, the cap space wasn't the only thing they gained. They also got a bonafide LeBron stopper.
By some measures, Morris was the NBA's best defender of LeBron James during the 2015-16 regular season. According to ESPN's Tom Haberstroh, James averaged just 20.5 points per 100 possessions when defended by Morris — his lowest average against any defender in the league that season.
That's a striking statistic compared to James's average over the course of that entire season: 36.5 points per 100 possessions.
As NBA.com noted that same year, James "averaged 20.7 points and shot just .308 from deep in three games against the Pistons this season, guarded mostly by Marcus Morris."
During the Cavaliers' first-round playoff matchup against the Pistons, James averaged 22 points per game while shooting 49 percent overall and 21 percent from three-point range. The Cavs swept the Pistons.
In the three games James played the Pistons this most recent season, he averaged 22 points on 56 percent shooting from the field, but just 9 percent from three.
Considering that James shot 34.5 percent from behind the arc against the Celtics during the 2017 Eastern Conference finals and 35 percent against the team during the regular season, Boston seems like they could use Morris's apparent prowess at limiting the four-time MVP from deep.
Overall, Morris was 66th in the league (out of 486 NBA players) for defensive win shares, an advanced metric measuring the estimated points per possession an individual player allowed. Only two Celtics were rated better: Jae Crowder and Marcus Smart.