Celtics
Jayson Tatum shines again for Celtics in summer league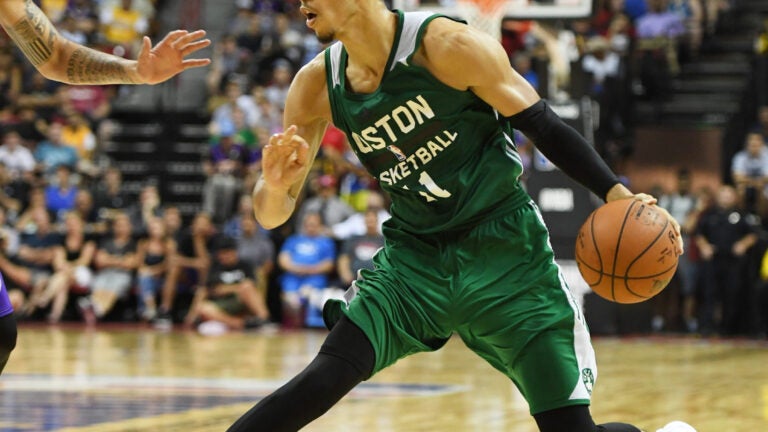 LAS VEGAS (AP) — Whether it's Salt Lake City or Sin City, Jayson Tatum is owning the NBA's summer league.
The No. 3 overall pick had 27 points and 11 rebounds to lead the Boston Celtics to an 86-81 victory over the Los Angeles Lakers on Saturday night.
27 points and 11 rebounds from Jayson Tatum push the @celtics to victory in Vegas! #NBASummer pic.twitter.com/k1GJ7ydgbC

— NBA (@NBA) July 9, 2017
Tatum, the swingman from Duke that Boston traded out of the No. 1 overall spot to grab, has shown a versatility and maturity in his game from the moment he first stepped on the floor. He starred in the Celtics' trip through the Utah summer league and picked up right where he left off in front of a pro-Lakers crowd in Las Vegas.
''He reminds me of Paul Pierce,'' Celtics summer league coach Walter McCarty said.
There is not much higher praise than that.
Tatum made 9 of 19 shots, including his only 3-pointer in a showdown with No. 2 overall pick Lonzo Ball.
''It took me back to college,'' Tatum said with a smile. ''I felt like I was playing North Carolina.''
A look at some other notable action in Las Vegas on Saturday:
___
LONZO REBOUNDS
After shooting 2 for 15 in his debut Friday night, Ball looked much more comfortable against the Celtics. He had a triple-double in 34 minutes with 11 points, 11 rebounds and 11 assists in 34 minutes. He made 5 of 13 shots and 1 of 5 from deep.
11 PTS. 11 REB. 11 AST.

Lonzo Ball nets a triple-double in Vegas. #NBASummer pic.twitter.com/J23ltSe1V6

— NBA (@NBA) July 9, 2017
Kyle Kuzma shined for the Lakers with 31 points and five 3-pointers. He also grabbed nine rebounds.
___
BIG TRAIN
Portland Trail Blazers rookie Caleb Swanigan had 16 points and 13 rebounds in a 72-63 win over Utah.
The burly forward from Purdue was drafted with the 26th pick in the first round, and he made his presence felt in his opening game with his strength and nimble feet.
''He's like a locomotive,'' teammate Zach Collins said.
___
WHOOPS
The Chicago Bulls have high hopes for rookie Lauri Markkanen. The 7-foot sharpshooter from Arizona was taken with the seventh overall pick, one of the components of a package the Bulls acquired from Minnesota in a trade that sent Jimmy Butler to the Timberwolves.
But Markkanen already received his ''welcome to the league'' moment when the jersey he was given for the game on Saturday misspelled his name. The Finn's No. 24 jersey read ''Markkenan'' on the back.
That didn't stop him from scoring 14 points and grabbing eight rebounds in a 91-75 loss to Dallas.
''I didn't know who to tell,'' Markkanen told Chicago reporters after the game. ''I just went out there and guys noticed it.''
___
SELDEN SHINES
The Grizzlies are going through a bit of a change in identity after Zach Randolph left in free agency for Sacramento. They are retooling under second-year coach David Fizdale and one of the young players for which they have high hopes is Wayne Selden.
The former Kansas Jayhawk spent most of last season in the developmental league. He played in 11 games for the Grizzlies, averaging 5.0 points per game.
Selden was dominant at times in a 91-88 win over Washington with 28 points on 10-of-20 shooting and 4-for-6 from 3-point range.