Celtics
An Australian Celtics fan explains how he got this hyper-realistic Bill Russell tattoo
"We were watching Bill Russell as I was getting a tattoo of Bill Russell."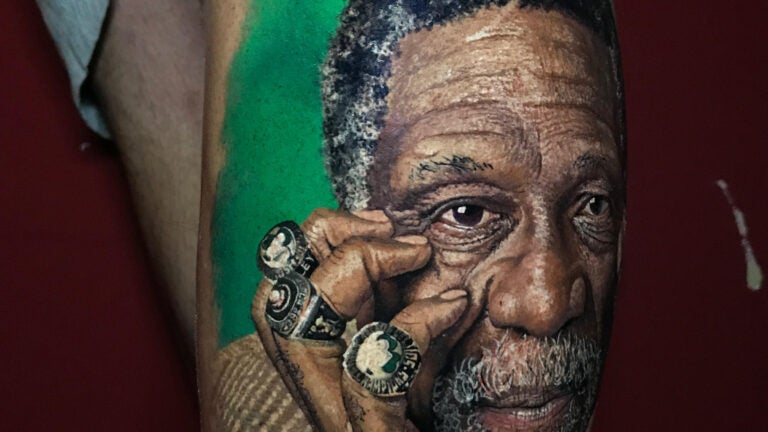 For Alastair McLean, getting his latest tattoo – taken from a famous Sports Illustrated picture of Celtics legend Bill Russell – was a once-in-a-lifetime opportunity. Not only was it a way to mark his Celtics fandom, but it was being done by an artist he never thought he'd have a chance to get inked by.
The final result, crafted by New Zealand artist Steve Butcher, looks stunningly like the actual photograph it was based on:
Coming out of twitter hibernation …. the greatest ever on my leg forever #billrussell #celtics #beatLA #boston pic.twitter.com/OEnb6qoeWR

— Alastair McLean (@AlaMcLean) July 9, 2017
McLean, who is originally from Australia, is thrilled. The process took 14 hours in total, but now leaves him with a lasting tribute to his Boston ties. Having lived in Framingham for "close to nine years now," McLean is comfortably settled into the area with his wife and kids.
And while he wasn't necessarily a Boston fan prior to moving to the area, he's always been interested in whatever sport he could watch.
"I could watch curling for 10 hours if that was what was on TV," McLean said.
Still, it didn't take McLean long after coming to Massachusetts to catch the local sports bug.
"I knew a lot about the NBA, but I didn't really know about the other American sports until I moved here," he explained. "Fortunately enough, I moved to Boston, because it's really the ultimate sports destination for any fan. Having the Celtics here, obviously the Patriots, and then the Bruins and Red Sox, I was blown away when I got here, that's for sure. It was incredible to join Boston sports. Now being able to follow them and have sort of sentimental feelings because I live here is really good. So I became a massive Boston sports fan as soon as I moved here."
After getting his tattoo, it attracted a strong level of interest on social media. Recently, McLean was kind enough to answer a few questions about it in a recent interview.
When did you actually get the tattoo done?
Alastair McLean: It just happened over the weekend. We did one session of like 14 hours that I was on the table for. It was over a 14-hour time pace, so we had a couple little breaks here and there. He was probably working for about 13 hours of that 14 sort of thing.
Did you know going into it that the process would take so long?
AM: No, so it was really random. I'd been following Steve on his Instagram page for a few years because I'd seen one of his pieces and it was incredible. But knowing he was from New Zealand, it was like, 'Well, I'm never going to see the guy.' He posted an image in the morning that said, 'Any Celtics fans out there, I want to do a Celtics tattoo today. Hit me up.' So I emailed him at about 9 a.m. the photo of Bill Russell. The one that obviously got done, and straight away he emailed me back saying, 'You've got to get out here, we've got to make this happen.' So about two hours later I was out and in the chair. I got there around noon and he said it would take about 10 hours, so I just said, 'Okay, let's do it.' And it ended up taking the 14 hours, or a little bit longer I guess because I ended up leaving at about 2 a.m. in the morning.
What were you guys doing during the 14 hours to pass the time?
AM: We were just hanging out, shooting the shit, having a chat. That sort of thing. He's from New Zealand, and I'm from Australia, so we were talking a little bit about home, because he's been traveling for about three months. Although Australia and New Zealand aren't the same, there's a very, very similar sort of thing and we obviously know a bunch of people. I know a bunch of people from New Zealand and he knows a bunch of Aussies, so we were just having a bit of a chat and a bit of laugh.
We actually spent a lot of the time – because he's a Lakers fan – we actually watched ESPN's "30 For 30" about the Lakers vs. Celtics ultimate rivalry, which Bill Russell's obviously in. So were watching Bill Russell as I was getting a tattoo of Bill Russell. That was pretty cool.
As a Lakers fan, did he mention why he was interested in giving a Celtics tattoo to someone?
AM: He is a Lakers fan, but he's actually just more of a massive NBA fan. He's done a James Harden tattoo, he's done a couple of Jordans, he's done a Scottie Pippen, he's a done a Derek Fisher. So as a fan of the game, he appreciates who the Celtics are. He was really excited when I sent him the photo of Bill Russell, because it worked out really well with what he likes to do. So he couldn't have been more happy to do that photo.
Why Bill Russell and that photo in particular?
AM: For me, like I said I'm from Australia, and I always wanted a Boston-themed tattoo in some way, shape or form, and never could really figure out what. And when this opportunity came up, I know that Steve is particular about what photograph he does and what he doesn't do, because he wants to put as much detail into it as possible.
As soon as I saw the possibility of getting a tattoo done by Steve, I couldn't think of any other photo besides that Bill Russell photo. Obviously being an 11-time champ in 13 years, and all the accolades that he got throughout his professional career was really cool. But I also like the fact about his after basketball life, how he's been a very big role model for kids and obviously the future players of the game, so it's a good tattoo to have I think because you point to a lot of things that he's done in his life that have really improved the lives of others rather than just being good at basketball.
Is this your first tattoo, or do you have others?
AM: I have others, I have three others. I got one when my dad passed away, one when I got married to my wife, and one when I had my son. I had chosen to get one for my daughter, but Bill Russell got in front of that one because it is what it is. I couldn't pass up the opportunity to have this done by Steve because you just can't get appointments with him. He was talking to me about a client he knew when he was in New Zealand. And the client flew from Germany to get a tattoo and then flew back home. That's kind of how hard it is to get an appointment with this guy. It's like winning a prize sort of thing. I walked in to the tattoo and said, 'Hi, I'm Al, I'm here to see Steve,' and everyone sort of stopped and looked at me. They were saying they were all wondering who the lucky winner was. It was a random session that he hadn't planned on. He put up the post in the morning, and I was lucky enough that he picked the photograph that I sent to him.
So having followed Steve and thought you'd never get a chance to meet him, then all of a sudden within hours you're there getting a Bill Russell tattoo, do you feel sort of like a lottery winner? Has it all set in yet?
AM: I don't think it's really set in. The leg's still a little bit sore, but it definitely feels like I won a prize or something. I just couldn't believe that he was in Massachusetts in the first place. And then he put up the post, and I just thought I'll chuck in the photo that I want. The fact that he emailed me back straight away, it was like being on a high for the whole day. I felt like I'd won some big competition or something like that. I was lucky enough to get his tattoo, so it's been pretty cool in the days after to see how many people have liked it and have shared it.
You mentioned the general response, but how have your family and friends responded to the tattoo so far?
AM: My wife was great and was very supportive and she's been very happy with it. Now that she's seen it finished, she absolutely loves it. My mum was really worried and she didn't see it until the end, but after she saw it, it's been kind of funny because some people that don't really like tattoos are looking at it and have come up and said that this is artwork and want to get a photo. And they say things like, 'This is the best tattoo I've seen in my life,' so the response has been fantastic. People are just blown away by how good the work is and how real it looks. It really does look like it does in the photograph of Bill Russell. The support's been amazing.