Celtics
4 questions the Celtics still have to answer this offseason
Are the Celtics done with their roster overhaul or is there more to come?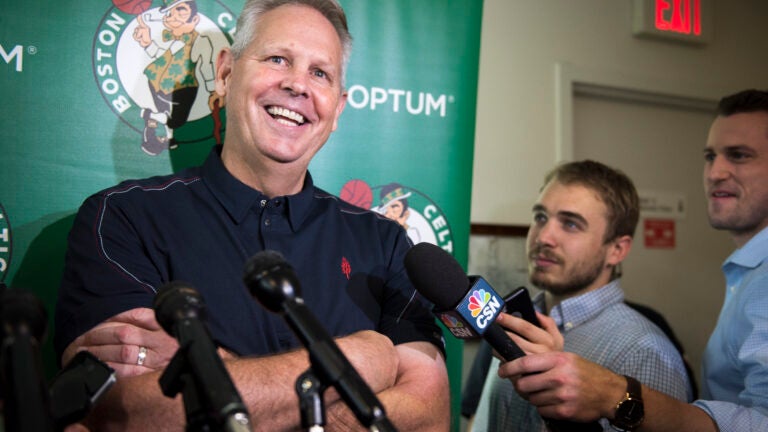 COMMENTARY
The Celtics have been one of the more active franchises in the NBA this offseason, agreeing to terms with All-Star free agent Gordon Hayward and also trading away starting shooting guard Avery Bradley to Detroit. The additions of Hayward and fellow free agent Aron Baynes to the mix used up the majority of Boston's salary cap room and exceptions this summer, but uncertainty still remains about what exactly the roster will look like heading into the 2017-18 season. Here's a look at four questions the Celtics must still answer while putting the finishing touches on their offseason.
1. Will Gerald Green be back?
Gordon Hayward's decision to come to Boston set the stage for a mass exodus of Celtics from the 2016-17 roster. Kelly Olynyk (Miami), Amir Johnson (Philadelphia), Jonas Jerebko (Utah), James Young (New Orleans) and Tyler Zeller (waived) have all departed already, as expected. A cap crunch forced the trade of Avery Bradley to Detroit as well. A fresh batch of draft picks (Jayson Tatum, Semi Ojeleye) and draft-and-stash players (Guerschon Yabusele, Ante Zizic) will cheaply fill the void for much of that depth, but the Celtics could still use a another veteran to compete for playing time at the bottom of the roster. Gerald Green had an up-and-down season in his return to Boston in 2016-17, but he made a measurable impact when moved to the starting lineup in the first round of playoffs. The 31-year-old was also praised for his positive influence in a largely young locker room. Will Green survive a major overhaul to other parts of the roster? The Celtics could probably bring him back for the veteran's minimum, if he still fits into their plans.
2. Which youngsters will contribute at the bottom of the roster?
Celtics summer league action has been intriguing to watch and not just because of top prospects like Tatum and Brown. Abdel Nader, Semi Ojeleye, Jabari Bird, and Kadeem Allen have all tried to make their case to make Boston's final 15-man roster, and some of it is beginning to take shape. After being selected at No. 37 in this year's draft, Ojeleye earned rave reviews from Brad Stevens about his defensive versatility earlier this week in Las Vegas.  The Celtics reportedly plan to sign him to a 4-year deal. Nader, too, has agreed to a 4-year deal with the team, with two of those years guaranteed. Bird and Allen are candidates to sign two-way contracts with Boston ($75,000 each) that would allow them to spend most of their season with the Maine Red Claws. Demetrius Jackson was reportedly waived over the weekend.
It'll be interesting to see how each of these players begins to fit into Boston's plans as next season approaches.
3. What type of lineup does Brad Stevens prefer for his new-look starting unit?
Two members of Boston's usual starting five have departed this offseason in Bradley and Johnson, which could have Stevens going back to the drawing board when settling on a new-look starting five. Hayward will obviously be in the fold, but the question that Stevens will need to answer is whether he wants to go small with Hayward or emphasize size with his All-Star. Starting him at shooting guard and new addition Aron Baynes at center would give Boston plenty of length and improve rebuilding, but could leave them vulnerable to speedier players on the wing. Playing Hayward could open the door for some Jaylen Brown or Marcus Smart starting minutes at the shooting guard spot. That would take some pressure off Isaiah Thomas defensively, but would inferior outside shooting from Brown or Smart prove costly to Boston's halfcourt offense? And where does Jae Crowder play if Hayward is starting at the 3? Would he be content to come off the bench? There are a lot of questions here with few clear answers, which gives Stevens and his staff a lot to chew on this summer.
4. Is Danny Ainge done dealing?
After trading away Bradley to Detroit last week, there is no more pressure on the front office to make moves. Waiving Jordan Mickey gave the Celtics the cap room needed to sign Hayward and the roster is already approaching the 15-man max. Still, the Celtics have also got a glut of talent and bodies on the wings (Brown, Tatum, Morris, Crowder) with limited depth in the frontcourt outside of the rookies (Al Horford, Baynes, Zizic, Yabusele). The good news for Ainge is that he's dealing from a position of strength. He has an abundance of cheap, appealing talent at a position of need (small forward) and an incredible number of future draft assets. If he can find a strong match for Al Horford in the frontcourt, for the right price, that's a move you can bet he would jump on. With salary cap room no longer a concern for future offseasons, the door is now open for more dealing from Ainge. The question is whether he'll start to jump on those deals this offseason.