Celtics
Marcus Morris, Aron Baynes plan to add toughness to Celtics frontcourt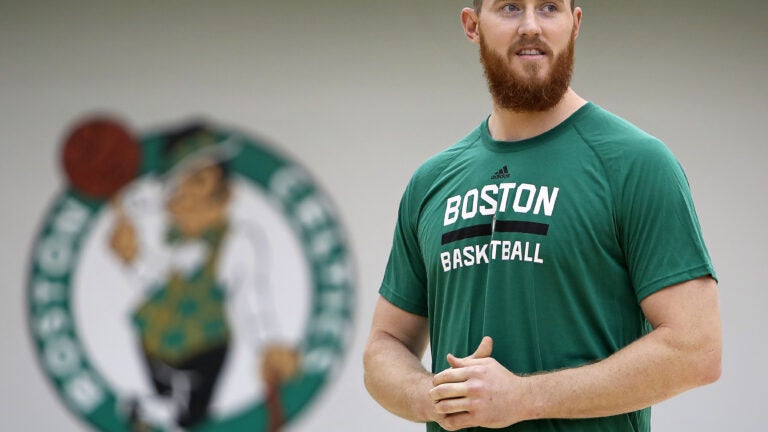 Marcus Morris learned at about 8 a.m. on July 7 that he had been traded from the Pistons to the Celtics in exchange for Avery Bradley. He'd been happy in Detroit, and he'd had no idea that a trade was looming, but it did not take long for the confusion to morph into excitement.
"This is the first time in my career I can actually say I have an opportunity to get to the Finals, an opportunity to compete for a championship,'' Morris said during a conference call on Wednesday. "And I think that fans in Boston are going to really enjoy what I bring to the game, and I think I fit right with these guys.''
Morris, 27, said that soon after the trade he reached out to his favorite NBA player, Celtics legend Paul Pierce, and asked if they could meet up.
"Not just working out, but picking his brain, picking his brain about Boston,'' Morris said. "The first thing he said to me when we talked, he said I was going to love it. That's all I needed to hear. I didn't think I wouldn't, but from a guy like that who's been in Boston for so long and done so many great things, it's kind of made it easier for me.''
Morris averaged 14 points and 4.6 rebounds per game last season and could be the Celtics' starting power forward next season. He is a versatile defender and capable 3-point shooter, and he said Wednesday he could even play shooting guard if needed.
The Celtics' other new addition introduced on Wednesday has a more clear role. Morris's Pistons teammate, center Aron Baynes, officially signed his one-year, $4.3 million deal. The burly big man from New Zealand averaged 4.9 points and 4.4 rebounds last season.
"He adds rebounding and toughness to our team that we really need,'' Celtics assistant general manager Mike Zarren said. "Red Auerbach said to get the instigators, not the retaliators, and Aron's definitely an instigator.''
The Celtics' roster is already filled with elite scorers, so Baynes said he will be focused on helping free them up for easier opportunities.
In Detroit, Baynes played behind Andre Drummond, one of the league's elite rebounders. In Boston, Baynes joins a depleted frontcourt. And the Celtics, who ranked 27th in the NBA in rebounding last season, could certainly use reinforcements.
"Hopefully I'm a piece that helps bring their puzzle together,'' he said, "so I'm looking forward to it.''
Morris and Baynes both said they hoped to bring toughness to the Celtics, a team that takes pride in that identity.
"I don't think that's a thing you work on,'' Morris said. "You've just got to have that type of attribute. And I think it's just in me. It's instilled in me to bring that toughness. So I think that's something we won't have to worry about.''
"I'm excited that [Morris] is here as well,'' Baynes said. "And we look forward to bringing some extra toughness combined.''
The last time Celtics fans saw Morris, he was wearing his twin brother Markieff's Wizards jersey and sitting in the stands as Washington faced Boston in a heated Eastern Conference semifinal matchup. That seven-game series was probably the most testy of these playoffs, and given the young cores of both teams, there is a belief that a real and sustained rivalry could develop.
"Obviously I didn't want Boston to win, because my brother played for the other team,'' Morris said. "But I love the competition. They were out there competing, talking trash, and I think that kind of made the Eastern Conference a little stronger, just seeing those guys battle it out for seven games.
"It's going to be funny, me being in Boston. But, at the same time, man, I'm a professional and my brother is a professional. We're just down to compete. It's definitely going to be tough; it's definitely going to be trash-talking. But at the end of the day, I'm a Boston Celtic, so I want us to win. Joining the rivalry just amps it up, probably get a little bit more TV time.''
Video: Aron Baynes discusses joining Celtics
[fragment number=0]
.   .   .
The Celtics on Wednesday signed rookie guard Kadeem Allen to a two-way contract that will place him for much of the season on the team's G-League affiliate, the Maine Red Claws. The NBA is expanding rosters from 15 players to 17 next season, with two spots designated for two-way players who can spend a maximum of 45 days with their NBA clubs. The deals have a guaranteed salary of $75,000.
Allen was the second of the Celtics' three second-round selections on June 22, taken 53rd overall. He played in eight summer league games, averaging 2 points, 3 rebounds, and 1.7 assists in three contests in Salt Lake City, and 3.6 points, 3.2 boards, and 1.6 assists in five games in Las Vegas.