Celtics
Here's what Kevin Garnett said during his first Celtics press conference
"I thought this was probably my best opportunity at winning a ring,"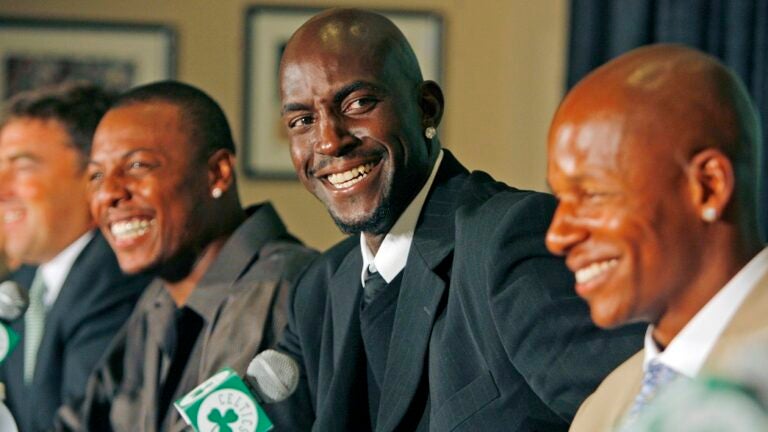 On June 24, 1998, the Boston Celtics used the 10th overall pick in the NBA Draft to select forward Paul Pierce from Kansas. On June 28, 2007, they acquired guard Ray Allen in a high-risk trade with the Seattle Supersonics. And on July 31, 2007, Boston landed power forward Kevin Garnett from a mega-deal with the Minnesota Timberwolves.
On that day, the new Big Three was officially born.
The team hosted Garnett's introductory press conference at the TD Garden, with president of basketball operations Danny Ainge, head coach Doc Rivers, Pierce and Allen all alongside him. Here's part of Ainge's opening statement to address the crowd:
I'd like to start out by thanking the ownership because their passion to win and bring a winning team to Boston is what's behind all of this and what's going on today. They have a strong desire to put a winning product on the court … Another guy who I'd like to thank are these two guys right here, Paul and Doc. They've stood in front of the cameras, in front of you guys for the last two years, and taken some heat, taken some bullets … and had high expectations that were probably unrealistic and unfair.
Pierce and the Celtics were coming off a dismal 24-58 season, which was the second-worst record in not only the NBA but also in franchise history. As he reflected on the group that at one point lost a Celtics-record 18 games in a row, Pierce remembers thinking: "This team really has a future?"
But the additions of Garnett and Allen helped squash the doubts he had about leaving Boston.
"Now that we've made the deals to be a team at an elite level, I think that's what that city is all about," Pierce told reporters, as he expressed his gratitude for the organization bringing in the necessary elements to bolster their shot at a ring.
"That's my whole passion," he continued. "I know that's what drives Kevin, that's what drives Ray. We've all been in the same situations. We've been on teams where we've had to carry a lot of the load for a number of years, and as you all know, you can't win that way."
Garnett, too, was drawn to the prospect of winning a championship and elaborated on his thought process behind his decision to come to Boston:
This has probably been the hardest 72 hours I've dealt with since I've been in the NBA. Initially, I had no interest in leaving Minnesota, and I let that be known. But as Glen Taylor shared his views about what he wanted for his team and the future, they contradict. And I really didn't think that I was ever going to have to think of a different alternative when it came to playing in Minnesota or just playing the game of basketball.

But again, with elaborate talks and knowing Glen's views on what he wanted for his team and the future was very different from mine. On draft night, when Boston traded for Ray Allen, the whole situation changed for me, and I actually contemplated and thought about it. Really didn't speak publicly, really didn't say too much to my friends, or any of that. Just myself really trying to be comfortable with, you know, seeing myself in the Celtics jersey.

I went up to my summer home, played ball with Paul. He didn't say anything to me about any of the things above, and I just got to thinking. I guess at the end of the day, I'm loyal to a point where I felt like if someone was loyal to me, then I have no problem with that. But when that changes, it's pretty easy for me. So after that, going through those stages, which was really tough, I thought this was probably my best opportunity at winning a ring, so I took the big steps to make those adjustments. And here we are, wearing no. 5.
While the excitement surrounding a potential championship was palpable, Ainge emphasized that the team still had plenty of work to do, chemistry to build, and sacrifices to make. He also acknowledged the comparisons to the Celtics' Big Three of the 80's in Larry Bird, Kevin McHale, and Robert Parish.
"The Big Three is the Big Three until we win. These guys will never be the Big Three until they win. And I think they know that," he said. "Nothing has been accomplished by this team at all. They have a chance and are excited for the hope that is ahead of them this year, as everybody is."
Pierce, Garnett, and Allen would go on to form the starting five with guard Rajon Rondo and center Kendrick Perkins. They finished their very first season together with the best record in the league, 66-16, and defeated the Los Angeles Lakers in six games for the 2008 NBA championship.