Celtics
Relive the most-watched Celtics moments from the Big Three era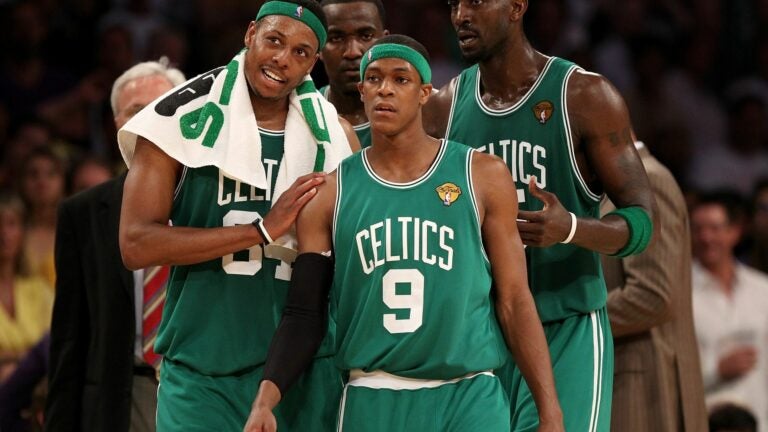 As part of their pitch to free agent Gordon Hayward, the Celtics used the jumbotron at Fenway Park to show a three-minute video that featured highlights spanning from Red Auerbach and Bill Russell's early days to the team's most recent Big Three era. From 2007-2013, Boston was defined by a trio of players in Paul Pierce, Kevin Garnett, and Ray Allen. Together, they led the Celtics to their first NBA championship in over 20 years.
It's been almost a decade since their title in 2008, but the acquisition of Hayward has some drawing comparisons between the potential of the team's current roster and the original Big Three. Here's a look back at the most-watched plays (based on Google News Lab data) from their reign in Boston:
1. Ref calls double technical fouls on Dwyane Wade and Rajon Rondo
In Game 7 of the heated 2012 Eastern Conference Finals against the Miami Heat, Wade and Rondo were each issued a technical foul for jawing at each other after a drive by LeBron James.
2. Kevin Garnett ignores Ray Allen
While the glory days of the Big Three had its highs, the fallout certainly carried some lows. After the Celtics lost to the Heat in back-to-back playoff matchups, Allen turned down a deal to stay in Boston and instead decided to sign a three-year contract with Miami. His former teammates did not take the news lightly, as there is still reportedly drama to this day.
3. Paul Pierce connects with Rajon Rondo for a game-tying alley-oop
In an improbable display of basketball finesse, Pierce hit a jumping Rondo with the perfect pass to send the game to overtime as the clock expired. The Celtics would go on to win, 112-106.
4. Nate Robinson falls off Paul Pierce while celebrating
After Pierce swished the game-winning basket with just 0.4 seconds left on the clock, an energetic Robinson tried to get in on the forward's celebration. But The Truth preferred to fly solo.
5. Von Wafer celebrates a missed dunk
During his brief tenure with the Celtics, Wafer managed to make headlines for all the wrong reasons. In addition to being involved in a locker room altercation with Delonte West, the guard erroneously celebrated a missed dunk against the Washington Wizards. To make matters worse, when Wafer returned on court—after he thought he had scored—he bumped into teammate Jermaine O'Neal and caused him to double dribble.
6. The Celtics come back from 22-point deficit to defeat the San Antonio Spurs
In a regular season contest against the Western Conference powerhouse, Boston dug themselves out of a 22-point hole to win the game, 93-91.
7. Rajon Rondo dunks over Dwight Howard
6-foot-1 Rondo took advantage of an open lane, as 6-foot-11 Howard just watched him jam it home.
8. Kevin Garnett returns to Minnesota for a warm welcome
In his first time back at the Target Center, home of the Timberwolves, Garnett received a standing ovation from a cheering crowd. Garnett did not play in the game nor did he watch from the bench.
https://www.youtube.com/watch?v=hm3D4wKe8fY