Celtics
The Kevin Garnett trade almost never happened because of this contract hurdle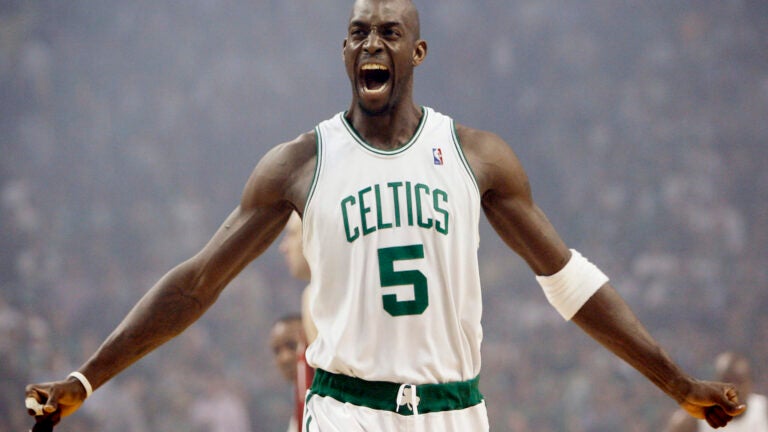 The phone rang in the middle of the night.
It was Minnesota with a question about the contract.
A small concern.
"Hey there's no way we get stuck with this, right?"
It was a strange question, but then this had been a strange process.
The first of its kind in NBA history.
* * *
A fireworks display is generally more exciting than the engineering behind it, so let's kick this off with bang —
Ten years ago today, the Celtics altered the course of NBA history.
Boom!
Ten years ago today, the Celtics acquired Kevin Garnett.
Sizzle!
Garnett joined Paul Pierce, Ray Allen, Rajon Rondo and Kendrick Perkins. He was soon joined by Eddie House, James Posey and P.J. Brown. Less than a year later, Garnett stood center court at the TD Garden, confetti swirling everywhere. He looked to the sky, tears in his eyes, and screamed "ANYTHING'S POSSIBLE!"
But before that legendary scene, before the Finals and the playoffs, before the 66 wins, the 30-4 start and the trip to Rome, the Celtics carved out a slice of history on the way to making history:
Employing a never-before-used clause in the collective bargaining agreement in order to transform Kevin Garnett from Boston's wildest dream into a reality.
* * *
The broader story begins in the days leading up to the 2007 NBA Draft. Fresh off the second worst season in team history, followed by landing the No. 5 pick in a two-player draft, it was a soul-crushing time to be a Celtics fan. In four years, at least on the surface, Danny Ainge had turned a playoff team into a laughing stock. There was pressure to part with Doc Rivers. Paul Pierce was about ready to beg for a trade.
But Ainge had drafted well. He had assets. He'd positioned himself to land a big fish and then one day in late June, his reel started spinning. It was the biggest, meanest fish in the ocean. Ainge agreed in principle on a deal for megastar Kevin Garnett.
The former MVP.
The 10-time All Star.
K. Effing. G.
It wasn't Greg Oden. It wasn't Kevin Durant. But Ainge found the Celtics a savior.
The only problem was KG wanted nothing to do with Boston. He wanted warm weather and a chance to contend, not icy winters and the second-worst team in the league. Garnett (who had a player option the next summer) made it clear he wouldn't sign an extension. In turn, Ainge wasn't about to give up Al Jefferson and the No. 5 pick for a one-year rental.
Both sides walked away and turned attention to the draft.
* * *
The draft passed, and in time so did rumors that Garnett was headed to the Lakers for Lamar Odom and Andrew Bynum. To the Warriors in a three-way deal involving Jason Richardson. To Phoenix for Amare Stoudemire. There was a three-way deal that would've sent Amare to Atlanta and Shawn Marion to the Celtics. There was interest from the Cavs (with young LeBron), the Bulls (a year from landing Derrick Rose) and the Mavs (KG and Dirk!), but nothing worked.
In the meantime, Ainge never gave up on Garnett. He traded for Ray Allen. He stayed in Kevin McHale's ear. Minnesota and Boston got close on another deal, only this time, when Ainge and KG met person, Garnett was more motivated to relocate. With Ray Allen on board, he thought the Celtics had a shot.
Satisfied with everything KG had to say, Ainge powered forward.
He and McHale once again agreed on a deal: Al Jefferson, Gerald Green, Sebastian Telfair, Theo Ratliff, Ryan Gomes and two first-round picks for KG.
Once again, Ainge saved the Celtics!
But once again, there was a problem.
This time, it was money. As in, KG made a ton. He'd just wrapped Year 3 of a five-year/$100M deal. That's not much in today's NBA, but back then KG and Shaq were the only guys making $20M a year. It was a tough match for Boston. Ratliff's expiring $11.6M deal was the only contract of substance. Jefferson, Telfair, Green and Gomes made less than $8 million dollars combined.
To make matters worse, KG had a trade kicker. That's like a relocation bonus. A contract clause that requires increasing a player's salary in the event of a trade.
Long story short, the Celtics structured a deal that would work under the cap, assuming Garnett waived a portion of his trade kicker. Garnett agreed, and the Celtics turned to the only other sticking point in the negotiations. An extension. A legally binding assurance that Garnett was in for the long haul. And . . . another problem.
That's because, as stated in the CBA, a player is not allowed to waive his trade kicker and immediately sign an extension with the team he was traded to. Otherwise a player could waive the kicker, and just get paid back on the other end. That's cap circumvention. Against the rules. And that left the Celtics facing a few difficult facts:
1) They couldn't trade for Garnett unless he waived his trade kicker.
2) They wouldn't trade for Garnett without an extension.
3) If Garnett waived his kicker, he was ineligible for an extension.
It became clear that if Boston wanted Garnett, there was only one way to get it done.
* * *
To be clear: The Celtics didn't unlock the Da Vinci Code in pulling off an extend-and-trade for Garnett. It was a known clause in the CBA. In theory, it's not that complicated. Team B negotiates an extension with a player on Team A. Team A signs the player to that extension, then trades him to Team B. In this case, it had just never been done before. As evidence by the last few paragraphs, it takes special circumstances for an extend-and-trade to even come into play. It takes a player with a massive contract, who is eligible for an extension, getting traded to a team without the salaries to match.
In 10 years since the KG deal, there's been only one other extend-and-trade. The Knicks used it to get Carmelo Anthony from Denver. But the point is, in the few billion years before the KG trade, the extend-and-trade had never been done. And it wasn't easy.
Have you ever read a contract? A lease? An iTunes "Terms of Service" agreement? They're tedious. Wordy. Full of mind-numbing legalese.
People write those things. As assistant GM and legal counsel, Mike Zarren writes the Celtics contracts. He was doing it back in 2007. He still remembers the call from Danny Ainge, after Kevin McHale finally said yes. He remembers sitting down to write KG's contract and realizing what he was up against.
"Usually you can call the NBA and say, 'Hey can you send over an example of something like this?'" Zarren said. "And you can copy it. Or modify it. But in this instance, there was no such thing."
Not to mention, the wording in the clause had never been interpreted before. The extend-and-trade only existed in theory. The Celtics were drafting the first ever physical extend-and-trade amendment, and that meant a ton of back and forth with the league, looking for rulings on various language.
This would've been stressful under any circumstance, never mind as part of the biggest trade in at least the last 20 years of an NBA franchise.
* * *
Once the details were ironed out, the contract went to KG's people for approval. From there, it went to Minnesota. They just had to sign it.
The Celtics were almost home.
But first, in the wee hours of that late July morning, the phone rang.
It was Minnesota, with a question about the contract.
Call it a concern.
The Wolves didn't have cold feet.
They'd just never seen a deal like this before.
No one had.
They just wanted to be sure.
"Hey there's no way we get stuck with this, right?"
"It just looked a little spooky for them to see a contract that said Kevin Garnett and Minnesota Timberwolves," Zarren said, laughing. "It was weird for me to write a contract that said Minnesota Timberwolves."
He directed them to a clause at the end that stated the contract was invalid unless traded to the Celtics within 48 hours.
"Well what if the trade happens but then he fails his physical . . . Isn't that more than 48 hours?"
It wasn't so easy, but by the end of the conversation, both sides were satisfied. The Wolves signed the deal. There was an official trade call with the league.
History was made . . . and ready to unfold.
* * *
If something like this happened today, it would probably be a bigger deal. Whether technology or an evolution of society, stuff like this — cap stuff — is part of the conversation. It's more accessible. In 2017, when the Celtics sign Gordon Hayward, fans understand the implications and hurdles the CBA presents. When Avery Bradley gets traded, the world understands why.
But in 2007, the headline was all that mattered.
The Celtics got Kevin Garnett.
Who cared how?
And 10 years later, that still might be true. Boston's still living in the aftermath of the KG deal. It wasn't only responsible for Banner 17, but also Jaylen Brown and Jayson Tatum and still one more Nets pick.
The legacy of that trade might outlive us all.
And today, on the 10-year anniversary of the greatest Celtics fireworks display of at least the last 30 years, we recognize the front office engineers who helped build the foundation, carved out a piece of NBA history, and made it possible for the fireworks to take flight.