Celtics
Jaylen Brown's performance in the NBA Africa game will captivate Celtics fans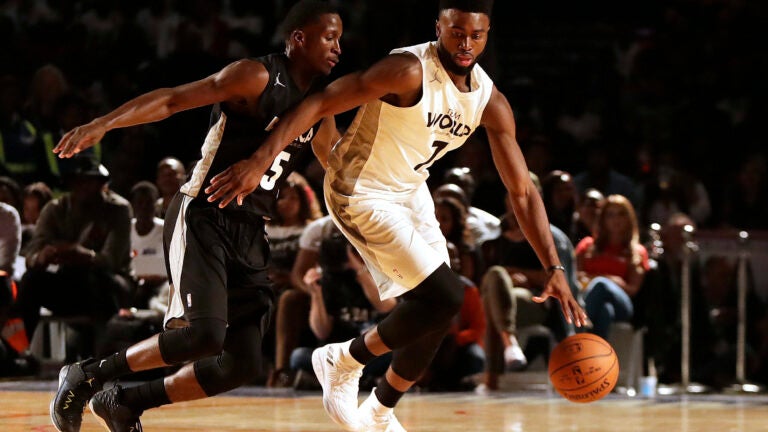 Jaylen Brown followed up his tantalizing Summer League campaign with an equally alluring performance in the NBA Africa game on Saturday.
One of 22 players invited to participate, Brown pulled out all the stops at the Ticketpro Dome in Johannesburg, South Africa. His 15-point day was highlighted by an off-the-glass assist to Andre Drummond…
Poetry in motion… @FCHWPO off the glass to @AndreDrummond! #NBAAfricaGame #PhantomCam pic.twitter.com/tBSDNkGtjs

— NBA (@NBA) August 5, 2017
…an acrobatic one-handed layup…
Gah damn Jaylen Brown got moves ? pic.twitter.com/yQfmWelwD5

— Rob Perez (@World_Wide_Wob) August 5, 2017
…a near posterization over Salah Mejri…
It's an exhibition game @FCHWPO ain't no need to kill nobody pic.twitter.com/TvqABjWLb7

— Jared Weiss (@JaredWeissNBA) August 5, 2017
…and a ridiculous windmill dunk in the final seconds of the game.
Jaylen Brown closed out the 2017 #NBAAfricaGame with a windmill slam ?️ pic.twitter.com/dTAw9jH4kR

— Def Pen Hoops (@DefPenHoops) August 5, 2017
Organized to support UNICEF, the Nelson Mandela Foundation, and SOS Children's Villages South Africa, the game was between Team Africa—comprised of second-generation African players as well as those who were born in Africa—and Team World.
Brown, who is the youngest competitor and a member of Team World, said in a conference call that he "couldn't stop smiling" upon arriving at the airport.
"I was just waving at people excessively," he said. "So I probably came off probably a little but weird to some of the customs people, but I was happy to be here."
Basketball isn't the only reason the 20-year-old is excited to be involved, as the event is broadening his outlook on the world. He said via the teleconference:
Just being here to get some perspective and seeing things here kind of changes your perspective as you look back at home and see what's going on there. People are a lot more deprived and are a lot more poor here than they are in America, yet they don't seem to be bothered by or complain about it. It actually kind of seems like they were happy in a sense, which they should be. But it was just interesting to see that. Where I'm from or etcetera, it's just a different perspective.