Celtics
Former Cavaliers executive implies that the Celtics are on Kyrie Irving's list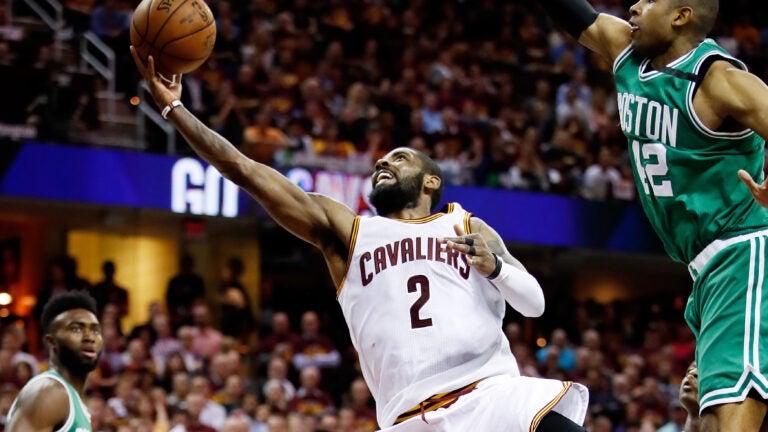 While the Celtics were initially omitted from Kyrie Irving's reported short list of preferable trade destinations…
ESPN Sources: On Kyrie Irving front, Cavs were given four preferred landing spots: New York, Miami, San Antonio, Minnesota.

— Chris Haynes (@ChrisBHaynes) July 21, 2017
…it appears that Boston might actually be in contention for the Cavaliers point guard, after all.
On Monday's episode of "The Jump," former Cavs general manager David Griffin shared his analysis on the sticky situation that has troubled Cleveland ever since Irving's request became public knowledge on July 21.
"I think Kyrie's going to end up being traded," Griffin said before lauding the 25-year-old for his decision to speak up about the dissatisfaction with his current team. "He went to Dan Gilbert privately, told him that he thought he would be happier somewhere else … Most guys don't have the courage to do what he did."
Although he did not disclose a concrete prediction as to where he thinks Irving will eventually call home, Griffin did offer a few possibilities.
"This is a guy whose list included really good coaching situations: Brad Stevens, [Gregg] Popovich," he said. "I see this as looking for a fit for himself to take the next step in his career."
"I think this is a guy who wants to know how good he can be," Griffin continued. "The teams on his list—you know, Gordon Hayward in Boston and Kawhi Leonard in San Antonio—he would be accompanying other great players. It's not like he's asking to lead a rag-tag bunch. He just wanted to put himself in a position, I think, where he could find out exactly what he has entering his prime."
How aggressively the Celtics will pursue Irving, however, is still to be determined.
Watch the full interview below:
https://www.youtube.com/watch?v=8WW_fdg-yt8