4 ways the Celtics can use Gordon Hayward
For the second year in a row, the Boston Celtics and Brad Stevens have a shiny new toy to play with. 
Hayward is one of the league's most versatile scorers. He has steadily increased his production while remaining very efficient and barely turning the ball over. He's the type of player that can slide into a team's offense without demanding the ball so much that he disrupts the games of others around him.
In short, there's a reason we've all been talking about him as a potential Celtic for so long. It's not just that he played for Stevens at Butler, it's that he's really good, and he's just what the Celtics need right now.
Here are four ways you'll see the Celtics use Hayward when the season starts.
1. As the pick and roll ball-handler
The pick and roll is the staple of NBA offenses. The emphasis on the pick and rolls is part of why the game has evolved into this position-less place we're seeing today. Guys setting the picks need to be able to both roll to the basket and pop out for jumpers. Defenders need to be able to switch from forwards to guards and back again without getting torched. And the ball-handler needs to read all of that in an instant and exploit the weakness to score the ball. Hayward can do that.
Among players with four or more opportunities per game as the pick and roll ball-handler, Hayward is 12th in the NBA in Effective Field Goal Percentage (a metric that adds weight for 3's made), which higher than notable players such as Kawhi Leonard, Russell Westbrook, and DeMar DeRozan.
He's 10th in the NBA in drawing fouls in those situations (on a par with Isaiah Thomas) and third-best at drawing and-1's. All this while having the ninth lowest turnover frequency in those situations (11.5 percent. By contrast, James Harden has the worst at 21.1 percent).
In short, Hayward is among the league's best at scoring off the pick and roll, whether by making shots or drawing fouls, all while barely turning it over. And the reason he's dangerous is because he literally has any shot at his disposal.
The Celtics like to run a lot double-screens, stagger-screens, and other combinations that free up a ball-handler. Here, Hayward takes advantage of two picks. Utah did a nice job clearing out the lane for Hayward by using a shooter for the second pick, letting Hayward get in for the dunk. If better defenders blocked off the lane a nice uncontested elbow jumper was also right there for him.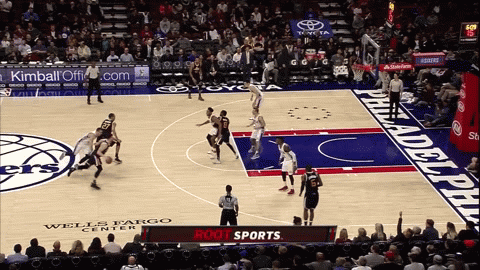 Rejecting a screen can tell you just as much about a player's intelligence on the floor as using one. Here, Hayward saw Joel Embiid overreact to the pick being set. With shooters on the right side of the floor, Hayward rejects the screen and just blows by his defender for the dunk. Again if the help defense was better, Hayward could take a pull up jumper or floater in the lane.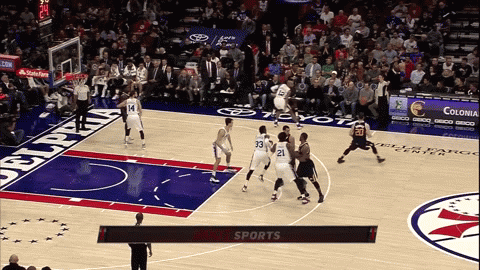 Defenders can NOT get stuck on screens, go under screens, or lay back too far. If Hayward finds a defender backing up in fear of a blow-by, or just any room at all, he can rise up for a pull-up 3. Hayward hit 20 of 31 pull up 3's last season, a ridiculous 64.5 percent and an overall EFG% of 67.4.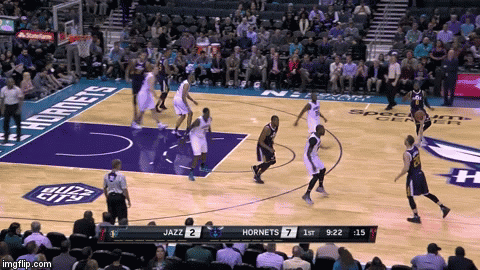 Plus once the Celtics hit a team with pick and roll after pick and roll, the can borrow a play like this to take advantage of an overly aggressive defense. Hayward fakes like he's going to use the pick to come around to the top of the key to get the ball back. His defender bites hard, and Hayward goes up for the alley oop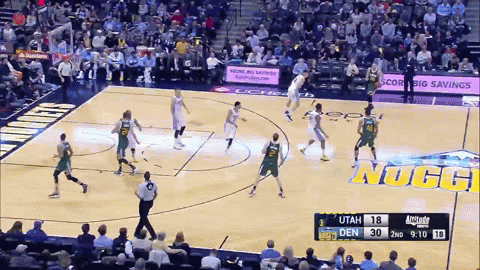 2. As the primary ball-handler, facilitator, and iso-scorer
Part of this goes hand-in-hand with being in the pick and roll. That requires the ability to pass, which Hayward can certainly do. But the the Celtics will ask Hayward to do more than just run pick and rolls. He'll also be asked to create some offense all on his own, go into some isolation, and either score or create opportunities for others. He's never been a high-assist guy, but Boston's offense will create some opportunities that could bump his assist percentage up to a career high.
Stevens will undoubtedly be a mad scientist at the beginning of the season. One option he has with Hayward is letting him bring the ball up the floor for stretches with both Kyrie Irving and Marcus Smart on the bench. If you want to see some positionless basketball, this is one place to find it.
Imagine a lineup of Hayward, Jaylen Brown, Jayson Tatum, Marcus Morris, and Al Horford. Hayward would be the primary ball-handler initiating the offense with at least three guys with proven ability from deep and a fourth, Brown, who shot 34 percent overall and 41 percent from the corners, which is good enough to command some respect.
Here Hayward is bringing the ball up. Utah sets a stagger screen and both defenders decide to go with him as he comes off to the left. He is not afraid of the double team, and he draws both defenders in long enough to let his teammate get to elbow for a wide open jumper. Picture Horford being the guy setting the pick here.
Hayward's shot-making ability opens up his drives to the basket. He's very good at up-faking and driving. He's also very willing to drive into the lane and make decisions from there. In this he goes right and when his path to the rim is blocked, he adjusts and finds a wide open shooter in the corner.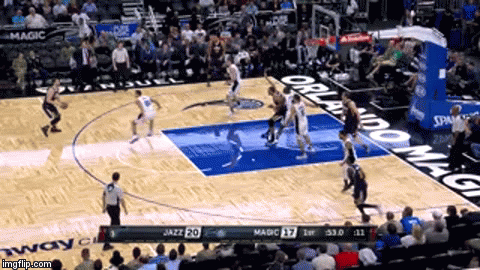 Hayward can also just take guys off the dribble. Here he finds a lane to the hoop and uses it to draw the foul. Nearly half his offense last year came from unassisted shots, which is the type of player the Celtics have needed for a while. He's another guy who can just go get his own buckets in a pinch.
3. In the post
This is where the Celtics' "positionless basketball" will really come into play.The Celtics have eight guys on their roster between 6'7" and 6'9". Some have called this a glut of small forwards, but the Celtics consider this to be a step in the "positionless basketball" revolution where five guys occupy the floor with the ability to seamlessly switch and play different spots rather than try to excel in singular roles. They are at the forefront of this experiment for now, which means they are uniquely designed to either get this really right, or watch it go very wrong.
For now, a versatile guy like Hayward can be deployed almost everywhere, and the Celtics will go hunting for mismatches in their offensive sets. In Utah, Hayward has shown the ability to immediately recognize when a smaller guard has switched onto him and dive into the post.
He didn't spent much time in the post (only 3.1 percent of his offense came from there), but he was fouled at a higher rate than fellow wings Kevin Durant, Jimmy Butler, and Giannis Antetokounmpo. He scored 43.5 percent of the time he got the ball there, which is a tiny bit more often than Russell Westbrook or James Harden did in those situations. Granted, none of them made a living down there, but Hayward is effective enough that it can be an occasional weapon for the Celtics.
No one is going to spend time next July creating a highlight video of Hayward's post exploits, but he'll be in there enough to make little things happen; a couple of fouls that send him to the line and put teams in the bonus sooner, assists out of the post when teams feel the need to double, a bucket or two if no one comes to help.  
A lot of post opportunities will come in transition where players can take advantage of cross-matches. Here, the 6'8" Hayward immediately recognizes he's got the 6'2" Tyus Jones on him. Hayward immediately dives from the right wing into the post to seal Jones off. With the rest of the team busy picking up other players on defense, Jones is helpless and Hayward get an easy bucket.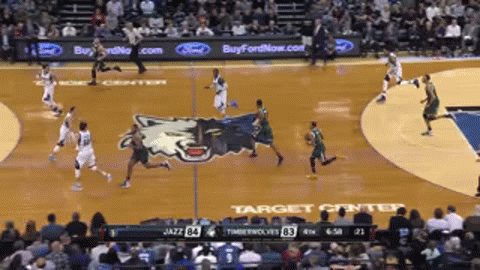 Here he recognizes he's got a defender on his right hip and no one is around to help. So he gives a tiny shoulder hesitation to make sure the defender can't reach his shot, and he nails a tough baseline fadeaway.
4. As a spot-up shooter
Hayward is a career 37 percent 3-point shooter but he shot 40 percent from deep last season. A big chunk of his offense has come from catch-and-shoot situations, especially from beyond the arc. He took 3.4 catch-and-shoot 3's per game last season and hit nearly 39 percent of them.
In a starting/finishing lineup with Irving and Horford running pick-and-rolls, having Hayward in the corner where he shot over 40 percent (especially the left corner, where he shot 52 percent last season) would give Irving all the space he needs to get to the rim.
Defenses will break down most of the time the ball is moved and someone drives. Any time they get into rotation, someone will flat out lose a good shooter like this.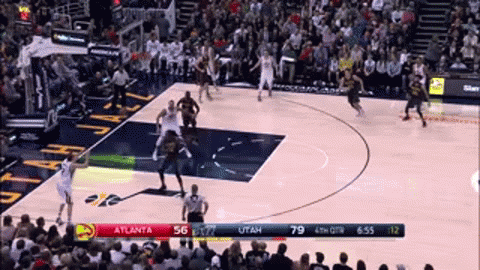 This is just the beginning. There are a million ways to use a guy as versatile as Hayward. The Celtics could use him as a screener in the pick and roll with Irving and then really force defenses to make decision. Hayward is also a very good cutter, so you'll see him slashing behind Horford post ups for easy buckets fairly often.
If you haven't watched Hayward, prepare yourself for a pleasant surprise. He can score from anywhere on the floor and in all sorts of ways. These four might be the ways you see most, but watch closely and you'll see a lot of fun things in the Celtics offense this season.