Celtics
Bill Simmons explained why Isaiah Thomas was so special to Celtics fans
"Every kid under age 15 has his jersey."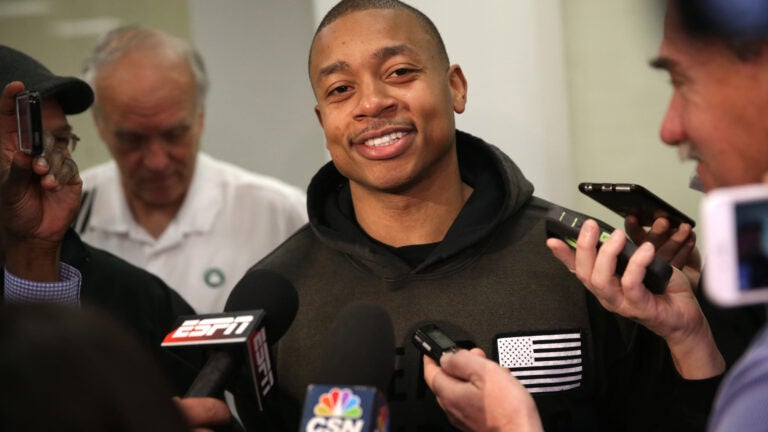 Inevitably, the blockbuster trade that sent Isaiah Thomas to Cleveland and Kyrie Irving to Boston would elicit a response from one of the most prominent Celtics fans: Bill Simmons.
The former ESPN writer, who is the founder of sports and pop culture website The Ringer, weighed in on the stunning trade with an "emergency" version of the Bill Simmons Podcast on Tuesday night.
Here's what he had to say about Thomas:
I feel sad though. First, I was excited that they traded for [Irving]…but man, sports is cruel. There is just no loyalty in sports. This is the reverse of KD going from Oklahoma City to Golden State. He's a traitor, he's sold out the fans. The flip side of that is sports is a business. This is the example for why [Durant] should do that. Isaiah Thomas, who becomes a folk hero in Boston – every kid under age 15 has his jersey, he has this unbelievable season, he's an MVP candidate last season, he gets hurt, he plays hurt in the playoffs, has a tragic death of his sister, plays through it anyway, we go through an emotional roller-coaster ride, they finally shut him down in round three, bled Celtic green…now he's gone. We have to start there, right? That's the biggest thing in all this.
And Simmons further rationalized the deal, while simultaneously acknowledging Thomas' MVP-caliber season:
I'm trying to be dispassionate, because I loved Isaiah and I loved rooting for him. He was a borderline All-Star until December of last year, when he put together three of the best months I've ever seen a pro player have. He just went to seven other levels. If you look at the season he had, historically, it's one of the top-1o most efficient seasons anyone's ever had. If think there were durability issues that the Celtics were worried about. He takes a lot of hits. He's small. He got hurt in March, never really got back. He had the hip thing. They claim the hip's going to be alright. One year left on his contract for $6 million.
Simmons reacted to 2007 the Kevin Garnett trade – almost exactly a decade earlier – by crowning it as yet another Celtics achievement by then-Minnesota general manager Kevin McHale. Of course, his initial reaction to the Garnett-Pierce trade to the Nets wasn't as positive:
https://www.youtube.com/watch?v=UJzx-PeG8zs