Celtics
Here's what Danny Ainge had to say after the Kyrie Irving-Isaiah Thomas trade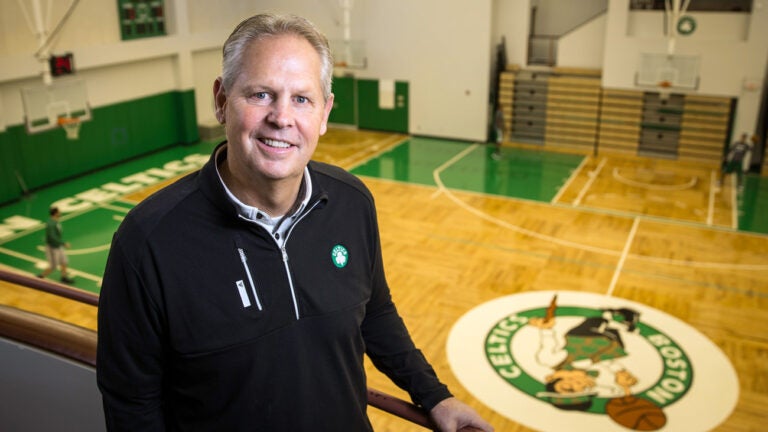 The Celtics and Cavaliers rocked the NBA world on Tuesday night, agreeing to a blockbuster trade that will bring Kyrie Irving to Boston and send Isaiah Thomas, Jae Crowder, Ante Zizic and a first-round draft pick to Cleveland.
Celtics president of basketball operations Danny Ainge is no stranger to bettering his team's championship odds by way of monumental deals; after all, he did assemble the Big Three to lead Boston to its first NBA title in over 20 years.
Here's what the infamous Trader Danny had to say in a conference call following the most recent trade announcement:
Opening statement:
Thanks everybody for being here. This has obviously been a rollercoaster of a day for us, trading away Isaiah and Jae and Ante. Especially Isaiah and Jae, who have been such a big part of our team and our success, our Celtic culture as leader of our team. Very, very difficult day.
And at the same time, you know a very exciting time, for one of the best offensive players in the league. An NBA champion, an Olympic champion, an All-Star with some of his best years ahead of him at just 25 years old. Looking forward to the opportunity to working with Kyrie and getting to see him in a Celtic uniform."
How did you and your front office come to the decision at this point in the offseason that acquiring Kyrie was worth the steep price tag, including the Nets pick next year?
Well, it presented itself. It wasn't available earlier in the summer, this same opportunity. These are very difficult decisions, as you can imagine. We face these difficult decisions at all times during the year. You never know when something may present itself.
But an opportunity for us presented itself, even though it is a high price tag. It is a great value that we're giving up. We love Isaiah and love Jae Crowder, and we're just getting to know Ante Zizic, who we've watched and nurtured over the last year, and given up a quality first-round pick.
But acquiring a 25-year-old perennial All-Star, a player that fits a timeline for us and is a fantastic offensive player—one of the best offensive players in the league. You have to pay a heavy price."
When you mentioned that this deal wasn't available to you earlier this summer, was that more along the lines of this specific offer? Or just Kyrie being available?
I don't really remember the exact timeline, but we've been in discussions with Cleveland for quite a while. But this particular deal wasn't available to us. We've had conversations throughout the summer with different teams on different trade possibilities … this deal we made today was not available a month ago.
Have you talked to Kyrie and Isaiah? Can you tell me the reaction from both players?
Those are private conversations. I will say this, I'm not going to share my conversation with Isaiah. As you can imagine, I'll leave it to your own imaginations to realize how difficult that conversation might have been for me and Isaiah. And I will say that Kyrie was very excited about coming to the Celtics.
Just from a personal standpoint, how tough was it for you to make this deal with Isaiah? 
Trading both guys was tough, but Isaiah had just an amazing season this year and entertained us all—the whole city of Boston. And everybody fell in love with him. He's such an underdog because of his size and his heart and his spirit in which he plays. And it was very challenging to make this decision.
How much did Isaiah's hip injury play into this deal?
Um, some. There's going to be probably a little bit of a delay for Isaiah as he starts the season this year. I think that Isaiah should be fine and healthy as the season goes along.
You said that Kyrie sets a timeline for you, can you elaborate on what you meant by that?
His age is a great fit. His age and experience is a great fit for us. With where we are with some of our younger players, his ability to score in a variety of ways—shooting from the three and getting to the basket—is elite. He's shown that the past three years in the NBA Finals.
At the young age of 25, it's very unique and very special, what he's been able to accomplish against the best competition in the world.
Have you got any sense about Kyrie's willingness to stick around after the 2019-2020 season? Was that even broached?
I won't comment on any things in the future. We'll deal with that when the time comes.
Can you take us through the process of the negotiations and eventually coming around to being willing to part with the Nets pick that was so valued for so long?
It's still valued. We still value that pick. We valued it from the time we got it. It's still very valuable. I don't think that's going to change. But obviously we value Kyrie more. It's that simple.
With that in mind, how rare is it to be able to trade for a player of this level then?
I think it's extremely rare to be able to trade for a 25-year-old player that's done what he's done in his career and the offensive weapon that he is. We know we're paying a heavy price, and we loved the guys that were here. We didn't really want to give up any of those pieces to make this deal work, but we're excited to have Kyrie.
How much were you concerned about Kyrie with some of things that he was unhappy with in Cleveland?
We feel like we have done a lot of homework. We feel comfortable with who Kyrie is and who he can be. We feel like his best basketball is still ahead of him. And he can be assured that we did talk to many people and did a lot of homework.
Do you feel that you've made your team better not only for the short term but also for the long term? 
Yes, we have a player that has proven to be a sure thing. We know how unpredictable the draft can be. We have a 25-year-old All-Star, Olympian, World Champion, top-notch scorer at age 25. And that is very rare. You do pay a heavy price for a player of that age and that caliber.
Any apprehension about doing a deal with a conference rival? Did the Cleveland management change affect anything at all?
Of course, we know who our competition is and who our biggest threats are each year. But we feel like this is a trade that can make us better, and that's why we did it.
What made Kyrie specifically special as opposed to some of the other trade opportunities you might have had? Especially in relation to the Nets pick?
First of all, we've offered first-round picks of this caliber for a handful of players—a few players at least—in the past. The trades just didn't go through. But Kyrie is unique, and I think that this was just a trade that we wanted to do that we felt was best for us at this time.
How big is a trade of this caliber for the franchise?
It's big for our franchise. I can't emphasize this enough. He's a good player. We're very excited about him. We paid a good price to get him, and we're trading away good players in return, and we can't wait for Kyrie to be a part of the Celtics.
Did Cleveland push you at any point to include Jayson Tatum in the deal? As opposed to the pick for next year?
Yeah, I won't comment on our conversations with Cleveland.
Can you speak to how big of factor the timing of Isaiah's free agency was? And the idea that next summer, at 29 years old, you have a guy looking for a full max?
We live in not just a financial world but a competitive-advantage world in acquiring players. But I think that contracts do play a part in trades. No question.
Can you sum up the summer? Do you walk away pleased?
Why don't we talk about that when the summer's over? Let's wait and see what else happens.
So there could be more moves coming? 
We never know.