Celtics
Here's why Kyrie Irving thinks the Earth is flat
"They lie to us."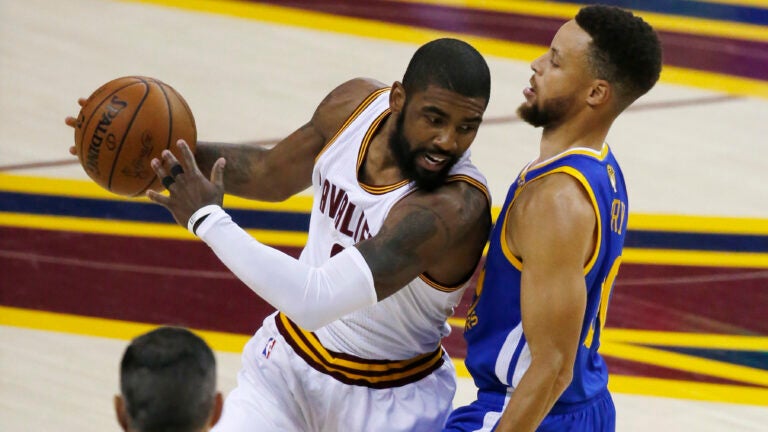 With news of Kyrie Irving heading to the Celtics, one issue looms for Boston fans as they acclimate to the deal: the newly acquired superstar has previously expressed his opinion that the world is flat.
"The Earth is flat," Irving said in February on a podcast with Richard Jefferson, Channing Tatum and Allie Clifton.
"I'm telling you, it's right in front of our faces," Irving said when asked to expand on his answer. "They lie to us."
He also appeared to doubt that the Earth rotates around the sun:
For what I've known for as many years, and what I've come to believe, what I've been taught, is that the Earth is round. But I mean if you really think about it from a landscape as the way we travel, the way we move and the fact that can you really think of us rotating around the sun and all planets aligned, rotating in specific dates, being perpendicular with what's going on with these planets, and stuff like this.
At its core, Irving said he was skeptical of the information he was being given in his education:
There is no concrete information except for the information that they're giving us. They're particularly putting you in the direction of what to believe and what not to believe. The truth is right there, you just got to go searching for it.
Naturally, Irving's quotes drew widespread attention. Here's how he replied:
I found it somewhat hilarious just by the reaction it got. That right there, before we went into All-Star weekend, we talked about this. Because we were like, 'This is gonna be crazy, going into All-Star weekend, flat Earth, round Earth conversation. Aliens. No conspiracy theories. So as I'm at All-Star weekend, I'm starting to see different news channels, different people pick it up. And it almost felt like I was standing on top of a pendulum and I was like swinging back and forth and then it gave everyone a chance to just look at me and then, if they didn't agree with me, kind of like throw rocks at me. Just like, 'no, he can't believe this.'
When asked by ESPN reporter Arash Markazi, Irving again doubted what his "education system" had taught:
Kyrie Irving was trending on Twitter today because he believes the Earth is flat. I asked him about it. pic.twitter.com/ODe9aP9qmK

— Arash Markazi (@ArashMarkazi) February 18, 2017
Irving's words have had an effect. In an NPR story from July, a middle school teacher named Nick Gurol said that his students started theorizing that the Earth is flat after hearing it from Irving.
"And immediately I start to panic," said Gurol. "How have I failed these kids so badly they think the Earth is flat just because a basketball player says it?"
"They think that I'm part of this larger conspiracy of being a round-Earther," Gurol explained. "That's definitely hard for me because it feels like science isn't real to them."
Irving is not alone among current and former NBA players who have speculated about the nature of the Earth's shape. Both Draymond Green and Shaquille O'Neal have also theorized as much.