Celtics
Three cheers for Danny Ainge, who turned assets into star power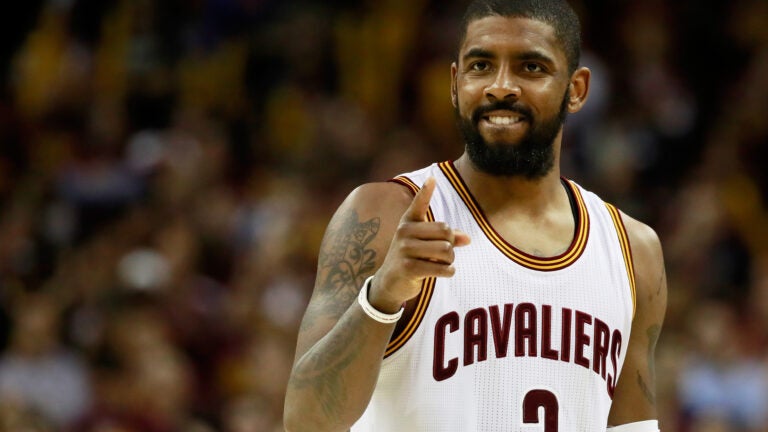 The story, as Danny Ainge tells it, goes like this. At a Celtics team Christmas party, presumably in the late '80s before Ainge was unceremoniously swapped to the Sacramento Kings, he was sitting around with Larry Bird, Kevin McHale, and Red Auerbach talking about churnings of the NBA rumor mill.
Auerbach, perhaps a few egg nogs into the evening, revealed some of the trade offers he had received for his company at the moment. The Mavericks, he said, had offered young forwards Sam Perkins and Detlef Schrempf for McHale.
Also according to Red, the Pacers, forever desperate to bring Bird back to his home state, had offered Chuck Person, Steve Stipanovich, and Herb Williams – essentially their entire starting front line — for their legendary native son.
Ainge – and remember, this is his version of the story, as told to the Globe in January 2012 as Paul Pierce trade rumors percolated — was flabbergasted.
Not because Auerbach might have considered trading the aging Celtics icons. Because he didn't trade them.
"I told Red, what are you doing?'' Ainge recalled in 2012. "Why are you waiting? . . . I was like, 'Are you kidding?' I mean, I feel that way now. If I were presented with those kind of deals for our aging veterans, it's a done deal to continue the success.''
Ainge wasn't kidding about his own willingness to trade beloved but aging stars. Six months after he made those comments about his superstar peers, he traded away the next generation of aging Celtics icons when he sent Pierce and Kevin Garnett to the Nets for three first-round picks and the rights to swap selections in another season. It turned out to be one of the great heists in Celtics history, one that would rate among even Auerbach's best deals.
I must admit, I was always somewhat skeptical of Ainge's trade-'em-Red tale. I believed it was true, but perhaps hyperbolic or exaggerated. But no more. Not after he dealt Pierce, the quintessential beloved modern Celtic. And certainly not after what transpired Tuesday night.
Isaiah Thomas is a Cleveland Cavalier. Kyrie Irving is a Boston Celtic. And now I believe every syllable of Ainge's anecdote, because I also believe this: It's not that the man has no room for sentimentality when it comes to building an NBA roster. I'm not even sure he understands the concept.
How do you evaluate a megadeal like this, which also includes sending the too-often maligned Jae Crowder to Cleveland along with the last remaining first-round pick from the Nets deal? First you catch your breath and convince yourself that yes, this really did happen. Then you marvel at how the NBA offseason is as thrilling as anything that happens on the hardwood.
And then you pay appropriate and deserved homage to Isaiah Thomas. That simply must be done before we get to the nitty-gritty of the deal and what it does for the Celtics. He was only a Celtic for 2½ seasons and 179 regular-season games. But what he did here during that time made him a Celtic for life.
I'll miss those pull-up 3s that you knew were going in before the Spalding departed his left hand, the plastic-man leaping kick-out passes to the wings, the change-of-pace perimeter moves to create space, the ability to score in traffic against players a foot taller when there was no space to be found.
I'll miss the way he both embraced and understood Boston, his tireless generosity in signing autographs with a smile on his face and sharing a moment with kids who looked up to him (but not too far up).
He understood who he was and what he meant to the impressionable, and he embraced it.
I'll miss his toughness, mental and physical. That was the most Celtic thing about him. This is a guy who scored 53 points on his late sister's birthday in a playoff game in which he was already dealing with a rebuilt smile and an aching hip. The little man could not have had a larger spirit.
[fragment number=0]
Here's to IT, who came here under the guise of being a sixth man and departed as a second-team All-NBA choice who was No. 1 in Boston basketball fans' hearts.
To see him go hurts a lot of Celtics fans this morning. But that's because they're dealing with that variable that Ainge ignores: sentiment. If you can somehow take that out of the equation, at the very least the deal should leave you eagerly anticipating the new season.
The Celtics have pared off 11 of the 15 players on their wholly likable Eastern Conference finalist team of last season. But what they have now, with the arrival of the 25-year-old Irving, 27-year-old All-Star forward Gordon Hayward, and 19-year-old rookie Jayson Tatum, is a remodeled roster capable of reaching the NBA Finals next season, with brighter seasons ahead. Yes, Ainge finally turned assets and cap space into All-Stars. Plural.
Irving is a slightly superior player to Thomas, and he's certainly a more conventional star.
He's also 3 years younger, is signed two years longer, has made four All-Star teams, won an Olympic gold medal, and a championship, too. He's the most creative finisher in traffic I have ever seen among guards, and he literally won the championship, burying the winning jumper in Steph Curry's face to defeat a 73-win team in the seventh game of the 2016 Finals. Thomas might be capable of the same thing. But Irving has done it. In pure talent and achievement so far, Irving is an upgrade.
[fragment number=1]
Sure, there is risk. Ainge isn't averse to it; he embraces it. There should be some wariness of a player who got tired of playing with LeBron James, one of the most unselfish superstars in league history, at least on the court. And giving up that final Nets pick is a decision capable of haunting. I kept waiting for word that it was protected somehow. It's not. The Celtics must believe the Nets will be better than the consensus believes in the coming season.
If you have a beef with Ainge today, it had better be solely from that sentimental standpoint. He's added Al Horford, Hayward, and Irving in the past two offseasons, annihilating the narrative that stars won't come to Boston. He turned Thomas (stolen from the Suns), Crowder (stolen from the Mavericks in the Rajon Rondo trade), a first-round pick (stolen from the Nets), and Ante Zizic into Kyrie Irving. Virtually all of the pieces used in this deal came to the Celtics via Ainge's brilliant trades. I like the chances that this deal finds its way into similar categorization.
I cannot wait for Opening Night in October, when LeBron, IT, and the Cavs take on Irving, Hayward, and the Celtics. But like Ainge, I'm also looking at the long play here, and I think he might have just reignited the Celtics-Lakers rivalry.
If LeBron fulfills the rumors and joins the purple-and-gold in free agency for the 2018-19 season, that would be the death knell for the Cavs . . . and opens up the possibility of a potential showdown with Kyrie Irving and the Celtics in the '19 NBA Finals.
Even Ainge might appreciate the nostalgia of that rivalry. But I suppose this is true, too. It will probably be tough for the LeBron Lakers to get past the mighty Warriors, even two years from now. After all, he'd no longer have Irving to help him do it.
[fragment number=2]