Celtics
Why Tuesday's Celtics-Cavs trade was the first of its kind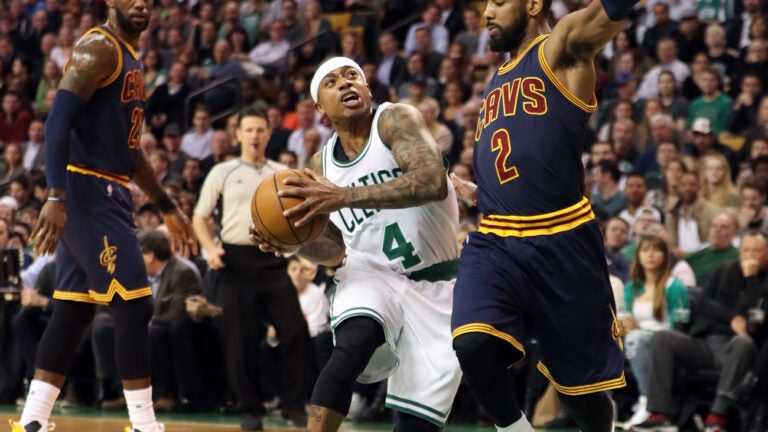 Fans and NBA players alike were shocked when Boston and Cleveland announced on Tuesday night that the two teams had agreed to exchange Kyrie Irving for Isaiah Thomas, Jae Crowder, and a 2018 first-round draft pick.
And their disbelief is completely warranted. Celtics president of basketball operations Danny Ainge has made his fair share of blockbuster trades, but the executive's most recent deal was a whole new level of monumental.
For the first time in league history, a trade occurred between two teams that had met in either the conference or NBA Finals last season. Bostonians may have already tried to erase that series from their memories, but the Cavaliers defeated the Celtics, 4-1, in the 2017 Eastern Conference Finals.
Cavs-Celtics trade is 1st OFFSEASON deal in NBA history with players who met in previous year's NBA Finals or Conf Finals

via @EliasSports

— ESPN Stats & Info (@ESPNStatsInfo) August 23, 2017
Tuesday's bombshell was also the first time ever that a trade swapped two players who had averaged at least 25 points per game last season. Thomas averaged 28.9 points per game, while Irving was not far behind with 25.2.
No pair of 25 PPG scorers have ever swapped teams the following season … until now

Isaiah Thomas/Kyrie Irving

via @EliasSports pic.twitter.com/T1KCH1gPPe

— ESPN Stats & Info (@ESPNStatsInfo) August 22, 2017
Interestingly enough, Thomas and Irving were also both selected during the 2011 NBA Draft. However, the two All-Stars were chosen at drastically different points. Irving was selected by the Cavaliers as the first overall pick after one year at Duke, while Washington's Thomas was drafted as the final pick by the Sacramento Kings.
2011 NBA Draft

Kyrie Irving — No. 1 pick

Isaiah Thomas: Final pick of Draft https://t.co/5thkdUXYi1

— ESPN Stats & Info (@ESPNStatsInfo) August 22, 2017
For Celtics fans who are still skeptical about the trade's positive impact, they may be pleased to learn that the last time Ainge acquired two All-Stars, the team won the championship that following season. After the team signed Ray Allen and Kevin Garnett in 2007, they went on to take home the 2008 NBA title.
https://twitter.com/CassidyHubbarth/status/900207168502345729