Celtics
Ex-Celtics passionately refuted the rumor Isaiah Thomas was unliked in Boston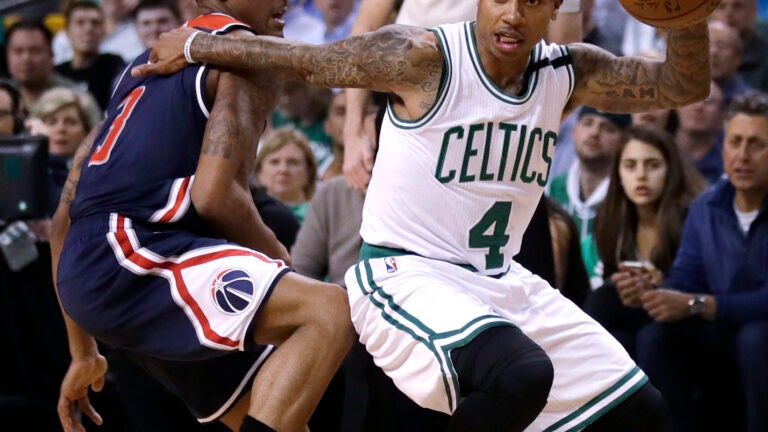 Isaiah Thomas was undoubtedly a fan favorite in Boston, but some are questioning whether or not that was also the case in the Celtics locker room.
According to FOX Sports analyst Chris Broussard, anonymous sources said that many teammates actually disliked the point guard. Broussard didn't share which players specifically had problems with Thomas, nor did he share the exact reasons why they might have, but he speculates that the issues may have stemmed from the 28-year-old's narcissistic bravado.
"I spoke with several executives, or texted with several executives, last night," he said. "And a lot of them were saying that a lot of the players in Boston really weren't that fond of Isaiah. We know we had those problems in Sacramento and in Phoenix. I didn't know he was having those issues, according to these executives, in Boston. He is known as a head strong guy. He's got a huge ego. They say he's got a Napoleon complex. You know, he always has that chip on that shoulder."
"Cleveland is winning the East, and they're better equipped to play Golden State than they were before." — @Chris_Broussard pic.twitter.com/EuqeLZMj0B

— UNDISPUTED (@undisputed) August 23, 2017
A number of former Celtics have spoken out against the report, including Kelly Olynyk, Jared Sullinger, and Evan Turner.
This Preposterous! #RealOne https://t.co/F7qlWSgd9v

— Kelly Olynyk (@KellyOlynyk) August 23, 2017
Lies lies and More Lies!!! Smfh. Y'all better than that! https://t.co/XVcBelKDkA

— Jared M.X. Sullinger (@Jared_Sully0) August 23, 2017
Turner, who had candidly shared his thoughts on the team's trade with the Cavaliers, told SB Nation's Jared Weiss that he never had gotten the sense that Thomas was not well-liked.
"I just don't see how that even comes out," the forward said. "I've never known him to be an [expletive] or disliked by anyone. He's not arrogant or anything. Dude works his [expletive] off."
"I never heard anyone in any part of life say anything bad about him, especially as a teammate," Turner continued. "He was always there working his [expletive] off before and after practice. That little dude worked. Can't say anything bad about him."
Even when taking into consideration Broussard's potential reasoning, Turner still doesn't see it: "I mean, the little dude has a chip on his shoulder and he [expletive] works. Like an understatement. True competitor. I never heard him be disrespectful towards someone. If you're the leader in the locker room, then sometimes being the bad guy is going to happen, but I truly never seen it."
Celtics assistant coach Walter McCarty was also not happy with the claims, tweeting "Y'all need to stop that!" in response to a link sharing the report.
https://twitter.com/waltermccarty/status/900424492505346048