Celtics
What we know about Isaiah Thomas's hip injury and how it complicates the Celtics' trade for Kyrie Irving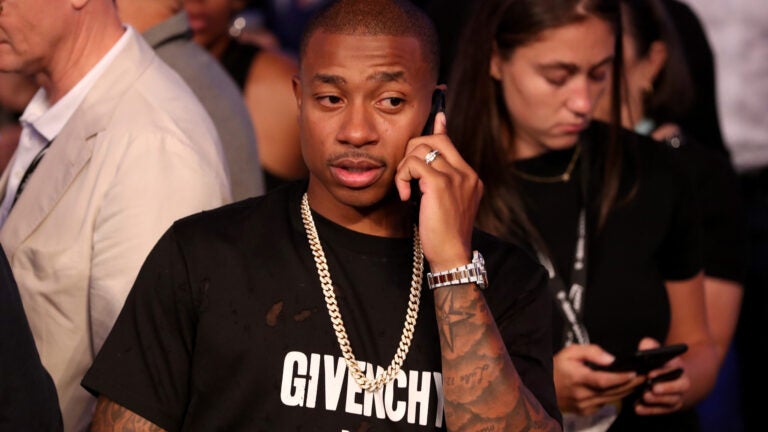 Celtics fans may have thought the team's blockbuster trade for Kyrie Irving was a done deal. However it appears the hip injury that ended Isaiah Thomas's 2017 season could force the trade to be renegotiated, if not voided altogether.
Thomas — who was traded to the Cavaliers along with Jae Crowder, Ante Zizic, and a 2018 first-round draft pick in exchange for Irving — reportedly traveled to Cleveland on Friday to undergo a mandatory medical evaluation. Late that night, ESPN's Adrian Wojnarowski dropped the bomb, as he does, that the Cavs were subsequently "still evaluating" Thomas's injured hip and "weighing options" regarding the completion of the deal.
Sources: After Isaiah Thomas underwent physical today, Cavs still evaluating injured hip and weighing options w/ completion of Irving deal.

— Adrian Wojnarowski (@wojespn) August 26, 2017
The report sent NBA fans into an uncertain frenzy over whether the trade could be canceled, the players awkwardly sent back to their original teams, and the question, for some, of how to un-burn a jersey.
But would the Cavs actually reject the mega-trade? Or is Cleveland using Thomas's health as leverage to get more in return for Irving? Here's what we know about the in-flux deal, which must be finalized by Wednesday.
Could the trade actually be voided?
"It's a very sensitive situation," one source involved with Thomas's medical clearance reportedly told Wojnarowski.
According to the NBA's collective bargaining agreement, trades can indeed be voided if a player does not pass a physical evaluation by their new team. And it's happened before.
In 2009, the Oklahoma City Thunder rescinded a trade for Tyson Chandler, after the center's left big toe was evaluated by their team doctor and deemed too much of a re-injury risk. In 2016, the Detroit Pistons voided a three-team trade after forward Donatas Motiejunas reportedly failed a physical due to back problems.
The NBA's uniform player contract says players have up to a week after being notified of a trade to "submit upon request to a physical examination" by their new team's doctor.
How serious is Thomas's hip injury?
For Cavs fans, Wojnarowski's report renewed concerns over the seriousness of Thomas's hip injury.
Thomas aggravated the lingering injury — a torn right labrum first suffered during a March 15 game against the Minnesota Timberwoves — during the Eastern Conference semifinals against the Washington Wizards. He later re-aggravated the tear in Game 2 of the conference finals against the Cavs, which ended his season.
Similar labrum injuries have proved effectively career-ending for some NBA players, while others have been able to fully recover.
Thomas elected to forgo surgery this offseason to repair the injured hip. Just before the trade was announced last week, Celtics coach Brad Stevens said an exact timeline on his return had yet to be set. Earlier this month, Thomas said his hip was "great," but that the rehab process was slow.
Last month, Celtics general manager Danny Ainge told The Boston Globe that Thomas was back doing shooting drills, as well as working out on a stationary bike and in the swimming pool. But according to Wojnarowski, Thomas has yet to begin a running regimen this offseason.
Following last week's trade, Ainge told reporters that the injury had "some" effect on the decision to deal Thomas.
"There's going to be probably a little bit of a delay for Isaiah as he starts the season this year," he said.
What will most likely happen now?
According to the Globe's Adam Himmelsbach, the two teams are likely to attempt to renegotiate the trade before pulling the plug completely.
Source told me this week a renegotiation attempt would be a likely option before anything was rescinded if it reached that point. https://t.co/yy0Q2CWUEI

— Adam Himmelsbach (@AdamHimmelsbach) August 26, 2017
Wojnarowski reported Saturday that Cleveland "may try to make the case that Boston undersold them on the scope of the Thomas injury, and more specifically, how soon Thomas could be prepared to play this season." The Celtics, however, reportedly believe they were clear about the injury.
As sports law expert Michael McCann wrote Saturday for Sports Illustrated, NBA rules state that teams must share all relevant information about a player's health and injury history before a trade occurs. The rules also specifically ban teams from misrepresenting or withholding any such information.
"But full disclosure of Thomas's health doesn't preclude the possibility that the Cavaliers could view the injury differently upon seeing it up close," McCann wrote. "Doctors can look at the same injury and disagree about its severity, recovery timetable and other qualities."
According to Wojnarowski, the Cavaliers will try to get another piece from the Celtics' stockpile of assets in a renegotiated deal:
Cleveland had coveted 2017 No. 3 overall draft pick Jayson Tatum, but Boston has consistently remained unwilling to include him into trade talks for Irving, league sources said.

Besides its own future first-round picks, Boston has possible access to future protected picks from the Los Angeles Lakers (2018), LA Clippers (2019) and Memphis Grizzlies (2019). Boston has control of several second-round draft picks, too, which also could be included into a deal.
The collapse of the deal would be potentially uncomfortable for both sides, particularly Cleveland. Irving had requested that the Cavs trade him to another team earlier this summer.
According to Wojnarowski, the team would immediately look to re-deal him, though it may be difficult to find the same return they would have in Thomas, who made the All-NBA Second Team last season. Of course, there would be also be one benefit of trading Irving to a different team.
"The Cavaliers wouldn't be fortifying the biggest threat to their Eastern Conference supremacy, Boston, in the final year before [LeBron] James could leave in free agency," Wojnarowski wrote.