Celtics
Isaiah Thomas says 'I am not damaged' in ESPN interview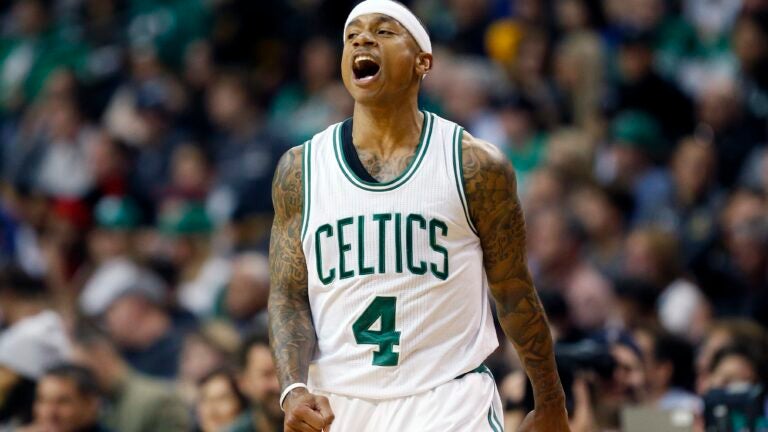 CLEVELAND (AP) — All-Star point guard Isaiah Thomas believes he will fully recover from a right hip injury that has threatened to void his recent trade to Cleveland.
Thomas, who was dealt by the Boston Celtics to the Cavaliers last week for star Kyrie Irving, told ESPN he has made progress in his recovery.
''I am not damaged,'' the 28-year-old said. ''I'll be back, and I'll be the same player.''
After Thomas underwent a physical last week, the Cavaliers had some concerns about the results. A person familiar with the findings told The Associated Press the trade would not be finalized until the team completed a ''deep and thorough review.'' The Cavs have continued to weigh their options in recent days, and it's possible they will ask for the Celtics for more compensation — likely another draft pick.
Per league rules, a deal can be voided if a traded player fails his physical.
The teams have until 10 a.m. on Thursday to complete the blockbuster deal in which Boston also sent forward Jae Crowder, center Ante Zizic and an unconditional 2018 first-round draft pick to Cleveland for Irving, who requested a trade in July.
Thomas told ESPN that doctors said his torn labrum will not affect how long he plays. However, Thomas did indicate he may not be ready for the start of the season.
''There's never been an indication that I wouldn't be back, and there's never been an indication that this is something messing up my career,'' he said. ''Maybe I am not going to be back as soon this season as everyone wants me to be, but I'm going to be back, and I'm going to be the same player again. No doctor has told me anything different than that.''
Thomas averaged 28.9 points per game last season, pushing his way into the conversation as one of the league's best playmakers. He also showed incredible courage in the playoffs by continuing to play at a high level following his sister's tragic death in a car accident.
He is entering his final year under contract and Thomas has been eyeing a major deal next summer, either with Cleveland or elsewhere.
Thomas was unable to finish the conference finals, and he sought several opinions on his injury following the season.
''I haven't had one doctor tell me that this injury is going to hurt my career,'' Thomas said in the ESPN interview. ''Surgery was not the best option in this case. I aggravated it in March when (Minnesota's) Karl-Anthony Towns fell on me. I kept playing on it and making it worse — until I couldn't play anymore last season.''