Celtics
Kyrie Irving says goodbye to Cleveland in a heartfelt video to fans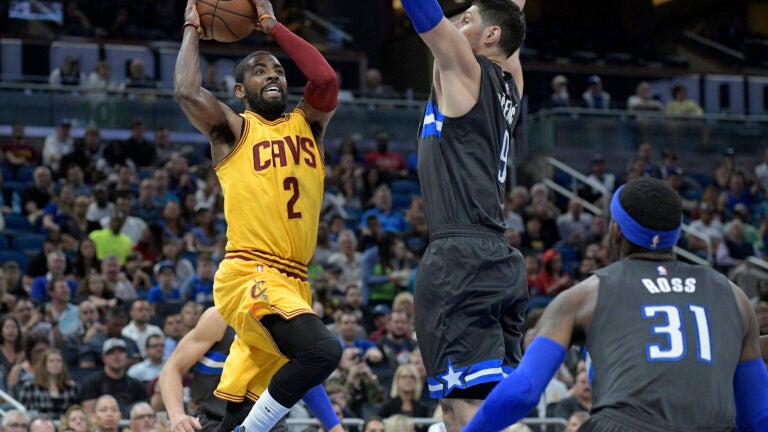 After generating some nervous hoopla that the blockbuster trade with Boston could potentially be voided, Cleveland has accepted the Celtics' deal for Kyrie Irving with the added component of a 2020 second-round draft pick.  The exchange between the two Eastern Conference powerhouses is finally be complete, which means that Irving will be a member of the Boston Celtics next season.
The 25-year-old bid adieu to his former team on Instagram and shared how his love for Cleveland "extends way beyond the court." Despite requesting to be traded earlier this summer, Irving maintained that the city will always be a special place for him.
"The ups and downs, we stand and fight no matter what the circumstances are," he wrote in his caption. "That's what being in Cleveland embodies. It is all love and a whole lotta pride."
A social media post wasn't enough to capture the forward's emotions as he transitions to a new team. Irving also shared a four-minute video in which he elaborated on his decision to leave and detailed what his time with the Cavaliers meant to him.
Here's what he said:
Man, it's hard to make videos like this because you understand the magnitude of the decisions that you make in your life can affect a lot of people all at once. And when you get to that point and you understand the best intentions for you, and ultimately being your truth, and find out what you really want to do in your life and how you wanna accomplish it… That moment comes and you take full advantage of it. There are no other ulterior reasons other than being happy and wanting to be somewhere where you feel like is an environment that's conducive to you maximizing your potential.

As a human being and as a player perfecting your craft, I put a lot of hours and a lot of work into just trying to accomplish things that I have dreamt of as a kid. It started with not only going to Duke but getting drafted No. 1 by Dan Gilbert and his ownership group: Nate Forbes, and also the bald guy, as he likes to be called, then their families. Nick Gilbert actually put in the draft call, which is awesome because I ended up meeting them at the Draft Lottery. They took a chance on a 19-year-old kid that was coming off of a stubbed right toe, off of being in a very, very immature place at the time because I mean, what 19-year-old doesn't take their time in making decisions?

I spent part of my life and my years in the NBA in such a great environment in Cleveland. Being there from the start in 2011 and now coming to the end of 2017, which is still crazy in my mind. But I just wanted to say all the individuals that I met over my six-year span, and I don't say it as this is an ending friendship or anything like that, but you guys understand how much those moments meant to me and connected me with everyone because it matters. And I care. And I love the world. And I love people. And I love being around people.

As guarded as I am, and as everyone likes to say I have a wall up, spending two minutes or five minutes asking them genuinely about themselves is what I truly care about. To be able to share those moments with just everyone in Cleveland and everyone in Ohio, doing something that was just an unbelievable experience for all of us. I still can't believe, you know, just the feats that we reached in a six-year span. And I'm truly grateful, and I'm thankful.

This is a special video just strictly to Cleveland and of all those who are just finding that self love. And that's what I'm here to bridge the gap for. This is a special thank you to Cleveland. I love all your guys support and all your guys love for the course of the amount of years I was in Cleveland. And I say that, because I know that the journey continues from this point on. And there will be nothing but love that I have for the organization and what we got to be a part of. Because there are some special individuals there, and I'm shouting out you guys because you know who you are.

And to my teammates, crazy stories, crazy experiences, just unbelievable human beings. Y'all know how this brotherhood goes. All love.