Celtics
Kyrie Irving says joining the Celtics 'was meant to be'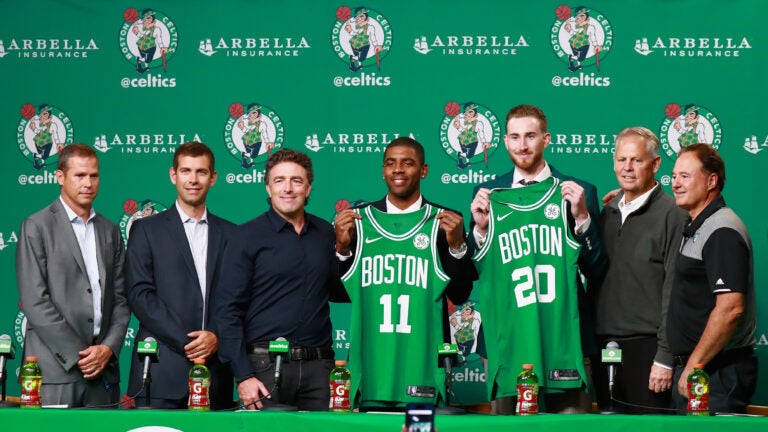 All-Star guard Kyrie Irving thinks landing with the Celtics was meant to be.
"I'm grateful and I can't wait to get on the floor,'' he said Friday morning at an introductory news conference at TD Garden. "Boston came right at the exact time, and it was meant to be that way.''
Irving and Gordon Hayward — the Celtics' two biggest offseason acquisitions — were officially introduced as members of the team. They received their green jerseys — Irving's with No. 11 and Hayward with No. 20 — and both expressed their appreciation for joining a storied franchise that is primed to contend for the NBA title.
"I think being here with the city and the fans, it's just exciting,'' said Hayward. "I think it's going to be a great year.''
Irving, who requested a trade out of Cleveland in July, got his wish last week, then had to wait things out while the deal was finalized. He said he rode a "roller coaster of emotions'' after the Cavaliers lost to Golden State in the NBA Finals, but was excited when it appeared he would indeed be traded.
"When Boston came knocking, I was answering,'' he said.
When Hayward signed as a free agent in July, he thought he was coming to Boston to team up with Isaiah Thomas. But Thomas was one of the players dealt to Cleveland in the trade for Irving.
"He was definitely someone that I was excited about playing with — I'd be lying if I didn't say that,'' said Hayward. "But I realize this is a business.
"You go from the opportunity from playing with IT to Kyrie Irving. He is one of the best players in the league.''
Celtics president of basketball operations Danny Ainge, coach Brad Stevens, owners Wyc Grousbeck and Steve Pagliuca, and team president Rich Gotham also attended the introductions.
"Since 1946, we've been a championship-driven organization,'' said Grousbeck. "We believe we've added two players who are championship-quality on the court.''
As it stands, the Celtics have only four players from the 2016-17 team returning following a busy offseason. One roster spot remains open.
"One of the things we talk about all the time is each team is its own entity,'' Stevens said. "We haven't met yet. We're still in the offseason, where we're limited in what we can do.
"When we have that first team meeting when training camp begins, that will be important because we need to set the tone for building a foundation on both ends of the floor.''
Stevens previously coached Hayward at Butler. Hayward was asked how much has changed since then, but Stevens answered the question.
"He couldn't even grow a beard the last time I saw him,'' Stevens said.
The Grousbeck got in on the joke.
"Could you?'' he asked the youthful Stevens.
The Celtics open the season Oct. 17 against the Cavaliers.