Celtics
Get to know new Celtic Marcus Morris through his close relationship with his twin brother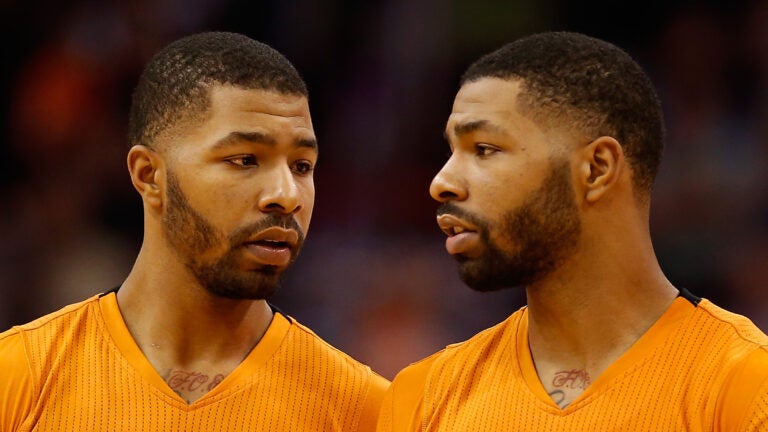 In exchange for guard Avery Bradley and a 2019 second-round draft pick, the Celtics acquired forward Marcus Morris from a trade with the Pistons. Marcus, not to be confused with his twin Markieff, averaged 14 points per game last season in Detroit.
The 6-foot-9, 235-pound forward may have already given his introductory press conference with his new team, but there's still plenty to learn about him from his relationship with his brother. Here's an overview of the congenial pair:
They're fraternal twins, but they look very much alike.
Despite their strikingly similar looks, the brothers are technically not considered to be identical.
Their uncanny resemblance has worked in their favor. 
Although it might seem somewhat trite to crack jokes about mistaking identical-looking kin for one another, the Morris brothers have, in fact, tried to intentionally deceive others with their nearly indistinguishable appearances.
Back when the two were playing AAU basketball, Markieff remembers discreetly subbing in for an injured Marcus. The pair reportedly swapped jerseys on the bench during a timeout before Markieff re-entered the game, posing as his brother.
"It happened real quick," Markieff said, via azcentral.com. "[Marcus] had hurt his ankle, but I had fouled out. I gave them a little limp back in, like I was hurt, and kept playing."
As for whether or not the trading spaces ploy would work today? Despite conspiracy theories that it happened again in Game 1 of the Celtics-Wizards playoff series this past season, Markieff isn't too sure the stunt would actually succeed. And Celtics fans will likely be pleased by his reasoning.
"I think they might know," he said. "I'm not as skilled as Mook is."
Mook is the affectionate nickname given to Marcus by his grandmother.
They'll do anything to be on the same team.
Not only have the brothers been very fond of their time as teammates, but they also actively seek out those opportunities.
When the two were playing youth football, Marcus once weighed in for Markieff so that they could be on the same squad. Marcus recounted the story in an interview with SB Nation:
I had made the weight weeks before. I was already fine. Kieff had to go back. He was running around with a trash bag on. He couldn't eat; he had to drop like two pounds.

He went to the weigh-in, took the sweaty trash bag off, and I had to put the sweaty trash bag on and act like I was running around, doing all this crazy stuff. Went into the building, acted like him, and nobody could tell the difference. Not even a little bit.
Their affinity for playing on the same team went beyond childhood, as their high school coach remembers how "adamant" they were about not playing against each other, even in practice. Although both function best as power forwards in the NBA, they explicitly chose to pursue different positions as kids because they thought it would maximize their chances of being on the same team.
From there, they went on to enjoy three seasons of college ball together at Kansas—and three more in the big leagues at Phoenix after they somehow managed back-to-back selections in the 2011 NBA Draft.
"The game is more fun together," Markieff said, via azcentral.com. "It means more."
When negotiating contract extensions with the Suns, the twins actually landed a joint four-year deal for $52 million to be split between the two of them. The team's president of basketball operations let them decide how they wanted to divide the cumulative figure.
"It didn't matter if it was me getting $5 million and Mook getting $8 million," Markieff said, via azcentral.com. "We told them it didn't matter. If they just put $13 [million] a year for the Morris twins, that would've been great. They wouldn't even have to say our names."
They play better when they're together.
With Marcus now on the roster, the Celtics may actually want to consider pursuing Markieff, for it turns out the twins' production is consistently better when they are both on-court. During their final season together in Phoenix, Markieff's field-goal percentage and points per game both dropped whenever Marcus was on the bench.
And whom he received the pass from made a difference, too. Markieff shot 58.4 percent from the floor when the ball came from Marcus, but that number dropped to 46 percent when it came from any other teammate.
As for what advantages come with having your brother on court? Markieff told the New York Times' Jeré Longman, "You've always got somebody with you to work on your game with, to watch film with, basically like another coach."
They share a lot of things outside of their love for basketball. 
"We were together on everything," Markieff reflected on their childhood in an interview with the NBA. "We had the same taste in video games, clothes, shoes, everything."
While out car shopping on separate occasions, the 27-year-olds also reportedly once picked out the exact same vehicle—down to the make, model, and color.
However, their similar tendencies have manifested themselves most obviously through their tattoos. While the body ink is not 100% identical, there is a significant amount of overlap.
we really don't talk enough about how Marcus and Markieff Morris have 100% identical tattoos pic.twitter.com/djm48PGkJJ

— Rodger Sherman (@rodger_sherman) May 3, 2017
Most notably, the acronym FOE can be found on their left arm as well as in several other places on their torso. It stands for "family over everything," which is a motto the twins strictly adhere by. They often tweet using the hashtag, #FOE, and have monetized the mantra into a personal brand of merchandise.
Seize the opportunity #FOE

— Marcus Morris (@MookMorris2) August 22, 2016
They text each other during halftime. 
The brothers might not be on the same team anymore, but that's not going to stop them from supporting each other from afar.
Now THIS is brotherly love.
It's Detroit F Marcus Morris wearing twin Markieff's No. 5 #Wizards jersey at today's playoff game. pic.twitter.com/vp3E8ZyvDG

— Candace Buckner (@CandaceDBuckner) April 16, 2017
Even when they can't attend games, Marcus and Markieff do their best to tune into television broadcasts so that they can offer little pieces of advice to the other from miles away.
"At halftime, I'll give him stuff that I see," Marcus told Philly.com's Mike Jensen. "I'll text him. I know he's going to look at his phone. Even some plays. This is open. Look for that."
Their unwavering support in the NBA is only a reflection of their experiences growing up.
"There was a time over Christmas break when we were actually doing a little bit of extra conditioning," Kansas men's basketball head coach Bill Self recalled, via SB Nation. "They made it well-known that they came to Kansas to play basketball, not to run track. When one of them would say, 'I'm outta here," he wouldn't go unless the other one was with him."
They have no plans to pump the brakes. 
Thomasine "Angel" Morris, their mother, doesn't foresee any changes to the brotherly love happening any time soon.
"I think they are going to get married in the same place at the same time, live in the same house," she said, via SB Nation. "Everybody is just going to be one big happy family."