Celtics
Isaiah Thomas writes goodbye to Celtics fans: 'I fell in love with Boston'
The message that meant the most to him in the aftermath of the trade arrived from Tom Brady.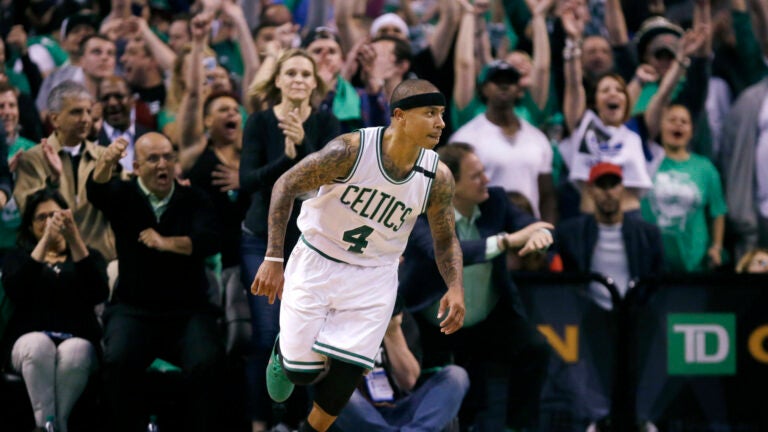 Former Celtics guard Isaiah Thomas took to the Players' Tribune to express his full thoughts on the recent blockbuster trade that sent him from Boston to Cleveland. Walking readers through the news as it was broken to him (by Celtics president of basketball operations Danny Ainge), Thomas included how his children reacted and how he thinks the trade can help shape fans' opinion of players.
At its core, his reaction to the trade was described in the following way:
But yeah, I'll just say it: That shit hurt. It hurt a lot.

And I won't lie — it still hurts.
Thomas, who arrived in Boston via another trade in 2015, has made no secret of his love for the city. And Celtics fans were clearly sad to see the talented guard go.
As Thomas explained, news of the trade reached him by phone from Ainge:
And then somewhere in there, it was just like … it was barely anything. This little pause in the conversation. And that's when he told me.

"I just traded you."

Simple as that. No big words, no big speech. Though I guess when it comes to shit like that, there's not much more to say.
He reached out to his children, who were split on the news. Their reactions, Thomas contended, summed up the trade better than anyone else:
But the truth is — those first two reactions I got, from my sons? That was all I needed. All those takes, all the rumors, all the expert analysis going around … and, man, my sons got it more right in a couple of minutes over FaceTime. Everything about that trade, everything that I was feeling in my heart in those moments — they got it down to the only two things that mattered.
Thomas looks at the trade as a way in which fans can learn about the business of the league, and why players deciding to switch teams in free agency is only a piece of the equation:
That's what I think my trade can show people. I want them to see how my getting traded — just like that, without any warning — by the franchise that I scratched and clawed for, and bled for, and put my everything on the line for? That's why people need to fix their perspective. It's like, man — with a few exceptions, unless we're free agents, 99 times out of 100, it's the owners with the power. So when players are getting moved left and right, and having their lives changed without any say-so, and it's no big deal … but then the handful of times it flips, and the player has control … then it's some scandal? Just being honest, but — to me, that says a lot about where we are as a league, and even as a society. And it says a lot about how far we still have to go.
Still, Thomas explained that even though he knows basketball is a business, the trade "still hurt" for a simple reason:
And so when I say this hurts, man — just know that it isn't because of anything anyone else did. It's only because of something I did.

I fell in love with Boston.
In his words, the "special connection" to Boston developed out of mutual circumstances:
All my life, all I'd been doing was winning, and playing great basketball. But now, suddenly, as a pro, people were telling me that I had to be a bench player — and that the best I could hope for was to be the scorer on a rebuilding team. And it's kind of similar for this era of Celtics: As long as the C's had been around, all they'd done was win, and play great basketball. But now, suddenly, people were telling their fans that there was going to be a rebuild, and that they were going to be a lottery team for a while. And it's almost like me and the city, my Celtics teams and these Celtics fans, we both shared the same heart, that same mentality. We both just wanted to win — now — and neither of us had any time for our critics.
Describing his thoughts on going from a Celtics core player to a rival, Thomas summed it up, saying:
It's sad, man. It's just sad.

But I didn't come to Cleveland to lose.
Interestingly, the most memorable post-trade message he got came from Tom Brady:
It wasn't about what he said, exactly — though it was cool for him to say all that, no doubt. But it was more just everything it meant, I think, that stuck with me.
Thomas noted that the message was also "bittersweet," explaining that:
In my mind, I wanted to be the Celtics version of Brady and Ortiz. I wanted this next era of Celtics basketball to go down in history — and I wanted to go down in Boston sports history with it. So when I got that text from Tom, you know, there was part of me that felt a little down.
Thomas said in the end his legacy in Boston will still be a positive one. For Isaiah fans, it's a piece worth reading in its entirety.