Celtics
'It was definitely the toughest call I ever had to make,' Danny Ainge says of Isaiah Thomas trade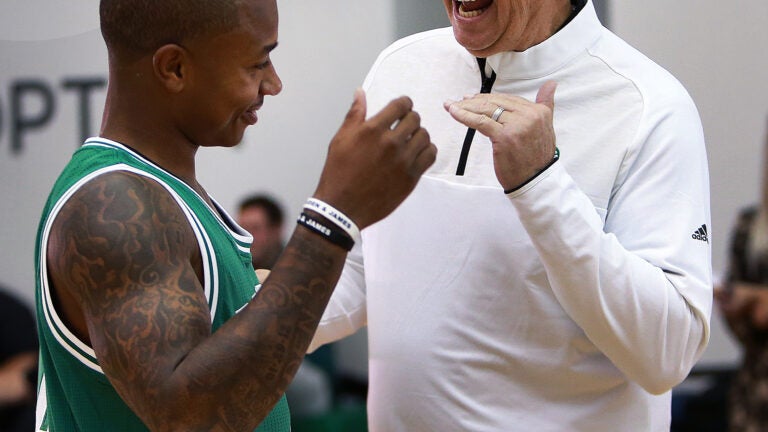 It was the toughest call Danny Ainge has ever had to make as a general manager, reaching out to Isaiah Thomas, who had given so much to the Celtics, to tell him that he had been traded.
Thomas described the call in a first-person account in The Players' Tribune. He had just celebrated his one-year wedding anniversary and Ainge had texted him to give him a call as soon as possible.
When Thomas did, Ainge quickly revealed that he had traded Thomas to the Cavaliers in a package for Kyrie Irving.
Ainge told the Globe this past week that it was beyond difficult to make the deal and make the phone call to Thomas, who was one of his favorites.
Thomas, meanwhile, said in The Players' Tribune that he was "hurt'' by the trade.
"I will just simply say that I thought Isaiah did a fabulous job in that article,'' said Ainge. "He was honest and he shared the feelings that he had in that. It was a really tough thing for everybody.
"I feel for players. I've been a player. I've been traded and I understand it, and I thought the writing he did was superb.''
Ainge said he wouldn't get into the details of the deal, which was delayed by the Cavaliers' concern over Thomas's hip injury and their request for more compensation.
"It was definitely the toughest call I ever had to make,'' Ainge said. "It's in everybody's best interest that I don't share all the reasons [for the trade]. But the bottom line is obviously I felt like it was the right thing for our franchise to do. But it's a deep and complicated process. It's not as simple as people think it is.
"And again, being a player in professional sports for 18 years and being traded twice and signing as a free agent once and playing on championship teams and being a coach in this league and being an executive for as long as I have, I think I've got a pretty good grasp on all of the emotions and I have a pretty good understanding how real this all is involving players and their lives and their families and the disruptions and the emotions. I get all that and that's not easy for players and for coaches and for executives that invest a lot into these players.
"It's not easy for these office people that become great friends with the players. There's a reality that I see and that's what makes any sort of trade challenging. But it's just part of the world that we live in, but it's got to be done. You've got to do what's best for the franchise. The franchise is bigger than all of us. Bigger than one individual.''
It was a summer of change for the Celtics. They will begin training camp with 11 new players, and most of the core that helped them reach last season's Eastern Conference finals gone.
And the team also did not renew the contracts of longtime trainer Ed Lacerte and popular strength and conditioning coach Bryan Doo.
"Not just Isaiah, but Jae [Crowder], Avery [Bradley], and Kelly Olynyk,'' Ainge said. "All those guys. And Eddie and B-Doo. I consider all those people my friends and the part of it where being the person who makes those decisions and these are my friends and they probably don't think that I think much of them anymore. I've been traded and not working with [friends] anymore is the hard part of it when I'm grateful for every one of those people and all they've done for the entire franchise.''
Despite the changes, and the difficulty in making moves involving popular players and team employees, Ainge said he is optimistic and excited about the future, especially with the acquisitions of Irving and Gordon Hayward.
"I'm getting very energized again, it's that time of year,'' Ainge said. "The kids are coming back to school and it's fun. It's not always fun [to make these moves]. It's not always clear sailing. It's not always easy. It's real life and Isaiah, I thought, did a really good job of describing from his perspective that real life.''
Ainge also touched on trading Paul Pierce and Kevin Garnett to the Nets four years ago.
Pierce had played 15 years in Boston and Garnett became very popular in his six years as a Celtics. Both wanted to retire in Boston.
"I would have been thrilled to let Paul and KG finish their careers as Boston Celtics and have then finish here,'' Ainge said. "I would have been fine with that. But we had an opportunity that came up that presented itself that we needed to do for the benefit of our fans, our franchise. It's not my franchise. It's not Paul's franchise. It's the city of Boston's franchise and that's my job to do what I think is best for the franchise. With ownership we work to make decisions that's best for the long-term benefit of our franchise.''
UNUSUAL ASPECTS
Altman was put on spot by trade
The Cavaliers made the best of a difficult situation when they traded Kyrie Irving to the Celtics. They were able to procure Isaiah Thomas, Jae Crowder, Ante Zizic, the Nets' first-round pick in 2018, and the Heat's second-round pick in 2020. It was an admirable haul, but the circumstances of the deal were bizarre for Cleveland general manager Koby Altman, who inherited the job soon after Irving made his trade demand.
Shortly after the Cavaliers' loss in the Finals, Irving had a private meeting with team ownership and asked to be traded.
The request then became public and Altman had to figure out whether Irving was indeed serious about wanting to move on.
"I think we were in information-collecting mode when stuff first broke,'' Altman said at Thursday's news conference introducing the new additions. "We had numerous teams call about it. Just taking a step back relative to Kyrie, I want to thank him from the organization. He made tremendous contributions to this franchise and this city. He was here six years and he became a champion here and he helped us win a championship in spectacular fashion. And so I think we owe him a thank you and we owe him a debt of gratitude and we'll always be thankful for his exciting years with the Cavaliers and I wanted to be sure Kyrie heard that from us.
"Relative to the trade, we're just excited about today and moving forward, about the players that are on this stand and how they're going to help us. Coach [Tyronn] Lue talked about the acquisitions we made in the offseason, how they're going to help us. The goal remains the same, winning a championship, and we think the guys are going to help us a great deal with that.''
Lue had remained mum on the situation until this past week. Privately, Irving said he didn't particularly enjoy playing for Lue, or his role in the offense.
Lue moves forward with more depth at forward in Crowder, but also the uncertainty with Thomas and his hip.
"Kyrie was a big part of what we did, and like Koby said probably making the biggest shot in Cleveland history and being one of the biggest shots in NBA Finals history and he was a big part of what we did,'' Lue said. "Just like to say thanks to him for what he's done. Now my thing is we have to move forward and we have to get this team ready to jell together, be on the same page and one common goal: winning a championship. I think the guys we have here and the guys Koby assembled for our team, I think we have a great chance of doing that.''
The Cavaliers didn't exactly make a splash in free agency. They signed well-traveled and underachieving forward Jeff Green to a one-year deal and brought in grizzled guard Jose Calderon. The club also brought over former second-round pick Cedi Osman from Turkey.
With Thomas out for at least the first few weeks of the season and likely beyond, the Cavaliers will have to find ways to remain competitive in the Eastern Conference.
They aren't getting any younger with Derrick Rose (28), Kevin Love (29), LeBron James (32), J.R. Smith (32), and Richard Jefferson (37) playing key roles.
"I'm just very excited for what we have,'' Lue said. "It's going to be different without Kyrie as far as to start, a guy who can go one-on-one and get his shot off at any time. But from another standpoint we will be able to change our offense a little bit and do things a little different and I'm very excited about that opportunity, very excited about that challenge.
"Once we get everyone back and get everyone healthy I know we are going to be a great team.''