Celtics
How the Kyrie Irving-Isaiah Thomas trade landed at one of the worst possible times for NBA reporters
Vacation.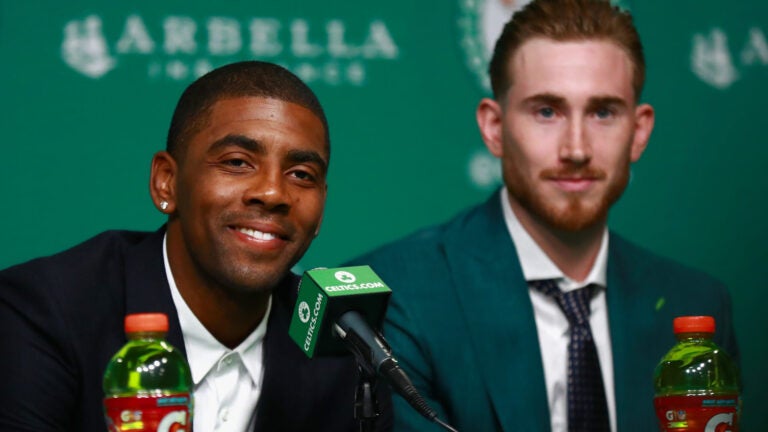 Students aren't the only ones getting back to it this week. But for NBA reporters, there increasingly is no summer vacation.
The league's marathon regular season and playoffs span late-October to June, before the draft, summer league, and manic free agency period take over through July. The whole cycle begins again when training camps start in September.
As one of ESPN's leading NBA reporters, Brian Windhorst spent a whirlwind spring covering the Cleveland Cavalier's run to the finals. Windhorst then broke the news of Kyrie Irving's trade demand (as well as co-writing a very long story on the background of the ordeal) in July, all the while appearing on countless TV shows and podcasts.
A vacation was due. And August is typically the only month with no major NBA events. No scheduled events, that is.
Before leaving on a two-week family trip to Europe, Windhorst said he received a tip the Cavs were "ramping up and soon to make a deal."
However, you never know with these things," Windhorst told Boston.com, adding that he had promised his wife, Maureen, he wouldn't work during their vacation.
"It had been a very busy spring and summer of work," he said.
The first night of their vacation was August 22. That same evening, the Irving trade actually happened.
Windhorst says he was at an Airbnb in Rome when he got word of the impending trade. It was after midnight. Nevertheless, he got in touch with his ESPN editors and began texting sources.
Windhorst tweeted confirmation of the deal — which sent Irving to Boston in exchange for Isaiah Thomas, Jae Crowder, Ante Zizic, and (eventually) two draft picks — early that Wednesday morning local time in Italy,
Windhorst also jokingly tweeted some breaking, personal news.
I'm in Rome, it's 1:30 a.m. and my wife may be considering divorce. I leave analysis of Cavs-Celtics trade to my able colleagues. Good night

— Brian Windhorst (@WindhorstESPN) August 22, 2017
"She knew I was texting sources about it when she was going to bed," he said.
Windhorst said he didn't plan on telling anyone he was overseas, but hoped his tweet would work as a defense against other contacts who may have otherwise tried to reach out and further disrupt his long-awaited vacation.
He was hardly the only one.
As I take off for Spain, can confirm the Kyrie trade. Great deal for both sides. Column soon. The NBA stops for nothing, including vacation.

— Tim Bontemps (@TimBontemps) August 22, 2017
"Should have known going on vacation was forbidden," tweeted The Boston Globe's Adam Himmelsbach, who went on to confirm and write a story the day of the trade in the middle of his Cape Cod vacation.
Himmelsbach says he had spent the day hanging out at the beach and playing outdoor basketball, before hearing reports of the imminent deal.
"It didn't stun me," he told Boston.com. "I'd reported in the previous weeks that the Celtics had expressed real interest. But the timing certainly wasn't ideal."
In his third summer covering the NBA, Himmelsbach says that despite some minor news here and there, nothing "remotely compared" to the Irving trade has broken during a vacation. But he downplays the degree to which it disrupted his time off.
"It's never fun to snap back into work mode when you're on vacation, but I don't want to make it sound like I was called in to perform emergency surgery or anything," Himmelsbach said. "I just sat there in my shorts and a T-shirt, and made some phone calls and typed some words."
Not everyone dealt with the interruption as smoothly.
"Listen, I'm on vacation, fishing for salmon and hanging out," Brian Scalabrine told Comcast SportsNet New England, when called for his reaction to the trade. "I'm getting the news dropped in August like everybody else. I'm not doing any research. I'm not breaking things down as it's happening."
"Before I go, I don't care about your break or your producers, you called me on my vacation," the increasingly perturbed former Celtics player-turned-commentator later added, as he argued with the hosts about how Boston fared in the trade.
"Why did you guys call me on vacation? Don't call me anymore," Scalabrine said, before hanging up.
Bleacher Report's senior NBA writer Howard Beck says he was "literally" on the top of Aspen Mountain on the last day and a half of his vacation.
"All of a sudden that email or text comes through and it's like 'Oh no, here we go,'" Beck said during a podcast Tuesday with ESPN's Zach Lowe.
"You just hope you don't see those at all," he said. "You're on a mountain, you're in the ocean somewhere."
According to Beck, fellow NBA reporter Jason Lloyd, who covers the Cavaliers for The Athletic, "was literally standing in the ocean, his feet in the water" when news of Irving's trade demand first broke.
Can't a guy get a week on the beach without something Clevelanding?

— Jason Lloyd (@JasonLloydNBA) July 21, 2017
Lowe, who was vacationing in Croatia when the news of the Irving trade hit, acknowledged in his conversation with Beck that — as it is on any fast-paced beat — unpredictably is just part of the job.
"It's a good life," he said. "I love the NBA."