Celtics
Morning sports update: Ray Allen opens up about feud with former Celtics teammates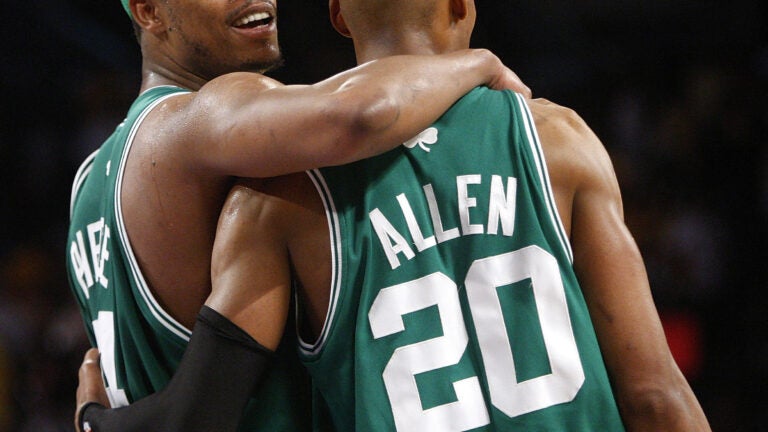 With three weeks left in the regular season, the Red Sox hold a 3.5-game over the Yankees in the AL East.
Ray Allen opens up about feud with former Celtics teammates: While in Shanghai for the Super Penguin Basketball Celebrity Game, Paul Pierce posted an Instagram photo with Ray Allen, asking fans and players to "bury the hatchet."
Allen, who has been estranged from his former Celtics teammates ever since he left Boston for the Miami Heat, spoke with ESPN's media partner in China about the feud.
"There is so much that goes on behind the scenes with teams," he told Tecent. "The players understand it, the organization understands it. But when I left, what you know is that everybody on one side is gonna say everything they need to say to make their side look like they did everything they could to make sure that they made it correct for me. But from my opinion, I see something totally different."
"I haven't said anything negative about these guys. It's been five or six years since I've been gone," Allen continued. "Seems like it was a year or two ago. When I left, I was a free agent. It's disheartening when you hear negative things people say about you, because when you win, you love each other, the families are close all time. When you win together, you always share that bond. That, to me, it's never changed."
Rays monitor Hurricane Irma news while beating Red Sox 4-1: Reigning AL Cy Young Award winner Rick Porcello was dealt his major league-leading 17th loss, the victim of poor run support once again. Boston has scored two runs or fewer 18 times in 30 starts while Porcello was in the game. He gave up five hits in five innings. (Boston.com, via AP)
Boston, Florida pro athletes collect for Hurricane Irma relief: Before Sunday's game between the Red Sox and the Rays at Fenway Park, players from the Red Sox, Rays, Bruins, and Florida Panthers collected donations for the Red Cross to use for hurricane relief in Florida. (The Boston Globe)
We're happy to come together with our friends at the @RedSox, @FlaPanthers, and @RaysBaseball to help those impacted by Hurricane Irma. pic.twitter.com/9Co4zIBoco

— Boston Bruins (@NHLBruins) September 10, 2017
David Price faces batters, but timeline of his return is still uncertain: For the first time since going on the 10-day disabled list in July, Price pitched to hitters at Fenway Park. The left-hander threw 32 pitches, featuring both a fastball and a  cutter, on Saturday. His next step in the rehab process is to throw a simulated game, which is scheduled to take place on either Wednesday or Thursday.
"All four pitches with good intensity," Red Sox manager John Farrell told WEEI. "Actually kind of felt, from just a repetition and a rhythm standpoint, better the second inning. Today was a productive day."
David Price threw today and will do another simulated game in 4 or 5 days. It's time to start doing calendar math pic.twitter.com/i22eNMPUSk

— Rob Bradford (@bradfo) September 9, 2017
Speedy Anders Bjork turning some heads at Bruins camp: If his style of play is any indication, Anders Bjork won't be taking a straight line to the NHL. Fast and cagey, the 21-year-old right winger, who made his rookie debut here Saturday night for the Bruins, weaves an unpredictable, circuitous path once across the offensive blue line with the puck.
With the start of the Bruins' full training camp Thursday, with Bjork expected to battle in earnest for a spot on the varsity roster. (The Boston Globe)
Rafael Nadal beats Kevin Anderson for 16th Grand Slam title: His game at a high level at the end of an unusually easy path through the ATP field, Nadal overwhelmed first-time major finalist Anderson 6-3, 6-3, 6-4 on Sunday to win his third championship at Flushing Meadows. (Boston.com, via AP)
https://twitter.com/usopen/status/907015073436196864