Celtics
The Celtics' new German rookie keeps dunking on NBA players over in Europe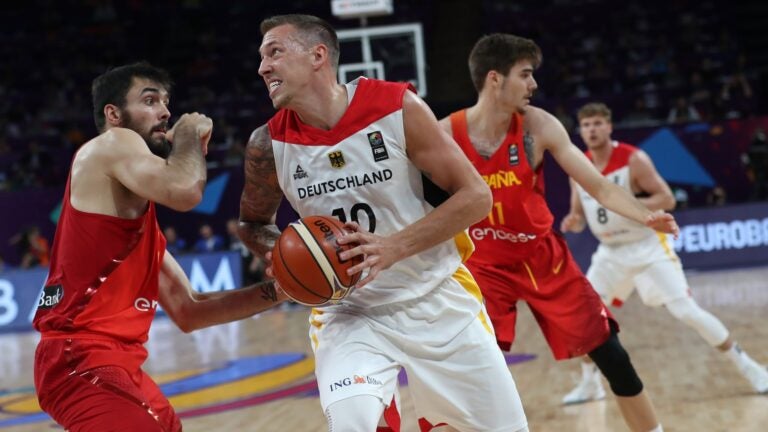 Daniel Theis has got to find a politer way of introducing himself to his new NBA colleagues.
The 25-year-old German forward, who signed with the Celtics this summer, has spent the better part of this year's EuroBasket putting his future opponents on posters.
Theis's first victim came this past weekend during an elimination game against France. NBA journeyman Boris Diaw was simply in the wrong place at the wrong time.
Daniel Theis posterizing Boris Diaw #EuroBasket2017 pic.twitter.com/tBDmgVus5x

— NBADraftProspects (@draftprosnba) September 9, 2017
In Tuesday's quarterfinals matchup against Spain, 6-foot-4 Utah Jazz point guard Ricky Rubio was no match for the 6-foot-9 Theis.
Ricky Rubio gets to know Daniel Theis. #EuroBasket2017 pic.twitter.com/Va0ypACT4r

— Chris Schmidt (@ChrisSchmidt27) September 12, 2017
And while Theis and Germany were eliminated by the powerhouse Spanish team, the incoming Celtics rookie went down dunking. In the game's final minute, Theis got one final slam past Pau Gasol, who, honestly, should know better by now (to be fair, Gasol did have a nice block on Theis earlier in the game).
Theis's dunk on Gasol comes around the 1:20 mark below, though he's present throughout the full-game highlights.
Theis finished with 15 points on 6-for-11 shooting in the 84-72 loss. In seven games, he averaged 23.8 minutes, 10.9 points, and 6.3 rebounds for the tournament. And at least one photogenic dunk.
https://twitter.com/dtheis10/status/907678225660248074