Celtics
Morning sports update: Paul Pierce calls Jayson Tatum 'an older version of me'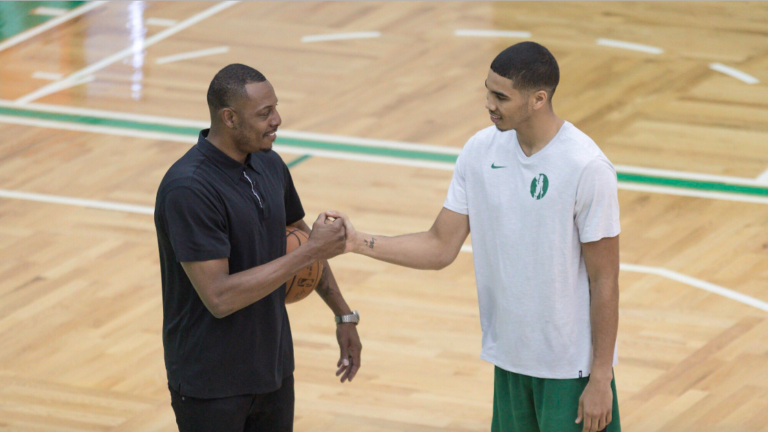 The Red Sox are headed into the final two weeks of the regular season, the Bruins are ready for day two of training camp, and the Patriots on to Week 2 against the New Orleans Saints.
Paul Pierce has high hopes for Celtics rookie Jayson Tatum: During Summer League play, the retired Celtics forward praised Tatum for his dazzling on-court performances.
https://twitter.com/ESPNForsberg/status/887156635420033024
Two months later, Pierce's opinion of the budding star has only continued to improve:
"He looks like an older version of me, when I started doing the step-back and stuff," he told CSNNE's A. Sherrod Blakely. "When I'm watching him, he looks like a mature version of my game, like sixth, seventh, eighth year. He sees the defense. He knows what's going to happen before it happens. He understands his position, footwork, his step-back is there. His offensive repertoire seems complete."
"The thing I see, what makes the guy special, there's a lot of talent in the league. There's no question about it," Pierce continued. "Your mentality, your drive, how great you want to be, that's what separates the good from the great ones. You look at guys from the past, like Kobe's determination, his competitive spirit. You see guys that were just as talented, they didn't have the same competitive spirit so they could not reach the levels of other greats."
Past ➡️ Future#CelticsFamily pic.twitter.com/Soyzi5rocF

— Boston Celtics (@celtics) September 14, 2017
Rob Gronkowski ready to get physical against Saints: "I feel like whenever I think like that, 'Oh, I can't be physical because I might get a penalty,' I feel like I'm off my game," Gronkowski said. "So I feel like I should just play my game and worry about what the refs call and be physical. I don't like thinking like that. It just doesn't feel right. I need to stick to what I do and do it better." (The Boston Globe)
Patriots' Brandin Cooks downplays return to New Orleans: "I just look at it as another game," Cooks said. "I feel like when you start to get hyped up too much, you psych yourself out. I am just looking forward to Week 2 and playing some football."
When Cooks was asked if a player's return to a former team's stadium is generally overdramatized, he agreed. Then, Cooks was told Saints quarterback Drew Brees expects Saints fans to shower Cooks with a positive reception. He smiled widely.
Pomeranz, Benintendi lead AL East-leading BoSox past A's 6-2: Drew Pomeranz (16-5) allowed five hits, walking three and striking out five to raise his record to 4-0 with a 1.29 ERA in his last six starts in Fenway Park. He also tied teammate Chris Sale and two others for the AL lead in victories. (Boston.com, via AP)
David Price is off the disabled list and headed to the bullpen: "Later this weekend will be his first availability after a three-inning simulated game [Wednesday]," Farrell said. "He needs a couple of days to recover, so ideally Sunday or Monday we'll look at his availability. We feel he can be in a two-inning role. We'll see how it develops over the 2½ weeks." (The Boston Globe)
President Trump demands ESPN apologize for anchor's tweets: President Donald Trump is calling on ESPN to apologize days after one of the sports network's anchors called him a "white supremacist" and "bigot." (Boston.com, via AP)
https://twitter.com/realDonaldTrump/status/908651641943003136