Celtics
Morning sports update: Jaylen Brown shared his thoughts on Kyrie Irving's flat Earth beliefs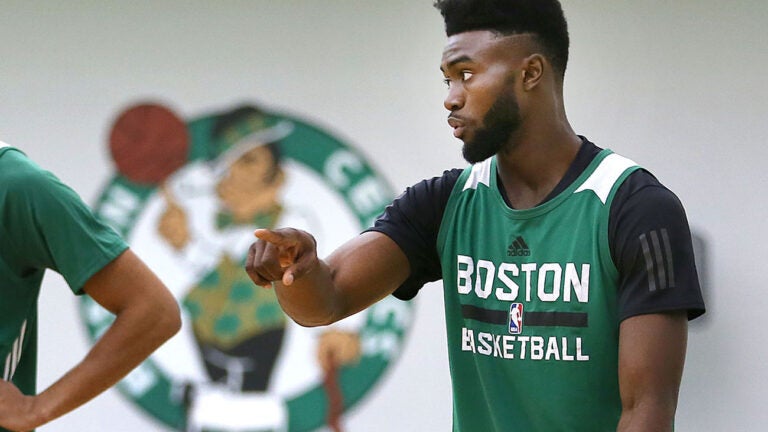 The Red Sox win yet another game in extra innings as they inch closer to clinching to a playoff berth, while new Celtic Marcus Morris continues to stand trial against assault allegations.
Celtics' Jaylen Brown eager to talk shop with Kyrie Irving: "The conversations are great, most of the time we don't even talk basketball," Brown said. "[Tuesday] was the first time I got to talk to him. He talked about spending a little time in Atlanta [this summer] and I spent a little time in Atlanta. We didn't cross paths."
"There's going to be numerous conversations. I'm interested in having a conversation about whether the world is flat or round. It's going to be an interesting year, I'll tell you that."
When asked whether he agreed with Irving, Brown said, "I'm not ready to make my comment or statement on that but what my eyes have told me, the world may appear to be flat. Kyrie may very well have a point, so we'll see." (The Boston Globe)
Jaylen Brown not ready to fully commit but he's leaning toward Kyrie's #FlatEarth theory. pic.twitter.com/snA3XNN5MQ

— Chris Forsberg (@ESPNForsberg) September 19, 2017
?i wouldn't trust my eyes if I were you ? https://t.co/wF3a9GCKbT

— Jaylen Brown (@FCHWPO) September 19, 2017
— Jaylen Brown (@FCHWPO) September 19, 2017
Red Sox use wild pitch to beat Orioles 1-0 in 11 innings: Boston has won 10 of 13 to move a season-high 23 games over .500 (87-64) and draw closer to clinching a postseason berth. The Red Sox started the day with a three-game lead over the second-place New York Yankees in the AL East. (Boston.com, via AP)
#EXTRASWINDANCEREPEAT pic.twitter.com/ONZ6N4C8RN

— Red Sox (@RedSox) September 20, 2017
MLB season homer record is going, going . . . Gone!: The solo home run by the Royals' Alex Gordon in the eighth inning Tuesday was the 5,694th in the majors this season, establishing a record and breaking a mark set in 2000, four years before baseball started testing for steroids with penalties. (The Boston Globe)
Man testifies in assault trial involving Celtics forward Marcus Morris and his brother: The man accusing NBA players Marcus and Markieff Morris of aggravated assault was pressed Tuesday by defense lawyers about his financial motives in the case. An Arizona grand jury indicted the Morris brothers on felony aggravated assault charges. They are accused of helping three other people beat Erik Hood outside a Phoenix recreation center on Jan. 24, 2015. (Boston.com, via AP)
Brad Marchand isn't happy with the NHL's crackdown on face-off violations: To kick off the NHL preseason, referees are calling more and more penalties at the dot.
According to the league, "when the face-off takes place at any of the nine face-off spots, the players taking part shall take their position so that they will stand squarely facing their opponent's end of the rink, and clear of the ice markings (where applicable)."
Bruins left wing Brad Marchand has yet to take the ice for the Bruins, but he already isn't a fan of the newly enforced rules.
"This face-off rule is an absolute joke," Marchand said after Tuesday's practice at Warrior Ice Arena. "That's how you ruin the game of hockey, by putting that in there. They're gonna have to do something about that because we can't play this year like that."
Study links youth football to greater risk of later health problems: Playing tackle football under the age of 12 exposes children to repetitive head impacts that may double their risk of developing behavioral problems and triple their chances of suffering depression later in life, according to a study published Tuesday in Nature magazine's journal, Translational Psychiatry. (The Boston Globe)