Celtics
LeBron James still puzzled by Kyrie Irving's decision to leave: 'I tried to give him everything'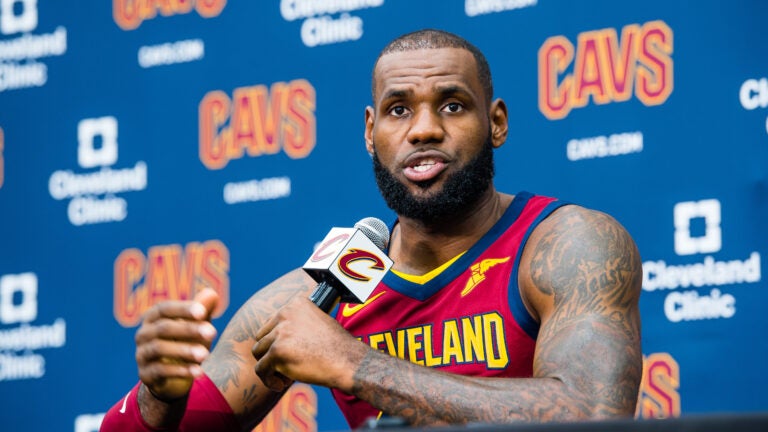 LeBron James says he still doesn't know why Kyrie Irving decided he wanted to leave Cleveland.
During Monday's team media day — roughly two months since Irving's initial trade request and more than a month after his trade to the Celtics was announced — James said he tried to mentor and help the 25-year-old point guard become a better player.
.@KingJames on Kyrie Irving asking to be traded from the @cavs. #NBAMediaDay pic.twitter.com/rlN6AXrgMw

— NBA TV (@NBATV) September 25, 2017
"I tried to to do whatever I could do to help the kid out and be the best player he could be," James said of Irving, whether it came to being a leader, scoring, passing, or defending.
"I tried to give him everything and give him as much of the DNA as I could," the four-time league MVP continued. "Because like I told you guys throughout the season, at some point, when he was ready to take over the keys, I was ready to give them to him."
Irving told reporters earlier this month that he hadn't spoken at all to James since departing to Boston, nor — as the newly arrived Celtics guard confirmed last week — did he talk to James before requesting to be dealt. Irving has maintained, however, that it was nothing personal.
"The only thing I'm upset about is that he took a lot of the DNA and the blueprint now to Boston," James said Monday with a chuckle.
"That's the only thing I'm upset about really," he said. "Other than that, I mean, wish the kid great health and the kid wanted to do what was best, I guess, for his career. I give credit to our GM Koby [Altman] and the ownership for granting that to him."
James added he hoped he was able to help Irving be a good as he could be.
The Cavaliers open the 2017-18 regular season at home October 17 against Irving and the Celtics.