Celtics
Kyrie Irving takes leading role with Celtics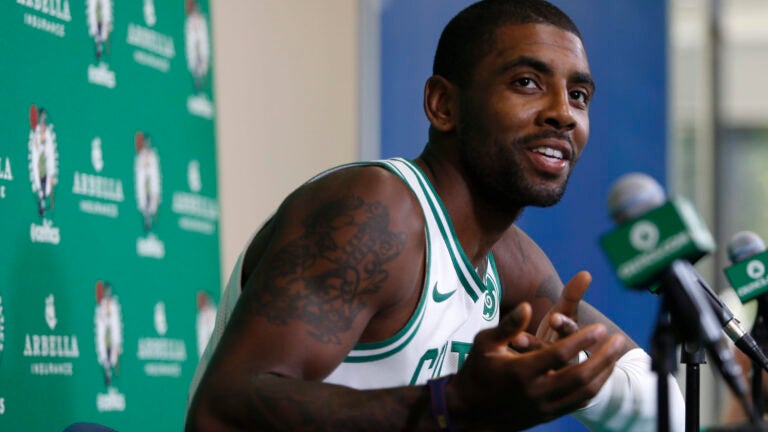 CANTON — Kyrie Irving's desire is to move forward — hoping everyone quickly gets over how strange he looks in Celtics' green — and develop into a true leader in Boston.
That process will be difficult, however, in the coming months. Irving likely will be questioned about his abrupt departure from the Cleveland Cavaliers, his relationship with LeBron James, his quest for independence in willingly leaving a team that has reached three consecutive NBA Finals.
Monday was officially the first day Irving was free of LeBron and his shadow, that he could discuss his LeBron-free future as the Celtics begin perhaps their most anticipated season in 10 years.
Irving didn't pick the Celtics. They pursued him in a trade. But he probably couldn't have picked a better destination for an expansive role on and off the court. The Celtics need a vocal leader now. They need a voice of reason. They need Irving to assume authority in a locker room that lost most of its veteran leadership in the trade that acquired him.
So this is an opportunity to lead. And Irving showed no hesitation in speaking out on the biggest sports/social topic in recent memory, demonstrations during the national anthem and the comments made by President Trump, who criticized NFL players who kneel during the anthem.
"A lot of emotions, a lot of disconnect, a lot of opinions,'' Irving said. "To be able to have that realization that our voices can be heard and understanding the intent on why people do the things they do in order to feel like they are making a change in society or pushing for [a change] in culture that was ultimately founded on some questionable things.
"It's your right to have that ability to stand up and say something, whatever the action is, as long as the individual knows the intent behind it. It's not between the veterans and military and someone kneeling at the national anthem. It's much bigger than that. It's a human being thing.''
Irving seeks to be respected for his off-court opinions. He is astute, thinks before he speaks, and uses meaningful words. Irving is a thinker.
Without naming Colin Kaepernick, Irving referenced him and other athletes, such as Curt Flood, who fought for social equality.
"Certain individuals have definitely taken a stance and the positive [reactions] have never come,'' he said. "They've either disappeared and never been heard from again or you haven't heard anything from them again. They've lost their job or done something for standing up for what they believe in and it's been coming from individuals who have been bashed for making a decision on what they want to do with their lives and that's something I can't agree with.
"I think the beautiful thing is people are starting to wake up.''
Second-year forward Jaylen Brown said the team will meet during training camp to figure out ways to relay a message of unity or potentially form a protest.
"I can't wait to dive into more of those discussions with Jaylen,'' Irving said. "I know he feels strongly about those issues as well. Whether you see it or not, it will be discussed.''
There is a high level of comfort in Irving so far in his Boston tenure. He is the team's most experienced postseason player. No other Celtic, besides Aron Baynes, has played in the NBA Finals. Irving has played in three. At age 25, he is expected to become the Celtics' unquestioned leader.
Just as he is ready to become a team's No. 1 option on the floor, he is prepared for the responsibility of representing the Celtics off the floor.
"As straightforward and transparent as you get, this is something that I really enjoy doing and that's putting the basketball in the hoop at a very high level,'' he said. "I've been dreaming about it since I was a kid. To commit yourself into being the best that you can be, to be able to share that with other individuals and go after a goal that we all collectively share and want to accomplish, there's nothing like it.
"There's nothing greater than being on a team and sacrificing the time. We give up a lot of that time and end up being with each other more than we are with our families and that's a commitment you have to make to the game. I've made that commitment since I've come into the league. Now I'm able to share what that means to me and how we can accomplish a goal bigger than ourselves.''
It might take a few times to listen or read over Irving's quotes to comprehend what he's really saying, but for the first time in six years, he seems completely free to say whatever he feels without fear of offending or unnerving the face of the franchise. Irving is now the face of the franchise, and he is warming to his new role.
He has been cryptic about his time in Cleveland and his relationship with James over the past few weeks, but he may have revealed that the one thing he was seeking more by requesting a trade was freedom and autonomy.
"I never want to mask what I'm about and who I am,'' he said. "To my teammates and anybody here, I'm not here to necessarily befriend everyone but the respect that's all you could want. I'm an open book.''