Celtics
Morning sports update: Brad Stevens feels like he 'took a new job' this season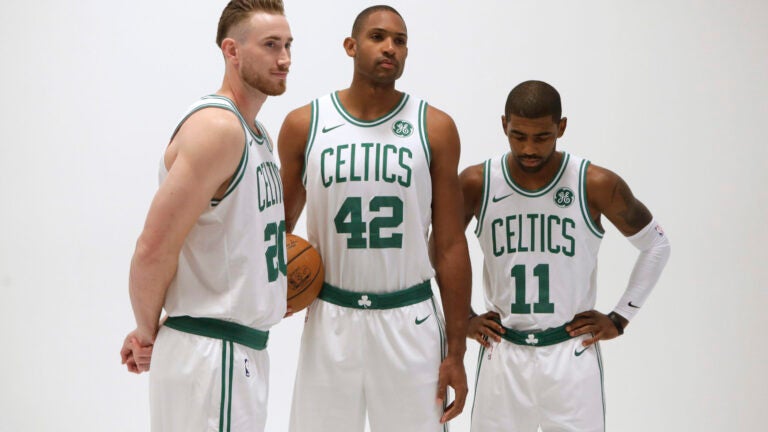 The new-look Celtics rolled through media day on Monday, producing an array of notable quotes. Marcus Smart walked reporters through the logic of his leaner physique, Jaylen Brown weighed in on political protests, and Kyrie Irving was already drawing rave reviews from teammates.
Brad Stevens is in an unusual place with so many new faces in a familiar setting: After watching his general manager reshape much of the Celtics' roster during the offsseason, Brad Stevens is looking at the impending challenge of coaching the team from an unexpected perspective.
"In a lot of ways I feel like I took a new job," Stevens told reporters at Celtics media day. "Because as a coach, you're always thinking about kind of, 'OK, what do you need to get better from last year? How do we need to improve?' And when I'm looking at our stats and talking to our team about how we want to improve, well, 10 of the guys are going to be looking at me like, 'I wasn't here last year.'" (Boston Globe)
Al Horford talked about the "snowballing" Celtics offseason, and Kyrie Irving's talent: One of the only holdovers from a team that made the Eastern Conference Finals a season ago, Al Horford's reaction to the change around him was telling. While admitting the flurry of activity was "very surprising," Horford had only good things to say about Irving.
"Man, he's special." (MassLive)
Marcus Smart elaborated on why he went through a drastic change in diet and workout regimen: The 23-year-old guard didn't like the back pain he experienced towards the end of last season. And he didn't like his playing weight to be "at about 240 pounds." So after hiring a personal chef and sticking to a disciplined offseason routine, the now-longest tenured Celtic is weighing in closer to 220 pounds.
"More explosiveness, a lot more quickness laterally, and you're gonna see me be able to guard the guards like John Wall and Bradley Beal and guys like that a lot better," Smart said of what to expect from him this year. "You're definitely gonna see my energy level stay at a high rate. Last year with that extra weight, the first half I was energy, energy, but when the fourth quarter would come, I still had that mindset of energy, but my body wouldn't allow me to do it." (WEEI)
Jaylen Brown expressed his feelings on the president's comments about NFL players: One of the team's rising stars, Jaylen Brown was asked about the high profile intersection between sports and politics that took place in the NFL over the weekend.
"I think what's going on in football, with having the freedom to express their First Amendment right, I think that should be something that should be considered and understood," Brown explained.
"The President's made some comments and he came at players and teams in the White House, etc. I think it's unconstitutional to do that, to tell them they don't have the right to speak on whatever they feel like their heart needs to be spoken on. That's what my take on it is." (Boston Globe)
Kyrie Irving expects the Celtics will take some time to come together: The new centerpiece of the Celtics has been through this before. He's seen a group of talented players come together after an eventful offseason when he was in Cleveland. And Irving urged patience.
"We just have to be very patient with this, and I speak on that pretty often," Irving told ESPN's Chris Forsberg. "It's not trying to figure out one thing or two things in one day or after one game, it's going to come in wave. These ups and downs, what we're about to face as a team and as a collective group, it's going to be very interesting. It'll really echo in terms of our identity and how we respond." (ESPN)