Celtics
Kyrie Irving, Gordon Hayward make preseason debuts in Celtics' victory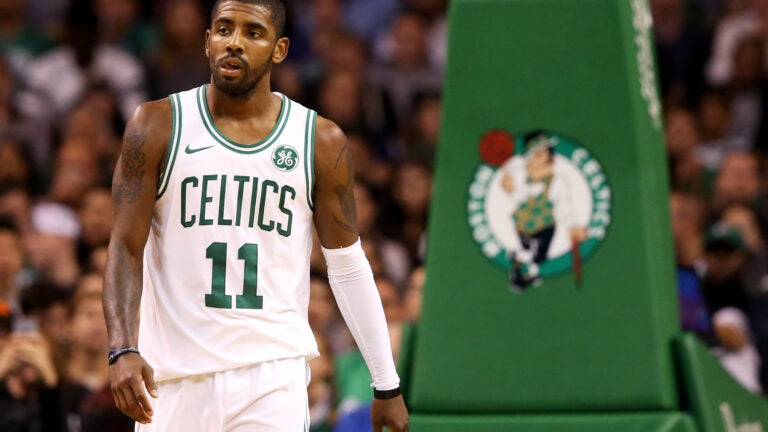 BOSTON (AP) — Boston fans have been patiently waiting to get their first glimpse of the new era of Celtics basketball.
They finally got it, and it revealed a team with a lot of upside.
Offseason trade acquisition Kyrie Irving had nine points, four rebounds and three assists, and free agent pickup Gordon Hayward added five points and five rebounds as the Boston Celtics beat the Charlotte Hornets 94-82 Monday night in the preseason opener for both teams.
Rookie Jayson Tatum, the third overall pick in June's draft, finished with nine points, five rebounds and four assists. Aron Baynes added 10 points and five rebounds and three assists for Boston. The Celtics also shot 11 of 31 from the 3-point line.
"We're building a foundation," Irving said. "We understand that a few other teams that we're playing against, they're starting from the bottom as well…For us, we gotta take advantage of games like this."
Dwight Howard, who was traded by Atlanta to Charlotte this summer, finished with seven points, 10 rebounds and six turnovers in his Hornets debut. Jeremy Lamb had 17 points.
Irving and Hayward, the jewel pieces of an offseason reconstruction that has left only Celtics intact from last year's roster, sat out the second half.
In other games, the Washington Wizards beat the Guangzhou Long-Lions 126-97 in one of two exhibition games between NBA and international teams on Monday. In addition, the Utah Jazz hosted the National Basketball League's Sydney Kings. It is the first time an NBL team is facing an NBA team on American soil.
___
GRIZZLIES 92, MAGIC 84
Mario Chalmers had 19 points in 20 minutes, Jarell Martin added 16 points and the Memphis Grizzlies defeated the Orlando Magic 92-84 in both teams preseason opener.
Orlando led 65-64 late in the third quarter before the Grizzlies closed the period on an 8-0 run, which included six by Chalmers. Memphis led by as many as 10 in the final period.
Jonathan Isaac led the Magic with 15 points, followed by Mario Hezonja with 12.
MAGIC: Jonathon Simmons, Orlando's biggest offseason pickup, had a couple of highlight-worthy dunks and scored nine points in his Magic preseason debut. …Aaron Gordon and Evan Fournier each played 15 minutes, scoring eight points apiece.
GRIZZLIES: With center Marc Gasol (sprained ankle) and forward JaMychael Green both sitting, coach David Fizdale experimented with a smaller lineup of Brandan Wright at center, Chandler Parsons at power forward, and James Ennis at small forward along with Wayne Selden and Mike Conley at the guard spots.
UP NEXT: Orlando (0-1) is at Dallas on Thursday. Memphis (1-0) visits Philadelphia on Wednesday.
___
MAVERICKS 106, BUCKS 104
Jonathan Motley hit a layup with 4.1 seconds left to lift the Dallas Mavericks to a 106-104 win over the Milwaukee Bucks. Motley scored all nine of his points in a fourth quarter that saw the Mavericks outscore the Bucks 31-20.
Dallas' starters were pulled after one quarter of action. Harrison Barnes was 4 of 6 from the field and had nine points. Dirk Nowitzki had five points in 10 minutes of action.
Khris Middleton led the Bucks with 12 points, followed by John Henson with 11 points and four rebounds.
BUCKS: Rashad Vaughn finished with 20 points for Milwaukee and missed a 30-footer at the buzzer. … Greg Monroe had 12 points and seven rebounds.
MAVERICKS: Nerlens Noel played 15 minutes off the bench and had five points and two steals.
UP NEXT: Bucks (0-1) host Indiana on Wednesday. Dallas hosts Chicago on Wednesday.
___
More NBA basketball: https://apnews.com/tag/NBAbasketball